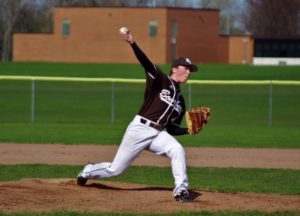 By BEN BLAKELY
ONTARIO, N.Y. — East Rochester broke a 0-0 tie on a bases-loaded hit by pitch in the top of the seventh to pull out a 1-0 win over the Wayne Eagles at Wayne Central High School, Tuesday.
Both starting pitchers dueled for both teams, as Sean Flanagan and Alex Groff traded blows on the mound. Flanagan pitched lights out for the Bombers, throwing a complete game with two hits and three walks while striking out five Eagles.
Flanagan felt proud of his outing. "It feels good to secure a win against a good team," Flanagan said. "We didn't have many hits, but we came to win when it counted."
Bombers head coach Patrick Walsh spoke highly of the junior's performance on the mound. "He has been very consistent this year," Walsh said. "Sean's a tough kid mentally and he has made some really good plays this year."
The game continued to be deadlocked at 0-0 until the top of the seventh. With two outs, Wayne looked to get out of the inning unscathed but a Mario Vega single and an Austin Mack double gave East Rochester runners in scoring position.
Wayne's head coach Andrew Struzik chose to intentionally walk Corwyn Cleveland to load the bases. With a 2-1 count, John Krautwurst was hit by a pitch. It sounded like the ball hit catcher Josh Armstrong's glove, but the call stood and East Rochester took the lead.
Walsh did not know for sure about the pitch. "From where I was standing, I wasn't sure as their pitcher threw high and tight," he said. "We just lucked out there and got a big break."
Austin Mack picked up a double and Corwyn Cleveland reached base twice to lead the bombers. Flanagan, Krautwurst and Mario Vega each added a single to complete their offensive attack.
Walsh talked about the relationship the entire team has had together. "We have a good group of chemistry and they enjoy being with one another," he said. "I've got kids that have been playing with me for four years now and they are not afraid of anybody."
On the opposing side, Alex Groff took the loss for the Eagles. The junior gave up four hits and an earned run over 7.0 innings pitched. He walked two and struck out six.
Josh Armstrong paced the Eagles offense with two hits and a walk. Aidan Harris and Richie Cassano each recorded a walk for the Eagles.