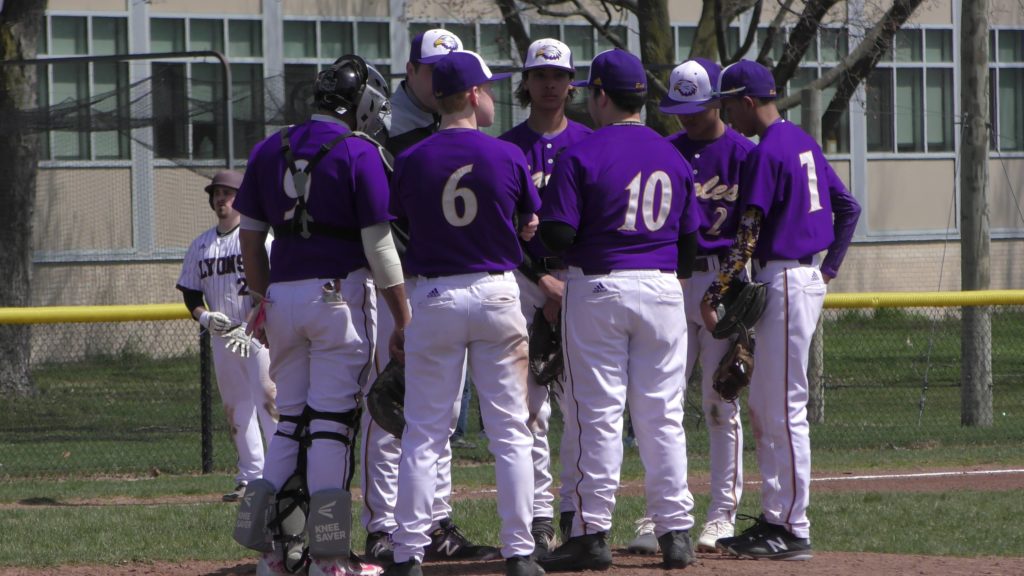 WILSON MAGNET 1
EAST 11
Edgar Diaz and Victor Arroyo both finished 2-for-2 with two runs scored. Diaz drove in one run, and Arroyo plated two in an eight-run East first inning. Christian Diaz stole four bases and scored twice for the Eagles.
MONROE 1
LEADERSHIP ACADEMY 7
Justin Morales hurled a no-hitter over five innings, striking out nine and walking three. Morales allowed one unearned run. At the plate, Morales was 2-for-2 with two doubles, a walk, three runs scored and two RBI. Roman Rivera finished 2-for-2 with a walk, three runs scored and three stolen bases. Leadership is 3-3 on the season.
SCHOOL OF THE ARTS 9
EDISON 1
NEWARK 19
MIDLAKES 10
Newark put runs on the board in all but two innings to hold on and defeat a pesky Midlakes squad. Wood legged out two triples and knocked one homer, finishing with three RBI for Newark in the high-scoring game. Julius Teabout, Blanchard, and Wersinger each contributed with a double. Midlakes cut the lead from 11-1 to 11-9 after plating eight runs in the bottom of the sixth. Leading Midlakes was Jordan Maher, Devin Hicks, and Sam Day. Maher went 4-for-5 with four singles, while Hicks and Day each placed two hits and plated two runs. With the game within two, Newark answered at the top of the seventh with eight runs of its own to regain control and win the game. Newark's starter Julius Teabout earned the win in four innings of work. He finished with four strikeouts and five hits allowed.
WAYNE 5
WATERLOO 8
Derek Slywka's day at the plate was crucial, as Waterloo held on to defeat Wayne. Slywka knocked in four runs and scored two of his own on two hits. His double to center plated the first two runs of the game, and base hit in the second scored two more. Waterloo scored all eight of its runs in the first two innings, three in the first and five in the second. Matt Barron threw a complete game on 108 pitches for Waterloo, allowing seven hits, five runs, three earned, and two walks. He struck out eight throughout. Logan Holgado and Josh Armstrong led Wayne with two hits apiece, including a double from Armstrong. Each tabbed an RBI and a run scored in Wayne's attempt to cut the lead. Jaiden Burlee and Richie Cassano also recorded an RBI and a hit.
HARLEY-ALLENDALE-COLUMBIA 22
DUNDEE 7
HAC (3-1) headed down to Dundee for a Finger Lakes West divisional contest.  The Wolves knocked out 18 hits as eight of nine starters collecting at least one each.  HAC used two big innings (third and fourth) to build up their commanding lead on the Scottsmen.
The Wolves leadoff hitter Max Brown was 3-5 during the game with three runs scored and three rbi.  Henry Nicosia added three hits and five rbi and Jack Wheeler notched three hits and three rbi.  Jack Dockum, Spencer Dworkin and Ben Friedberg all collected two hits as each.
Nicosia got the win for HAC, striking out five in four innings of work.  Dockum closed the game with a scoreless sixth for the Wolves.
Zack Neu tripled and scored twice for Dundee, while John Bentley was on base three times for the Scotsmen. The game was called after six innings because of darkness.

SOUTH SENECA 14
MARCUS WHITMAN 7
With Marcus Whitman chipping away throughout the game, South Seneca plated four runs and kept Marcus Whitman off the board in the final two innings to seal the victory. Ira Aman led South Seneca, going 2-for-3 on the day with a walk, two doubles, three runs and an RBI. He also earned the save in 2.1 innings of work. He allowed two hits and struck out three. Spencer John contributed to the offensive efforts with a double, a triple, three runs, and three RBI. On the base paths, John stole four bases. Dylan Howell and Kyle Cooper helped Marcus Whitman cut the deficit to 9-7 in the fifth inning. Howell went 2-for-3 with a walk, a stolen base, and three runs. Cooper scored one run and knocked in three while going 2-for-4.
EAST ROCHESTER 2
GANANDA 5
Zach Ciprich kept East Rochester quiet during his 5.2 innings on the mound to earn the win for the Blue Panthers. The senior righty struck out nine and walked two, while allowing five hits and two runs, neither earned. After letting up one in the top of the first, Gananda answered with two to gain a lead the Blue Panthers never surrendered. Tim McClare knocked in the first Gananda run with a single to left, his first of two hits on the day. An East Rochester error allowed for Patrick Walsh to score the second. McClare scored a run, hit in by Zach Dier, in the bottom of the third inning. The final two Panther runs crossed in the fifth. In the Bombers' final ups, they loaded the bases to threathen the 5-1 lead. A passed ball allowed Corwyn Cleveland to score, but McClare, who was on the mound, recovered to throw out the runner at third and end the game. Walsh, Dier, Zach Valleta, and Christian Clarq all recorded a hit in the win. East Rochester starter Mario Vega struck out four through his four innings, allowing six hits and five runs, three earned, and seven walks. Cleveland and Ben Parrone led the East Rochester offense with two hits apiece.
WILLIAMSON 17
CLYDE-SAVANNAH 2
SODUS 2
LYONS 12
DANSVILLE 2
LIVONIA 13
Alex Minnehan dominanted at the plate and on the mound in Livonia's 11-run rout of Dansville. Not only did Minnehan strike out eight through his five innings, he also went yard with a three-run shot. He drove in five runs to help his cause. Noah Fasso drove in three, going 2-for-3. Livonia broke open the game with a 10-run fourth inning after holding a mere one-run lead for the first three innings. Livonia ranked No. 7 in last week's NYSSWA Class B poll. Dansville came in at No. 17.
WAYLAND-COHOCTON 1
GENESEO 2
The Blue Devils moved to 7-2 on the season, as Noah Reilly delivered a one-out single to win the game in the bottom of the seventh. Jake Hamilton and Evan Salvaggio started the rally in the seventh with back-to-back one-out hits. Owen Lyons drew a walk to load the bases, setting up Reilly to be the night's hero. Hamilton and Lyons led the offense with three hits each. One of Lyonss' was a two-bagger in the second. Hamilton and Way-Co's Jamie Carman dueled on the mound, keeping the game scoreless through four. Hamilton threw six innings and recorded nine strikeouts. He allowed four hits, one earned run, and four walks. On the other side, Carman struck out four, allowed six hits, one earned run, and three walks in his 5.1 innings on the mound. Lyons earned the win for Geneseo, as he relieved Hamilton in the final inning. For Way-Co, Trevor Sly went 2-for-3 and knocked in the Eagles' only run.
YORK 10
PERRY/MOUNT MORRIS 1
Matt McFarland roped a two-run triple in the first inning (3-3) and his squad never looked back. McFarland led York in his 2-for-3 day, as he knocked in four total runs and drew one walk. Lucas Maggio finished with two hits, one RBI, and two runs scored. James Kennedy helped his own defensive efforts when he knocked in three runs for York. The sophomore pitcher struck out seven in 4.2 innings of work. Clay Harris relieved him and finished the game unscathed.
LEROY 10
AVON 0
Tim McMullen threw a 1-hit shutout with six strikeouts to earn the victory over six innings of work. Avon's Holden Volpe broke up the no hitter with a single with two outs in the bottom of the fifth. Sophomore Kenny Saunders led the LeRoy offense with two hits including a double off the top of the fence in dead center, two runs scored and an RBI. Ryan Friend had two hits, a run scored and an RBI. Both Reece Tresco and Giavanni Caccamise contributed with RBI sacrifice flies.
SPENCERPORT 9
GATES-CHILI 0 (4th inning, suspended)
FRANKLIN 0
CHURCHVILLE-CHILI 9 (suspended bottom 2nd)
NE DOUGLASS
C.G. FINNEY
GENEVA
MYNDERSE ACADEMY
PALMYRA-MACEDON
PENN YAN
WARSAW
PAVILION