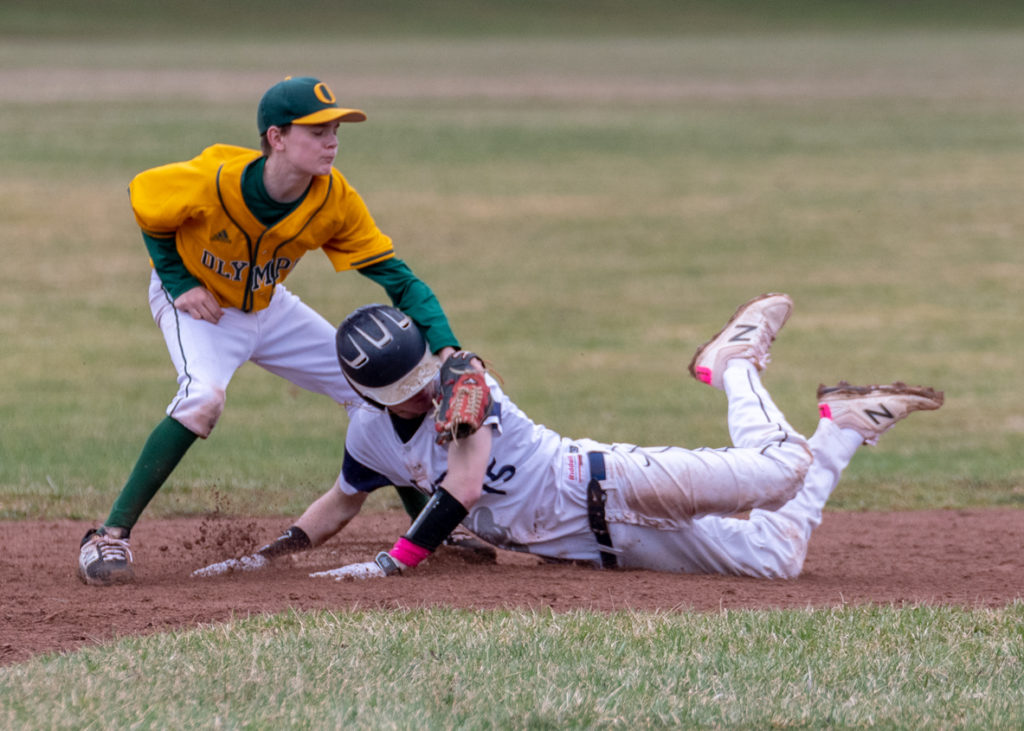 EASTRIDGE   5
PITTSFORD MENDON   9
John Surtel snapped a 5-5 tie with a two-out, two-run double in the fifth inning as Mendon improved to 2-1 on the season. Surtel, who finished 2-for-4 on the day plated Karthik Mathew-Malik and Nick Denzak. Tyler Procious followed with an RBI double. Denzak struck out two in a shutout inning of relief to pick up the win. Mathew-Malik went 3-for-3 with an RBI and two runs scored. Hudson Bockmier homered and was 2-for-4 with two RBI and two runs scored. Zach Janson was 2-for-3 with a walk and a run scored. Kyle Hennessey had two hits and scored twice. Jacob Russo led the Eastridge offense going 2-for-4 with two RBI including a run-scoring single in the first inning when the Lancers jumped to a 4-0 lead. Brady Booher was 2-for-2 with a run scored. Jayden Fayad had two hits, a walk and scored twice. Shane Harisis and Austin Robinson drove in a run apiece.
CHURCHVILLE-CHILI  9
WEBSTER SCHROEDER  10
Nick Vogt (0-for-15) came into the game looking for his first hit of the season. Schroeder's three-hole delivered at the right time with a three-run shot to left field in the fourth inning. READ MORE.
HONEOYE FALLS-LIMA   6
GREECE ARCADIA   2
Hayden Smith led HFL with a 3-for-4 evening, including two doubles and an RBI, while Jake Fusare went 2-for-4. Smith also earned the win on the mound, throwing four innings and fanning four, while Brian Reinke picked up the save with two scoreless innings and four strikeouts. Tim Martin took advantage of his opportunity to contribute as well, knocking in two runs with a pinch-hit, bases loaded single in the top of the seventh.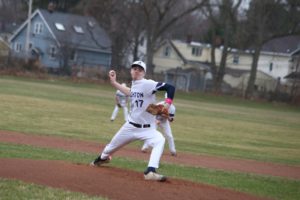 GREECE OLYMPIA  6
BRIGHTON   9
With the scored tied at six headed to the seventh, Brennan Wilcox broke the game open with a two-run single and Steve Richeson had an RBI sacrifice fly (one of his three RBI on the day), giving Brighton the lead for good. Sam O'Hora contributed on both sides for the Barons, going 1-for-3 with two runs scored, while also throwing three-and-two-thirds innings in relief with five strikeouts. Chase Seibold started on the mound for Brighton, tossing three-and-one-third innings and fanning three. Joe Alphonse pitched five innings for Olympia and struck out nine batters, as well as finishing 2-for-4 with two RBI at the plate.
GREECE ODYSSEY  4
GREECE ATHENA  20
Greece Athena exploded to score 17 runs over the first two innings, with Justin Kimble leading off with a double, reaching third on a wild pitch and scoring on a Tyler Curtis single. The 11-run second inning saw Jayson Russell drive in three runs, plating Curtis on a single, and then Casey Saucke II and Curtis again with a double. Kimble and Saucke added RBI doubles of their own, with Kimble knocking in Jagger Nucci and Sauckie bringing home Brandon Smith. Curtis and Saucke each finished the game 3-for-3 with three runs scored for the Trojans, while Jake Cerone drove in three runs with two hits. Anthony Bonacci went 2-for-3 with two RBI, and Zach Geist picked up two hits in two at bats after replacing Nucci in the fourth inning. Jake Wamser threw two-and-two-thirds scoreless innings in relief for Athena, allowing one hit and striking out three.
WEBSTER THOMAS
PENFIELD                        PPD
McQUAID  13
MAINLAND (FL)  2
Drew Bailey and Zach Lee combined for five RBI as McQuaid erupted for nine runs in the first two innings of play as the the Knights won their fifth straight game to open the season. McQuaid loaded the bases with a pair of singles and a walk, one of the team's 11 on the day. Bailey and Lee each finished the game with three RBI, Bailey's on three hits and Lee's on two. After three innings, the Knights had extended the lead to 11-0. Noah Campanelli and Tyler Griggs added two hits apiece, scoring a combined five times over the course of the contest. Ryan O'Mara, Sean Richards and Ben Hintz held Mainland to just two unearned runs and two hits, while fanning five as a team. Mainland's two runs both came in the bottom of the fourth, both on errors, following a double for Jackson Johnson.Johnson's double was Mainland's first bases hit of the game. Kameron Lee reached on the error which plated Johnson, moving to second on the play and then third on a ground out, going on to score on a second error. Dylan Gilmore and Brett Thrauer registered seven strikeouts together on the mound.
McQUAID   10
NEW SMYRNA BEACH (FL)  0
Hunter Walsh set down 10 by strikeout, only collecting one in-play out ( a fly out in the bottom of the second), over four innings on the mound for McQuaid. The Knights moved to 6-0 to start the 2019 season. Walsh threw 83 pitches during the outing, with 54 landing for strikes and registering first-pitch strikes against 11 of 18 batters faced. McQuaid scored all 10 runs between the second and fourth innings, with four in the second, one in the third and five in the fourth. Zach Lee led the offense, going 2-for-3 with three RBI, while Drew Bailey added two RBI and three runs scored, and Charlie Merkley contributed a two RBI day. Sean Richards ended the game with a hitless, scoreless final inning for the Knights.
SCHOOL OF THE ARTS
EAST                                      PPD
FRANKLIN
MONROE     PPD
LETCHWORTH   2
LEROY   5
Tim McMullen tossed a complete game on the mound for LeRoy, capped off by staving off a seventh inning rally for Letchworth, which saw them score two runs before being shut down. Kenny Saunders finished the game a perfect 3-for-3 at the plate and Andrew Tygart drove in two runs, helping the Knights move to 5-1 on the season. Ryan Friend also contributed a pair of hits in his three at bats. Will Bean and Tristin Lindsey drove in the Indians two runs, while Nate Thompson added two hits.
EDISON TECH
NE DOUGLASS
LEADERSHIP ACADEMY
WILSON MAGNET
NAPLES
RED JACKET