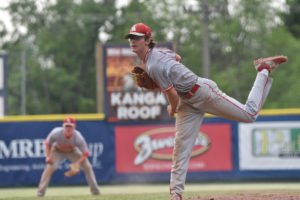 By CAITLIN McCLARE
Alex Vogt led Webster Schroeder with a dominant night at the plate against Irondequoit. Canandaigua's Michael Sculli allowed two hits over 4.1 innings innings to earn his first win of the season against Fairport. Korey Canton got it done with his bat and his arm in Greece Odyssey's 16-run season opener.
For their standout opening-week performances, Monroe County recognized the three as the player of the week (Apr. 1-6) for their respective divisions.
Vogt ran out a pair of triples, knocked in four runs, and scored two in Schroeder's 10-4 season-opening win at Irondequoit. The senior outfielder helped his squad break through in the final two innings to grab the win. The Warriors (1-0) are scheduled for their home opener on Monday, April 8 against Victor at 4:30 p.m.
Canandaigua opened its season with a 5-0 victory over Fairport, in part to Sculli's 4.1 dominant innings on the mound. The lefty struck out 10 and gave up two hits, one of which belonged to the second batter he faced. He and Cooper Crunick combined for a two-hit shutout. Sculli also recorded a hit and scored a run to boost the Braves. READ MORE. Canandaigua (1-0) is headed to Gates-Chili for a 5:30 p.m. first pitch on Monday, April 8.
Canton led Odyssey on both ends in its 16-7 win over Northstar Christian. At the plate, the junior went 3-for-4 with two doubles and two RBI. On the mound, he threw five innings, allowing three hits and two earned runs while recording eight Ks. Odyssey (1-0) will face Brighton at 4:30 p.m. on Monday, April 8.