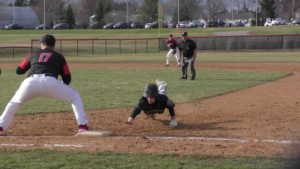 IRONDEQUOIT 8
SPENCERPORT 0
A scoreless first three innings vanished behind a flurry of bats led by Irondequoit's Nicholas Serce. The senior went 3-for-4 at the plate, driving in three runs and crossing home plate once. Serce also pitched six shutout innings, striking out seven batters while allowing three hits and walking one on 90 pitches. Chad Gartland relieved Serce in the seventh, preserving the shutout with one hit and one strikeout. Gartland, Jackson DeJohn, Colin Fuller and Jackson Erbland all drove in a run for Irondequoit. Pitcher Jason Nau struck out six batters in five innings, only letting up two runs for Spencerport. Joseph Cuddy paced the Rangers from plate, notching two hits in three at-bats.

VICTOR 8
WEBSTER SCHROEDER 6
CJ Williams paced the Victor offense in a high-scoring affair, going 3-for-4 with three RBI and two doubles. Santino Rosso and Hudson Pavia both made doubled and finished 2-for-4 at the plate. Rosso also recorded a stolen base and an RBI. Drew Delaney threw a complete game for Victor, allowing four hits and only one earned run. The pitcher struck out two and walked none. Tommy Winn paced the Webster Schroeder offense with a solo shot in the second inning, while Jack vonAhnen managed two hits (one triple) in three at-bats.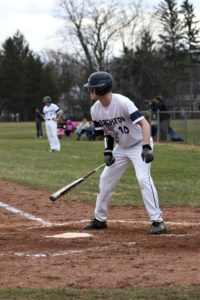 GREECE ARCADIA 2
BRIGHTON 12
Strong pitching paved the way for Brighton, as starter Trent Wasserman went four innings without giving up a hit and earning five strikeouts. Jack Falter closed out the game with seven strikeouts and a 2-for-4 performance at the plate. Max Press and Chase Seibold both drove in a run apiece, with Press finishing 2-for-4 and Seibold making contact once in four at-bats.

PITTSFORD SUTHERLAND 1
PITTSFORD MENDON 4
Kyle Hennessey finished perfect at the plate, going 3-for-3 with two RBI as Pittsford Mendon scored in four straight innings. Karthik Matthew-Malik scored two runs, earning two hits on three at-bats, with Tyler Procious batting in a run as part of a 1-for-2 batting performance. Hudson Bockmier pitched a complete game for Mendon, striking out 10 with only one walk on 110 pitches. Keeghan Cummings batted 1.000 for Pittsford Sutherland, going 3-for-3 with one RBI. Robert Nolan scored the run for Sutherland, who got over five innings and 89 pitches from John Messina. The senior struck out seven, walking one batter and giving up seven hits and four runs.  

MCQUAID 14
CANISIUS HIGH SCHOOL 3
Ben Beauchamp and Drew Bailey each had three RBI as McQuaid piled in 11 runs between the fifth and sixth innings. Beauchamp hit a double and a triple in his two hits in four at-bats, also scoring three runs. Bailey recorded a double, going 2-for-5 at the plate. Zach Lee made contact four times in five at-bats with two RBIs and one run scored, while Charlie Merkley finished perfect (3-for-3) at the plate with a triple. Tyler Griggs, Noah Campanelli, Jack Beauchamp and Ben Hintz all drove in a run for the double-digit offensive output. Five players pitched an inning or more for McQuaid, Patrick Xander leading the pack with over two innings on the mound. Xander gave up two runs on three hits, striking out one and walking one on 27 pitches. Christian Cabrera, Thomas Riker and Grayson Schaefer paced Canisius with one RBI apiece. Jonathan Welsh went 3-for-3.  
GREECE ODYSSEY 2
EASTRIDGE 14
Jacob Russo and Avery Bowens combined for four RBI as Eastridge responded to a two-run first inning by Greece Odyssey and continued to pile on 11 runs in between the third and sixth. Russo and Bowens failed to get any hits, but knocked in runs and scored three runs between them as part of Eastridge's explosive offense. Shane Harisis (2-for-3) and Dylan Hanley (1-for-2) crossed home plate three times apiece, with Harisis collecting one RBI of his own. Austin Robinson and Kyle Egan each had one RBI. Caleb Delly and Jayden Fayad both ended the game 2-for-4 with two scored runs, as Brady Booher made up the rest of the scoring with one. Tyler Rogers started for the Lancers, giving up two earned runs on three hits through a 97 pitch, four inning effort. Rogers struck out nine and walked four. Chase Koepke finished the game, pitching three innings and recording four strikeouts without letting up a hit. Korey Canton had the sole RBI to lead Greece Odyssey. Canton, along with David Crawford, scored the only runs for Greece Odyssey.
CHURCHVILLE-CHILI 4
WEBSTER THOMAS 3 (nine innings)
Joe Wollke pitched two no-hit innings of relief to help Churchville-Chili outlast Webster Thomas in nine innings Joey Puglia struck out 11 in the first seven innings, allowing three runs on five hits. Jake Keller scored in the top of the ninth on a passed ball to close out the contest. Amaury Samalot had two hits, Jaden Nelomes added one with Wes Colucci tripling for the Saints. Jake Carroll scored two of the Churchville-Chili's runs. Devin Mulcahy pitched four innings of one hit ball with six strike outs and three walks for Webster Thomas.  Evan Ziegelhofer came on in relief, struck out seven and allowed three hits over four and a third innings.  Mitchel Kelly had two hits and an RBI. Sam DeGrace had a triple. Caden Hahn and Matt Stuewe recorded two hits apiece.
HILTON 7
RUSH-HENRIETTA 11
Chris Kachala started the stanza with a base on balls. Frank McCabe reached when he beat out a bunt, and Dan Tirabassi followed with a shot to straightaway centerfield. Andrew Sanchez doubled before Grant Rodriguez connected on a run-scoring single for 5-2 Royal Comet advantage. READ MORE.
NORTHSTAR CHRISTIAN 2
EAST 10
Victor Arroyo led all players with two RBI as East scored at least one run in the first three innings to gain separation. Arroyo stole second after his single knocked in two in the bottom of the fifth. Angel Silva, Joshua Figueroa, Edgar Diaz, Jose Ramos and JJ Smith all had one RBI. Michael Conrow led the team in runs scored (three), batting average (1-for-2) and stolen bases (two). Alex and Joshua Figueroa both scored two runs, with Silva, Diaz and Ramos each contributing one run apiece. Merkle and Rivera recorded the RBI for Northstar Christian, who got scores from both Pickett and Bonrica.
HORNELL 0
GENESEO 3
Jake Hamilton pitched all seven innings, striking out seven and walking two, to lead Geneseo in the shutout effort. Hamilton allowed only two hits on 91 pitches while recording one hit in his two at-bats. Noah Reilly (2-for-3) and Liam Miskell both collected RBI, with Reilly also scoring a run. Joining him, Michael Walton and Thomas Ellison scored as well and Luke Harris finished  perfect 3-for-3 at the plate to round out the bats for Geneseo. Hornell's Collin Burdett let up one earned run on six hits through six innings. Burdett struck out four and walked one on 69 pitches. Jonas Sciotti and Tyler Acton recorded the only hits for Hornell.

LIVONIA 10
PERRY/MOUNT MORRIS 5
Alex Minnehan drove Livonia on the mound and at the plate, striking out 15 and scoring three runs for the Bulldogs. Minnehan pitched six innings, giving up four hits and walking one. Minnehan finished 3-for-4 at the plate, including a double. Noah Fasso also contributed a 3-for-4 performance in the batter's box, earning four RBI, a team high. Shawn Minnehan connected on two of his four at bats, scoring two runs in the process to wrap up the major offensive contributions for Livonia.

HARLEY ALLENDALE COLUMBIA 12
MARCUS WHITMAN 4
Allowing only five hits paired with 11 strikeouts, starting pitcher Henry Nicosia dominated on the mound to lead HAC for just over five innings. Jack Wheeler and Spencer Dworkin finished the game for Nicosia, as teammate Jake Dockum continued a hot start to the season, going 2-for-3 at the plate. Dockum batted in three runs and scored two with Max Brown also adding runs (three) and RBIs (one) on two hits. Max Kreckel scored twice, making contact two times as well to round out the major offensive contributions for HAC. Christian Daniels paced Marcus Whitman, grabbing an RBI to go with his two hits. Dylan Howell batted .500 (2-for-4) for Marcus Whitman which included a triple.

CALEDONIA-MUMFORD 7
AVON 4
Joe Laursen excelled on the mound (nine strikeouts) and at the plate (two RBI) to lead Caledonia-Mumford, who broke a 4-4 tie in the top of the seventh to go up 7-4. Laursen allowed only five hits and two earned runs over six innings of pitching, while connecting twice on five at-bats. Jake Burnett and Eric Wilson both finished 2-for-4 at the plate. Burnett batted in two runs on an RBI triple, with Wilson scoring once during the contest. Kevin Flint and Noah Carnes each had two hits apiece to wrap up the offense for Caledonia-Mumford. Nick Rowland paced Avon with a perfect batting average, going 3-for-3 with one RBI. Ryan Younger landed right behind Rowland, scoring two hits for the Braves.

YORK 8
WAYLAND-COHOCTON 7 (nine innings)
Riley Stella Jr. and Clayton Harris both connected on three of their five at-bats as York outlasted Wayland-Cohocton in a nine inning contest. Stella recorded three RBIs on his three hits while Harris scored twice during the evening. Lucas Garza Jr. drew a walk to drive in the winning run in the bottom of the ninth.

SOUTH SENECA 1
HONEOYE 3
Tyler Rudolph made contact twice and drove in all three of Honeoye's runs, two of which broke a 1-1 tie in the sixth, to close out the game. Rudolph, who scored on a home run during his 2-for-3 batting performance, drove in Brett Higley (1-for-3) and Jacob Slocum. Jacob Thomas pitched lights out in a complete game, giving up only one earned run on three hits while striking out 17 batters for Honeoye. Chris Lucas scored the only run for South Seneca, who got six innings on the mound from Spencer John. John delivered 73 pitches, giving up two earned runs on four hits to pair with his eight strikeouts.