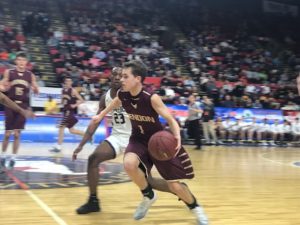 By JOHN LIKANJE
BINGHAMTON, N.Y. – Pittsford Mendon needed one more run, but could not muster enough offense against a stingy Poughkeepsie squad in a 69-59 loss in the New York State Public High School Athletic Association (NYSPHSAA) Class A state championship, Saturday night.
Trailing by four with 3:50 remaining in the fourth quarter, the Poughkeepsie Pioneers ended the game on a 18-4 run. Tournament MVP Davontrey Thompson scored seven points to close the game. The 6-foot-4 forward's floater cut the Mendon lead to 55-53. Niyal Goins tied the game with a floater of his own. Poughkeepsie's leading scorer Jamik Carter finished a driving layup to give the Pioneers a 57-55 lead they did not surrender.
Poughkeepsie's two-three zone defense took Mendon out of its offensive rhythm.
"The zone in the second half slowed us down and we had been unable to make shots from the perimeter," Pittsford Mendon head coach Bob Nally explained. "They have great length. They have a lot of physical strength and the way they were playing that zone, we weren't able to get any room for catches and hit some seams."
Mendon, which connected on 24-of-65 shots from the floor for the night, hit just two field goals over its final 11 possessions of the game.
"That was something we threw in mid-game to try to change a different look defensively", Poughkeepsie head coach Cody Moffett said on the defensive switch for his squad. "It wound up working. It wound up limiting easy baskets and we wound up rebounding. It kind of just worked out that way. It wasn't really something in the game plan. It was something that we said that we may need to use."
Poughkeepsie (25-3/No. 4 NYSSWA Class A) won the rebounding battle, 42-28 and held Mendon 21 points under its season average.
The Vikings had won their last nine games by double-digits, but were unable to reach a lead of 10 points or more Saturday night.
"If I'm gonna go into battle, I'm going to go into battle with my guys 100 times of a 100," Nally said. "It just wasn't our night. They went to zone. We weren't knocking down shots. A couple turnovers hurt us in that last quarter. We weren't able to make another run. But I'm very proud of my guys. We had an excellent season. Wouldn't trade it for anything. Just sort of ran into a little bit of a roadblock tonight and unfortunately, it was the last game of the season."
Daniel Cook netted a game-high 20 points. The senior forward finished 8-of-19 from the field and hauled in 11 rebounds for his 26th double-double in 27 games this season. Cook scored his 1,000th career varsity point as well.
"He has done everything we could ask of him and more," Nally said about his senior forward. "He's a better kid than he is a player. He's gonna be super successful and I don't think there's a kid in Section V that had a better year than him. I'm sure he'll be rewarded for it."
Dan Cook hits a floater in the lane. 3:50 remaining @mendonbball 55 Poughkeepsie 51 pic.twitter.com/pAU8xg6zUw

— Paul Gotham (@PickinSplinters) March 17, 2019
Trailing by seven points in the first quarter, their largest deficit in the past four games, the Vikings surged back in the second period with a 7-0 run to take a 33-25 edge. Cook and junior forward Nate Strauf both made a layup and Jacob Shadders knocked down a three-pointer. Cook converted a rebound and putback for a 35-26 lead, Mendon's largest of the game.
Shadders scored 10 of his 15 points in the third quarter, including seven straight. The sophomore guard, who struggled in the first half, connecting on 2-of-10 shots, hit a three-pointer, layup and floater in four possessions for a 44-40 Mendon lead.
"Jake's a player," Nally said about Shadders. "He loves the big stage. Unfortunately, we weren't able to put enough of those things together."
Michael Harrington to Connor Krapf to Jacob Shadders #synnergy of @mendonbball pic.twitter.com/YIfqAdIFls

— Paul Gotham (@PickinSplinters) March 17, 2019
Michael Harrington and Connor Krapf scored eight apiece. Strauf had six and Charlie Bennett chipped in two.
Charlie Bennett converts a rebound and putback, @mendonbball trails 65-59 with :20 remaining pic.twitter.com/2T2edMMwVA

— Paul Gotham (@PickinSplinters) March 17, 2019
Mendon (26-1/No. 3 NYSSWA Class A) had not trailed in the second half during any of its previous six postseason contests.