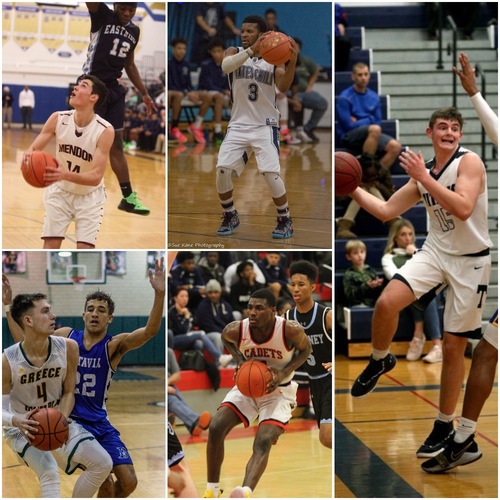 By CAITLIN McCLARE
Tah'jae Hill dominated as a top-scorer throughout the season for the division champion Hilton. Keith Slack paced Gates-Chili to the Monroe County Division II title while Webster Thomas's Andrew Mason topped all Division II scorers. Dan Cook led Pittsford Mendon in an undefeated season. Batavia's Mason McFollins sits atop Division IV scorers despite missing the first three games of the season. Monroe County recognized the five's consistent dominance, awarding them with Monroe County Player of the Year honors.
No one in Monroe County scored more points this season than Hill, the Division I player of the year. In fact, his 634 points sits about 150 points above the next top-scorer. Hill finished the season averaging 31.0 points per game with a season-high of 41 points for Hilton (17-4, 10-0). With those numbers, it's no surprise the guard hit his 1,000th point and went beyond, reaching 1,411 career points as a junior. He shot 58.8 percent from two and 84 percent from the line. Hill also averaged 7.9 rebounds, 2.4 assists, and 1.9 steals per game. Teammate Mitch Carr, who averaged 13 points and six rebounds per game, joined Hill on the first team. Fairport's Vanzell Johnson (12.3 ppg), Penfield's Patrick Piampiano (18.1 ppg), Webster Schroeder's JoJo Plummer (16 ppg), and Victor's Matt Caggiano (14.95 ppg) also grabbed a spot on the first team. All four earned this honor for the first time in their careers.
.@Hiltonhoops wins the @SecVBBasketball Monroe County I Division Title on this buzzer-beating 3-pointer by @iamtahjaehill. Final score from the Jeff Fitch Court: @HiltonCadets 58, @Fairport_hoops 57. @PickinSplinters @TheCityRocks @TimIrvingSports pic.twitter.com/dypXj8Mw3F

— John Mitchell Likanje Junior (@jml5798) February 15, 2019
Behind Slack's 459 total points this season, Gates-Chili (18-4) earned the Monroe County Division II title by going 9-1 in league play. Slack averaged 21.15 points per game, shooting 43.8 percent from the field, and finished his career with 1,746 points. The senior guard averaged four boards per game, four assists, and 1.6 steals. Sharing the Division II player of the year title is Webster Thomas's (10-11) Mason. Mason is number two on Monroe County's top-scoring list this season, behind Hilton's Hill. The junior guard averaged 23.95 points per game, shooting 41 percent from the field and 88 percent from the line, on his way to 479 points this season. He racked up double-figures every game with six games topping 30, including his season-high 37. He also averaged 6.1 rebounds, 2.6 assists, and 1.7 steals per game. Joining the Division II first team for the second consecutive year is Irondequoit's Josh Stenglein (11.5 ppg) and Freddie June, Jr. (10.06 ppg). Slack's scoring accomplice Adam Williams earned first team honors with 15.5 points per game for Gates-Chili. Churchville-Chili's Griffin Stella averaged 13.6 points per game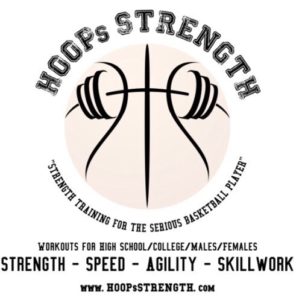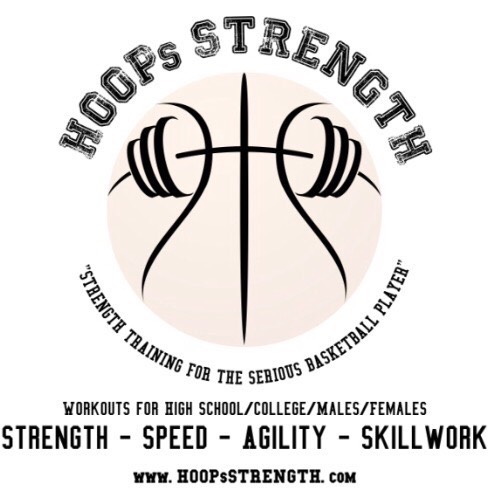 After 25 games, a Division III and Class A1 title, Pittsford Mendon still has a zero in its loss column. Cook leads his championship squad with 18.75 points, 14 rebounds, three assists, two steals, and three blocks per game. The six-foot-six senior tallied a Section V-high 19 double-doubles the regular season, including one on a season-high 40 points. He shot 60 percent from the field. His teammates Mike Harrington (17.95 ppg) and Jacob Shadders (14.5 ppg) sit alongside him on the first team. Kevin Ryan from the Class A2 championship squad, Pittsford Sutherland, grabbed a spot on the first team. Ryan averaged 19.5 points per game and racked up 13 double-doubles. He finished his career fourth on the all-time Sutherland list with 1,240 points. Greece Athena's scoring duo Melvin Council, Jr. (19.35 ppg) and Kelvin Reaves, Jr. (16.65 ppg) earned spots as well.
McFollins scored 374 points in 17 games on the way to earning himself Division IV Player of the Year honors. The Batavia (11-11) guard averaged 22 points per game with three games hitting the 30 marker, shooting 45 percent from from the field and 77 percent from the line. His season high was 31 points. McFollins averaged seven rebounds, four assists, and one steal per game. Alongside McFollins on the first team is Travon Harper, who averaged 11.65 points per game, from the Division IV title winner Greece Odyssey. Tony Arnold paced Eastridge with 14.9 points per game, putting his squad at number two in Division IV. Arnold became the first player in Eastridge program history to score 1,000 career points. After taking the second team title as a junior, Jeff Jung, Jr. led Division IV with 445 total points and averaged 21.5 points per game. Honeoye Falls-Lima's Trevor Chamberlain (15.3 ppg) grabbed a spot for the first time in his career.
Monroe County also recognized Hilton's Troy Prince, Churchville-Chili's Tim Miller, Mendon's Bob Nally, and Odyssey's Jim Guzielek as the Coach of the Year from their respective division.
***Article updated to indicate that Jeff Jung, Jr. led Division IV with total points for the season.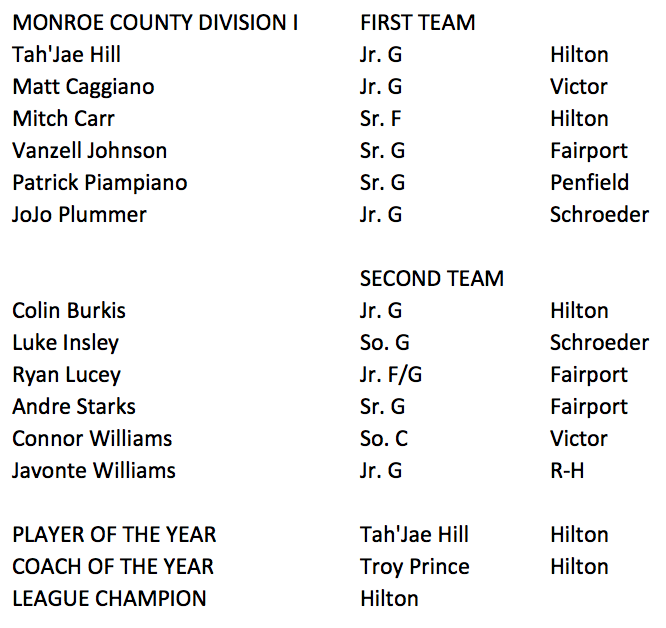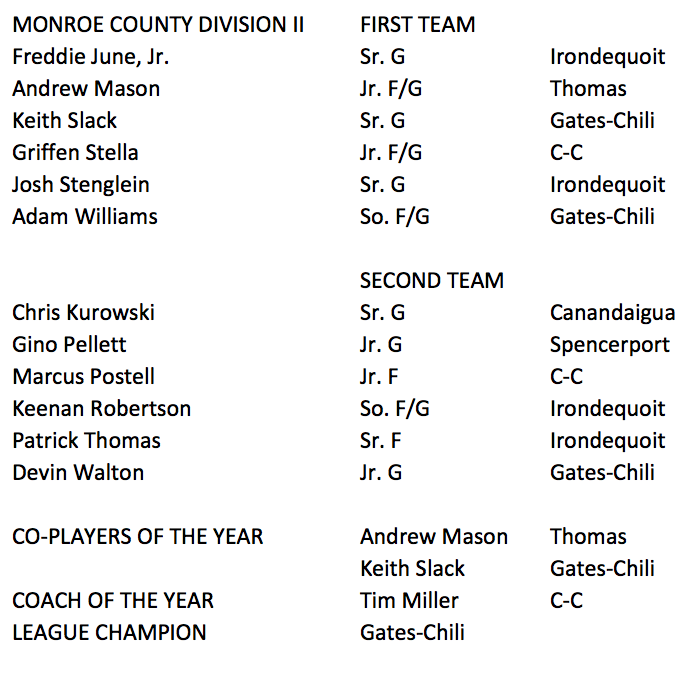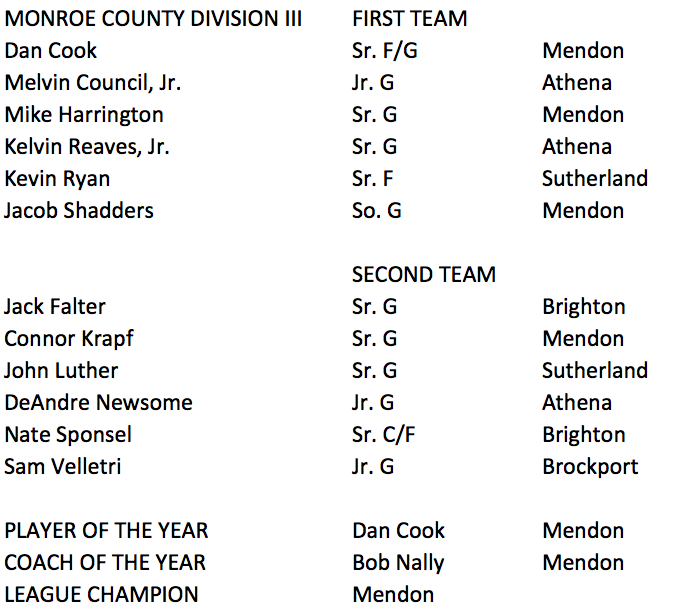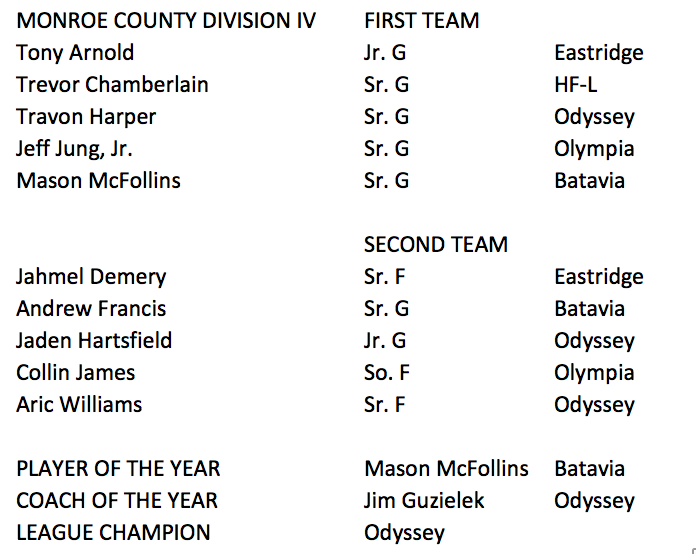 Scoring averages reflect regular season totals.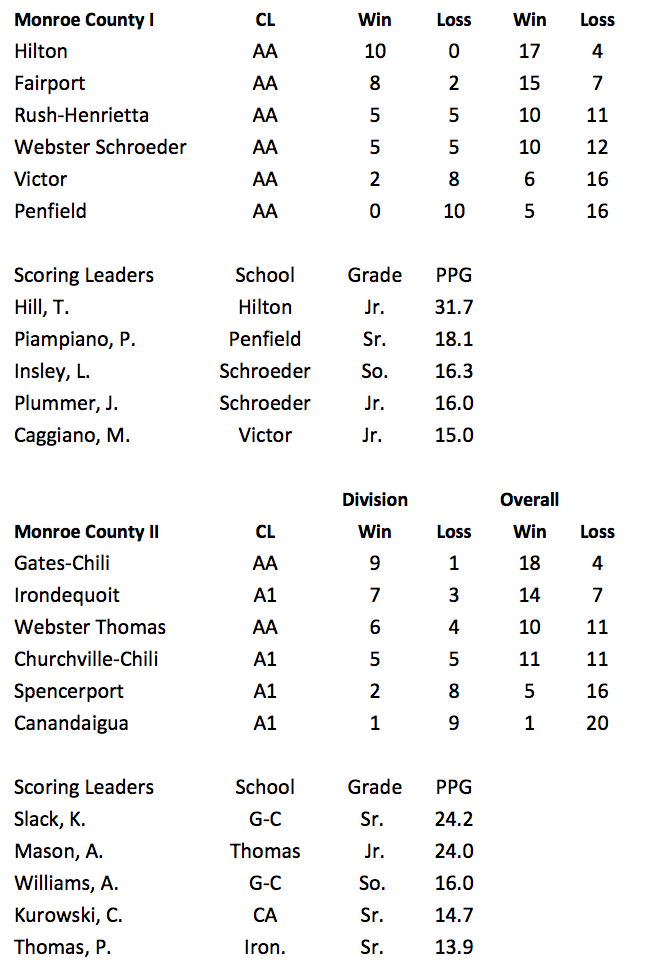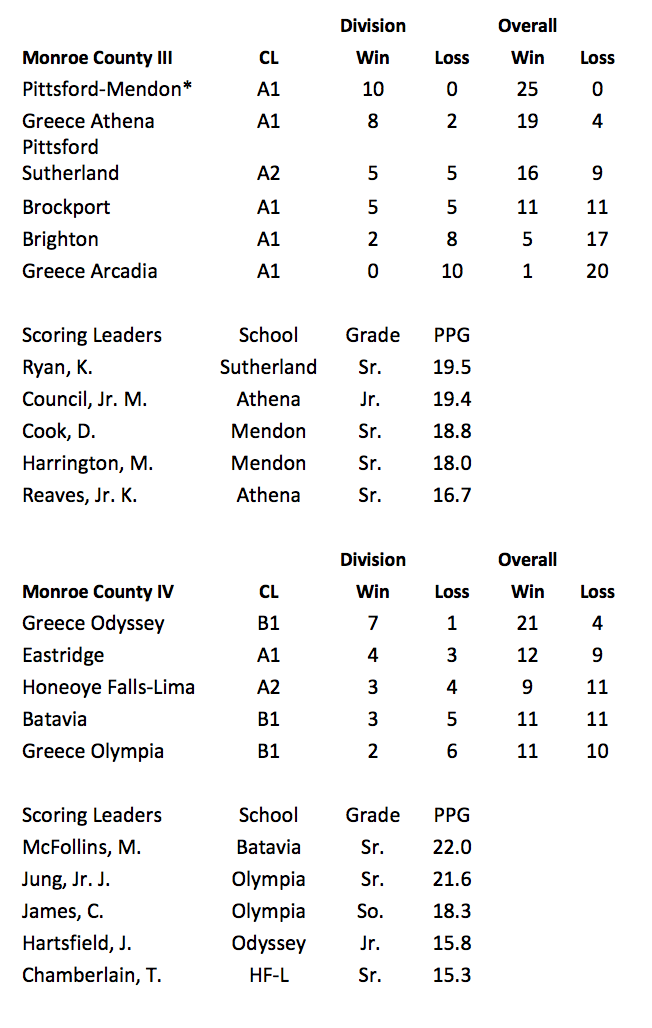 *Season is not yet finished.
Scoring averages reflect regular season totals.