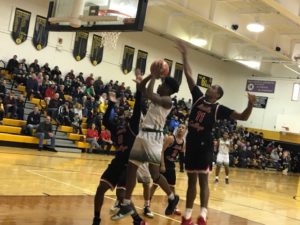 By JOHN LIKANJE
GREECE, N.Y. – Charles G. Finney built a double-digit first half lead, but could not hold on in a 64-60 loss to Middle Early College (VI) in the NYS Class C Far West Regional, Saturday, at Greece Athena High School.
Clinging to a 19-14 lead going into the second quarter, senior guards Caleb Anger and Keegan Ocorr combined for 14 of the C.G. Finney Falcons' 22 points to take a 41-24 advantage to the locker room. Ocorr finished a three-point play and knocked down mid-range jumpshots on back-to-back Falcons' possessions. Anger netted a pair of long-range shots-one of which was a four-point play.
Caleb Anger going to the line to complete the 4-point play. Finney 26 Middle Early College 16 NYS Class C Far West Regional. pic.twitter.com/ZWD0oNw1GN

— Paul Gotham (@PickinSplinters) March 9, 2019
Eighth-grade guard Markus Robinson scored six points of his own during the second quarter on a layup, mid-range jumper and two free throws. Senior Josh Taylor made a layup. The Falcons held the Middle Early College Kats to nine missed field goals and nine turnovers in 24 possessions.
"Our gameplan was to force them (Middle Early College) into the middle," Falcons head coach Joe Marchand explained. "We knew they were penetrating middle. They were kicking the ball to the wing and banging it into the block. That's where we were having problems because they were so much bigger than us.
"We took the top guy and sank him into the middle of the court," Marchand continued when detailing his squad's defensive scheme. "So now he didn't have to move too far back to set up the 1-3-1 (zone) and the two wings were the ones up top in the press. Technically, it was a 2-1-2 press, but it just morphed right into a 1-3-1."
For the afternoon, Robinson netted a game-high 25 points. The eighth-grade guard shot 7-of-8 from the foul line, collected four rebounds, swiped four steals and had an assist.
"I've seen a tremendous amount of growth out of Markus," Marchand said about Robinson. "Just recognizing defenses. Picking up on 'Hey, this guy's got three fouls. I can attack him now.' His defense has picked up a lot throughout the year. I think he scored over 600 points this year."
Ocorr scored 12 of his 16 points in the first half. The senior guard had four steals, dished out three assists and pulled down a pair of rebounds.
"Keegan's growth, it was not so much his athleticism that grew," Marchand said about Ocorr. "It was his knowledge, his leadership, his coaching. He recognizes so many things on the court and directs so much traffic out there."
Taylor chipped in 10 points, six rebounds, three steals and a block.
Ja'Kari Nettles invigorated Middle Early College with 16 of his team-high 23 points in the second half as the Kats outscored the Falcons, 40-19. The senior center amassed 23 rebounds, blocked a pair of shots, swiped two steals and handed out two assists.
Devonte Prince scored 10 points in the second half. The junior guard finished with 15 points, four rebounds and two assists.
Traemelle Stevens-Richardson and Jamond Jones each netted 10 points. Richardson hauled in 10 boards as the Kats outrebounded the Falcons, 57-26.
Middle Early College advances to the state semifinals to play the winner of Lake George (II) vs. Moriah (VII) next Saturday at 9:00 AM in Binghamton.
MIDDLE EARLY COLLEGE (21-4)
Jakari Nettles 10-19 3-3 23; Devonte Prince 4-12 5-6 15; Traemelle
Richardson 4-6 0-0 10; Jamond Jones 4-20 1-3 10; Keith Brown 2-7 0-1 4;
Keyunte Jones 1-5 0-1 2; Malik Meadows 0-1 0-0 0; Jaheim Vigil 0-0 0-2 0;
Anthony Smith 0-0 0-0 0. Totals 25-70 9-16 64.
C.G. FINNEY (21-4)
Markus Robinson 9-25 7-8 25; Keegan Ocorr 5-20 5-5 16; Josh Taylor 5-8 0-1
10; Caleb Anger 2-8 1-2 7; Xavier Smith 1-4 0-0 2; Steve Folkerts 0-0 0-0 0.
Totals 22-65 13-16 60.
Middle Early College……….   14   10   23   17  –   64
C.G. Finney……………….   19   22   12    7  –   60
3-point goals–Middle Early College 5-24 (Devonte Prince 2-7; Traemelle
Richardson 2-2; Jamond Jones 1-11; Malik Meadows 0-1; Keyunte Jones 0-3),
C.G. Finney 3-17 (Caleb Anger 2-7; Keegan Ocorr 1-6; Xavier Smith 0-2; Josh
Taylor 0-1; Markus Robinson 0-1). Fouled out–Middle Early College-Devonte
Prince, C.G. Finney-None. Rebounds–Middle Early College 57 (Jakari Nettles
23), C.G. Finney 26 (Caleb Anger 8). Assists–Middle Early College 9
(Traemelle Richardson 2; Jamond Jones 2; Jakari Nettles 2; Devonte Prince
2), C.G. Finney 5 (Keegan Ocorr 3). Total fouls–Middle Early College 18,
C.G. Finney 13. Technical fouls–Middle Early College-None, C.G.
Finney-None.