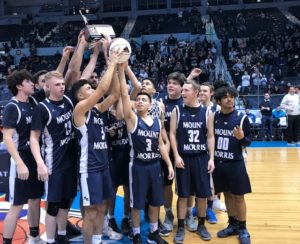 By JOHN LIKANJE
ROCHESTER, N.Y. – Cameron Regal broke out for a first-half double-double as Mount Morris took down top-seeded Avoca, 79-64, in the Section V class D1 final.
Regal got off to a hot start, scoring 11 of the Mount Morris' Blue Devils 20 points in the first quarter on five layups and a free throw en route to a 20-12 lead at the end of the opening period.
The senior forward made four more layups and a pair of foul shots to reach 21 points in the first half. Regal hauled in 11 rebounds, swiped two steals, collected two assists and blocked a shot as the Blue Devils surged to a 43-28 edge going into the locker room.
For the afternoon, Regal poured in a game-high 33 points and hauled in 15 rebounds for his 18th double-double of the season.
"He works hard in the paint and he's just so physical and so active," Mount Morris head coach Brian Stout said about his senior forward. "He never stops working on that."
Dylan Cicero scored nine of his 15 points through the first two quarters. The senior forward grabbed eight rebounds, swiped a pair of steals and had an assist.
Collin Young chipped in nine points in the first half. The senior guard finished with 11 along with five assists and two rebounds.
Jansel Martinez netted all 10 of his points in the second half and scored eight consecutive points for the Blue Devils in the fourth quarter. The junior forward grabbed six rebounds, blocked two shots and handed out three assists.
"He's (Martinez) our second leading scorer on the season, but he's just so fast," Stout said about his junior forward. "He gets out in transition, he makes great decisions with the ball. We knew he was going to go off in the second half. He's just too good of a player and he does a good job of getting the ball in the paint."
For Avoca, LaDre Stanford scored 16 of his team-high 24 points in the second half. The senior guard pulled down six rebounds, had three steals and an assist.
Tristian Stark had 14 points through the first 16 minutes of game play. For the afternoon, the junior forward netted 20, collected four rebounds and swiped five steals.
The Blue Devils win their first sectional title since 1969. The top-seeded Blue Devils defeated Red Jacket to claim the Section V class C championship.
"I went to Mount Morris, I played for Mount Morris," Stout said. "We won our first league title in 29 years and our first sectional title in 50 years. This group has worked so hard."
Mount Morris will play Belfast in the New York State class D Far West Regional Qualifier on Wednesday.
MOUNT MORRIS (20-3)
Cameron Regal 14-19 5-8 33; Dylan Cicero 7-10 1-4 15; Collin Young 4-8 0-0
11; Jansel Martinez 5-7 0-0 10; Justin Martin 3-7 2-2 8; Steven Soto 1-6 0-0
2; Robbie Hartigan 0-0 0-0 0; Jose Cruz 0-0 0-0 0; Joseph Pagano 0-0 0-0 0;
Marcos Lassalle 0-0 0-0 0; John Yost 0-0 0-0 0; Josh Cruz 0-0 0-0 0. Totals
34-57 8-14 79.
AVOCA (20-3)
LaDre Stanford 7-23 5-6 24; Tristian Stark 9-17 2-4 20; Nathan Nunn 3-14 1-2
7; Brady Brandow 2-8 0-0 6; Thomas Derick 2-4 0-0 5; Zach Hammond 1-2 0-0 2;
Miachel Hoad 0-1 0-0 0; DeJay Hammond 0-0 0-0 0; Lorenzo Bernadi 0-0 0-0 0;
Devin Stowe 0-3 0-0 0; Pacey Hopkins 0-0 0-0 0. Totals 24-72 8-12 64.
Mount Morris………………   20   23   18   18  –   79
Avoca…………………….   12   16   19   17  –   64
3-point goals–Mount Morris 3-12 (Collin Young 3-5; Dylan Cicero 0-2; Jansel
Martinez 0-1; Justin Martin 0-1; Steven Soto 0-3), Avoca 8-24 (LaDre
Stanford 5-12; Brady Brandow 2-6; Thomas Derick 1-2; Nathan Nunn 0-4).
Fouled out–Mount Morris-None, Avoca-None. Rebounds–Mount Morris 45
(Cameron Regal 15), Avoca 30 (Nathan Nunn 6; LaDre Stanford 6).
Assists–Mount Morris 17 (Steven Soto 5; Collin Young 5), Avoca 9 (Devin
Stowe 4). Total fouls–Mount Morris 15, Avoca 17. Technical fouls–Mount
Morris-None, Avoca-None. A-1500