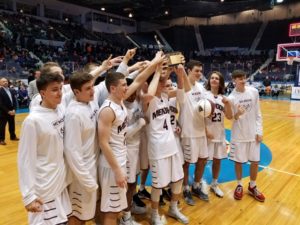 By JOHN LIKANJE
ROCHESTER, N.Y. – Pittsford Mendon surged to an early double-digit lead and never looked back on the way to a 95-67 victory over Greece Athena in the Section V class A1 final.
"The kids work so hard together, day in and day out," Pittsford Mendon head coach Bob Nally said. "They really push each other in practice to get better."
Jacob Shadders and Michael Harrington invigorated the Pittsford Mendon Vikings with eight points combined during a 12-4 start in the opening minutes of the first quarter. Shadders knocked down mid-range jumpshots from the top of the key on back-to-back possessions. Harrington made two layups.
Nate Strauf hit a layup and Connor Krapf netted a floater. During the run, the Vikings held the Greece Athena Trojans to two missed field goals and two turnovers in six possessions.
Daniel Cook netted 18 of his game-high 31 points in the second half as the Vikings outscored the Trojans, 41-36. The senior forward hauled in 15 rebounds for his 23rd double-double of the season and collected four assists.
"He (Cook) just has a knack for rebounding," Nally said about his senior forward. "He's so alert on both ends of the glass. He's got good length. He sees where the balls coming off and he's got great hands."
Harrington poured 19 of his 24 points in the first half as the Vikings surged to a 54-31 lead going into the locker room. The senior guard grabbed a pair of rebounds and handed out two assists.
"Once he (Harrington) either gets to the rim for a finish or makes a three, he just goes into that mode where he can't miss," Nally said about Harrington. "Him getting out there and hitting early shots, being strong with the ball."
Jacob Shadders scored 12 points in the opening period. For the night, the sophomore guard had 15 along with six assists, three rebounds and two steals. Krapf chipped in 10 points, pulled down four rebounds and had a pair of assists.
For Greece Athena, Melvin Council, Jr. knocked down four of his five three-pointers in the first three minutes of the fourth quarter. The junior guard scored a team-high 23 points, pulled down six rebounds, dished out five assists, blocked a shot and swiped a steal.
Austin Brown and DeAndre Newsome each contributed 12 points. Senior guard Kelvin Reaves, Jr. scored 11 points, collected four assists and three rebounds.
Pittsford Mendon wins its first sectional title since 2003 and defeat the Trojans for the third time this season.
Pittsford Mendon will play Pittsford Sutherland in the New York State class A Far West Regional Qualifier on Wednesday. The Vikings took down the Knights in both matchups in the regular season.
"I know I'm looking forward to the matchup," Nally said. "I'm sure the whole town is and it should be fun."
GREECE ATHENA (19-4)
Melvin Council 8-16 2-4 23; Austin Brown 5-6 0-0 12; DeAndre Newsome 4-12
4-4 12; Kelvin Reaves 5-9 0-0 11; Brandon Smith 1-1 0-1 3; Jake Cerone 1-1
0-0 2; Isaiah Brock 1-3 0-1 2; Terrell Wilson 1-1 0-0 2; Kenny Freeman 0-0
0-0 0; Jahon Jones 0-0 0-0 0; Robert Mitchell 0-0 0-0 0; Johnny Salone 0-0
0-0 0; Noah Horn 0-0 0-1 0; Tyler Curtis 0-1 0-0 0; RJ Vignari 0-0 0-0 0.
Totals 26-50 6-11 67.
PITTSFORD MENDON (24-0)
Dan Cook 10-14 10-12 31; Michael Harrington 9-18 4-7 24; Jacob Shadders 6-11
0-0 15; Connor Krapf 5-9 0-0 10; Charlie Bennett 3-5 2-2 9; Nate Strauf 2-2
0-0 4; Caleb Arena 0-0 2-2 2; Kyle Hennessey 0-0 0-0 0; Will Orzell 0-1 0-0
0; Kevin Keneally 0-0 0-0 0. Totals 35-60 18-23 95.
Greece Athena……………..   15   16   17   19  –   67
Pittsford Mendon…………..   30   24   18   23  –   95
3-point goals–Greece Athena 9-19 (Melvin Council 5-8; Austin Brown 2-3;
Kelvin Reaves 1-3; Brandon Smith 1-1; Tyler Curtis 0-1; Isaiah Brock 0-1;
DeAndre Newsome 0-2), Pittsford Mendon 7-20 (Jacob Shadders 3-5; Michael
Harrington 2-8; Dan Cook 1-2; Charlie Bennett 1-3; Connor Krapf 0-2). Fouled
out–Greece Athena-None, Pittsford Mendon-None. Rebounds–Greece Athena 18
(Melvin Council 6), Pittsford Mendon 30 (Dan Cook 15). Assists–Greece
Athena 13 (Melvin Council 5), Pittsford Mendon 16 (Jacob Shadders 6). Total
fouls–Greece Athena 18, Pittsford Mendon 12. Technical fouls–Greece
Athena-None, Pittsford Mendon-None. A-3000