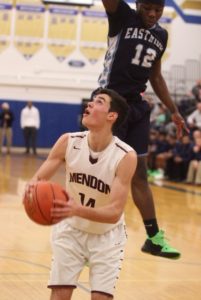 Rochester's Blue Cross Arena at the War Memorial is the setting when a pair of Monroe County division rivals meet for the Section V Class A1 crown. Here's the breakdown:
No. 1 PITTSFORD MENDON (22-0/Monroe County III) vs. No. 2 GREECE ATHENA (19-3/Monroe County III)
When: Saturday, March 2, 7 PM
Where: Blue Cross Arena at the Rochester Community War Memorial
How they got here: Pittsford Mendon defeated No. 8 Aquinas, 67-48, in the quarterfinals and pulled away for an 86-61 win over No. 4 Eastridge in the semifinals. Greece Athena got past No. 10 Brighton, 70-47, in the quarterfinals before holding off No. 2 Irondequoit, 53-45, in the semifinals.
History 101: This is the second straight year these squads will match up in sectionals. Greece Athena defeated Pittsford Mendon, 70-61, in the 2018 class A1 semifinals. For Mendon, it's their first final appearance in eight years. In the 2012 Class A final, the No. 7 seed Vikings lost to No. 4 Bishop Kearney, 55-48. Mendon's last title came in 2003 when Chris Shalvoy led the Vikings past Batavia for the Class BB crown. Greece Athena will appear in its seventh consecutive sectional final. The Trojans are looking to win their fourth title in seven years. Current University of Vermont Catamount Anthony Lamb led Athena to the 2015 A1 championship. That Trojan squad took a 24-0 record into the NYSPHSAA Class A game where it lost 54-49 to Scotia-Glenville (II).
How they match up: Pittsford Mendon has won 19 of its 22 games this season by double-digits while Greece Athena is on a four-game winning streak. Pittsford Mendon is scoring 80.8 points per game and allowing 53.3. Greece Athena averages 66.0 points and gives up 54.6. The Vikings defeated the Trojans in both contests during the regular season-one of which came on February 8 at Pittsford Mendon High School.
Players to watch for Pittsford Mendon: Daniel Cook Sr. F 18.8 PPG, 21 double-doubles; Michael Harrington Sr. G 17.9 PPG; Jacob Shadders So. G 14.5 PPG; Connor Krapf Sr. G 10.8 PPG
Greece Athena: Melvin Council, Jr. Jr. G 19.4 PPG, six double-doubles; Kelvin Reaves, Jr. Sr. G 16.7 PPG; DeAndre Newsome Jr. G 8.9 PPG; Austin Brown So. F 6.1 PPG
Coaches: Bob Nally (Pittsford Mendon), Mike Setzer (Greece Athena)
What's at stake: The winner advances to the NYS Class A Far West Regional Qualifier to play the winner of East vs. Pittsford Sutherland.