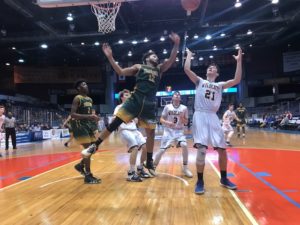 By JOHN LIKANJE
ROCHESTER, N.Y. – Charles G. Finney used a big run in the second and third quarters to pull away for a 63-42 win over top-seeded Marcus Whitman in the Section V class C1 final.
Leading 23-17 midway through the second period, Keegan Ocorr invigorated the Charles G. Finney Falcons with 12 points during a 22-4 run to take a 45-21 edge in the opening minutes of the third quarter. The senior guard made a pair of layups, a mid-range jumper, a three-pointer and went 3-of-3 from the foul line.
"Just having a floor general like him (Ocorr), he can help spark some stuff," Charles G. Finney head coach Joe Marchand explained.
Eighth-grader Markus Robinson knocked down a floater, finished a layup and made a free throw. Senior forward Caleb Anger netted a shot from beyond the arc and Josh Taylor had a layup of his own.
During the run, the Falcons held the Marcus Whitman Wildcats to seven turnovers and seven missed field goals in 17 possessions.
"When we put the press on and made it an up-and-down game, it slowed their (Marcus Whitman) offense up, got them out of sync a little bit and allowed us to play the pace that we wanted to play at," Marchand explained.
Ocorr scored 25 of his game-high 28 points in the first three quarters as the Falcons had a 54-33 lead going into the final period. The senior guard grabbed six rebounds, swiped four steals and handed out a pair of assists.
"He runs the whole show on offense," Marchand said about Ocorr. "He calls the plays, he sets the screens, he tells you who he wants to set the screens. We give him a couple of sets to work with and he finishes it from there."
Robinson netted 12 of his 14 points in the second quarter as the Falcons outscored the Wildcats, 22-11. The eighth-grade guard collected five rebounds and dished out three assists.
"We told Markus to try to go out there and score 35," Marchand said about Robinson. "We told him 'Markus, penetrate. You're strong, you can finish, you can get through those guys.' We just told him 'Go to the basket.'
For Marcus Whitman, Liam Prendergast had 12 of his team-high 14 points through the first 16 minutes of game play. The junior forward pulled down nine rebounds, had two assists, blocked two shots and swiped a pair of steals.
Jon Donovan scored nine of his 11 points in the second half. The senior guard grabbed eight rebounds, had two steals and two assists.
The Falcons claim their third sectional title in the last four years. Head coach Joe Marchand's squad won back-to-back class D1 sectional titles in 2016 and 2017.
Charles G. Finney will play Lyons in the New York State Far West Class C Sub-Regional on Monday.
C.G. FINNEY (19-3)
Keegan Ocorr 9-13 7-11 28; Markus Robinson 6-14 2-5 14; Caleb Anger 3-8 1-2
9; Josh Taylor 2-5 3-4 7; Xavier Smith 2-6 0-0 4; Jake Torrell 0-0 1-2 1;
Jadon Marques 0-0 0-0 0; Steve Folkerts 0-0 0-0 0; James Sidorishin 0-0 0-0
0; Matt Magliato 0-1 0-0 0; Dan Sideorishin 0-0 0-0 0; Tremell Hale 0-1 0-0
0. Totals 22-48 14-24 63.
MARCUS WHITMAN (20-3)
Liam Prendergast 6-9 2-4 14; Jon Donovan 4-16 2-3 11; Ryan Herod 2-6 0-0 5;
Aiden Royston 2-5 0-0 4; Noah Hildreth 1-4 0-0 3; Zack Lovejoy 1-1 0-0 3;
Seth Benedict 1-8 0-0 2; Christian Daniels 0-0 0-0 0; Connor Tomion 0-1 0-0
0; Jordan Lahue 0-2 0-0 0; Carson Miller 0-0 0-0 0; DeCouteau Blueye 0-0 0-0
0. Totals 17-52 4-7 42.
C.G. Finney……………….   17   22   15    9  –   63
Marcus Whitman…………….   10   11   12    9  –   42
3-point goals–C.G. Finney 5-14 (Keegan Ocorr 3-5; Caleb Anger 2-4; Josh
Taylor 0-1; Xavier Smith 0-2; Matt Magliato 0-1; Markus Robinson 0-1),
Marcus Whitman 4-21 (Zack Lovejoy 1-1; Noah Hildreth 1-4; Jon Donovan 1-6;
Ryan Herod 1-5; Connor Tomion 0-1; Jordan Lahue 0-2; Seth Benedict 0-2).
Fouled out–C.G. Finney-None, Marcus Whitman-None. Rebounds–C.G. Finney 34
(Caleb Anger 9), Marcus Whitman 26 (Liam Prendergast 9). Assists–C.G.
Finney 10 (Markus Robinson 3; Caleb Anger 3), Marcus Whitman 10 (Jon Donovan
2; Jordan Lahue 2; Liam Prendergast 2). Total fouls–C.G. Finney 13, Marcus
Whitman 19. Technical fouls–C.G. Finney-None, Marcus Whitman-None. A-1000