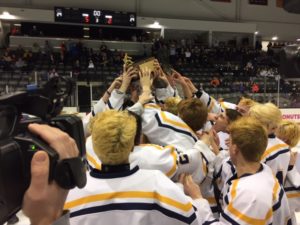 By KEVIN OKLOBZIJA
Three times in the past three years, Spencer Nuccitelli had come to the rink with the Webster Thomas Titans to play for a Section V hockey championship.
Three times he and the Titans left with the runner-up medallion.
In 2016 Thomas lost to Victor. In 2017, Brockport created the night of misery. Last February may have been the most distressing, however. Canandaigua scored in the final minute to win 4-3.
Talk about your trifecta of tribulation.
But on Tuesday night, Nuccitelli, the only fourth-year member of the team, left the ice of the Gene Polisseni Center with a smile, a championship patch and a sense of pride in his teammates and school.
The senior forward scored one goal and Zack Wolfe scored two as the top-seeded Titans ended the Cinderella season of second-seeded Spencerport with a 5-2 victory in the Section V Class B championship.
"You look back for motivation," Nuccitelli said after the Titans improved to 17-4-2. "After losing the last three, we knew we had to come out flying."
They did just that, scoring only 30 seconds into the game when Wolfe converted a perfect pass from Will Fisher.
But in reality, that instant goal may have created an immediate sense of "This will be easy."
"It was almost not a good thing," said Thomas coach David Evans, who has guided the school to six sectional titles (2008, '09, '10, '11 and '13). "We sort of sat back."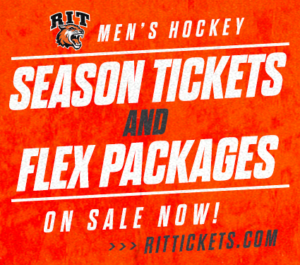 Indeed, the score didn't change until 1:03 of the second period, when Nuccitelli slammed home a centering pass from Cullen Hennessy. When Cade Spencer scored at 4:18, Thomas was ahead 3-0 and in control.
Except the upstart Rangers wouldn't quit. A team that had as many playoff wins this season (two) as victories all of last season, Spencerport became energized on goals by Jason Uebelacker and Luc Fedele in the first four minutes of period three.
"Hats off to Spencerport, they played really well," Evans said.
But when Kevin Gabalski scored at 7:23, Thomas again was up by two and essentially ended the Rangers' comeback hopes.
"We got the two quick ones but unfortunately we gave up that fourth one and it took the wind out of our sails a little bit," first-year Spencerport coach Ryan Ford said.
Both goalies — Cody Rougeux for Thomas and Rachel Brase for the Rangers — made terrific saves. Rougeux even got a stick tap from Ryan Plouffe after robbing the Spencerport forward in the second period.
The loss was painful for the Rangers, who finished 19-4 and set a school record for victories. Still, after losing 17 games a year ago, had they been told at Thanksgiving that they'd play for a sectional title this year, they'd have gladly signed up for the outcome.
"And to be within 3-2 with 10 minutes left, we'd have pushed all our chips into the middle of the table," Ford said."I couldn't be prouder of this group. They deserve every ounce of credit."
The Titans, meanwhile, move on to the state quarterfinals. They'll play at Section X champion Norwood Norfolk at 5:30 p.m. on Saturday at Dominick Zappia Arena in Norfolk.
"The road's unfinished right now," Wolfe said.