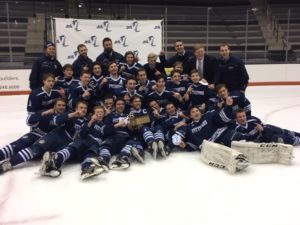 By KEVIN OKLOBZIJA
Brian Judge was able to recall everything leading up to his rocket slap shot that gave Pittsford a 3-2, double-overtime victory over Fairport in Tuesday's Section V Class A championship game.
The pass from Brendan Haims, who had moved in a few strides from the right point before sliding it across.
The puck rolling as it reached his stick. "I thought I would miss the net high," he said.
The unleashing of stick on puck from the left circle. "That's my shot," he said.
But after the puck hit twine? He said he doesn't remember a thing.
That's too bad, because it was quite the party on the ice of RIT's Gene Polisseni Center. Gloves flew skyward, sticks soared in all directions and Pittsford players embraced in a joyous group hug to celebrate their unlikely sectional title, the fifth under coach Steve Thering.
"That was just wild, oh, my gosh," junior goalie Alex Tidd said.
You want to know what else was wild? Tidd's play in the goal crease.
The Panthers (16-6-2) were outshot 45-23 but the junior netminder was sensational. He allowed only a pair of goals — to Travis Knicely at 7:26 and Mitchell Zanon 1:40 later — during Fairport's 18-shot, third-period onslaught and was clearly the game's most valuable player.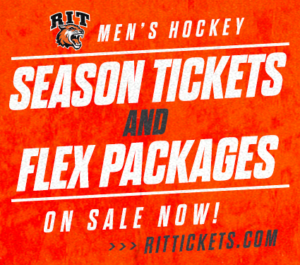 "Thanks to him we won sectionals," said Judge, an eighth-grader who scored just two goals during the regular season.
Second-seeded Fairport spent more than two periods trying to figure out how to get a puck past Tidd. Through 34 minutes, the Red Raiders (16-4-3) trailed 1-0 despite at least a half-dozen high-quality scoring chances.
By the third period, Pittsford's student section was chanting "Brick wall! Brick Wall!"
"I don't think anything I've done compares to this," Tidd said of the victory. "Even winning OHFs (the Ontario Hockey Federation Bantam AA championship in 2017 for his native London, Ontario team). This was the most fun I've ever had in hockey."
Zanon's goal gave the Red Raiders a 2-1 lead, and a boatload of momentum, but the Panthers forced overtime with just 1:31 remaining when senior forward Hayden Feck one-timed a Ronin VanDamme pass into the net on a power play.
"Guys dug deep," Thering said. "Fairport had us on the run. It's sort of how our team has been. Victor in the quarterfinals (a 3-2 win), we took a huge attack from them. McQuaid at times too (in the semifinals)."
The first 7-minute, 30-second overtime period was dominated by Fairport but Tidd couldn't be beaten, and when it appeared Jake Mueller would be shooting at an empty net with five seconds to play, defenseman Kevin Sheller deflected the puck harmlessly away.
The second overtime was a little more even in terms of territorial play, and then Judge got his chance on what started as a rather harmless play.
Haims, however, kept the puck inside the Fairport zone and made the quick pass to Judge in the left circle. He never stopped it, firing the perfect shot into the net.
"I'm exhausted; we played almost two games," Judge said of the overtimes. "Our captain has said all year, we are a team of heart."
Pittsford plays on the road against Section III champ Syracuse at 7:30 p.m. Saturday in the state quarterfinals.