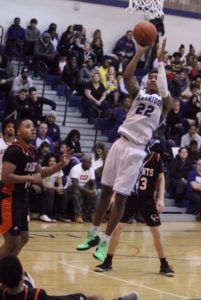 Class A1:
No. 8 AQUINAS (7-13) 48
No. 1 PITTSFORD MENDON (21-0) 67
Daniel Cook and Michael Harrington provided all the offense in the pivotal third quarter as top-seeded Pittsford-Mendon advanced to meet No. 4 seed Eastridge in the semifinals. READ MORE.
No. 5 CHURCHVILLE-CHILI (11-11) 57
No. 4 EASTRIDGE (12-8) 58
Adrian Rodgers connected four times from 3-point land including the go-ahead basket in the final minute as the Lancers advanced to play top-seeded Mendon in the semifinals. Rodgers led three in double figures with 16. Tony Arnold and Terrence Reid had four points apiece in the third quarter when Eastridge outscored Churchville, 15-10 to take a five-point lead into the final eight minutes. C-C's Griffen Stella scored six of his game-high 17 points in the fourth quarter to bring the Saints back. Kamerin Poromon connected on a 3-pointer in the fourth. Marcellus James and Marcus Postell added a bucket, but it was not enough to hold off Eastridge. Arnold scored 13 for the Lancers. Reid added 12. Jalen Rose-Hannah had nine points, and Jahmel Demery chipped in eight points. Postell scored 12 for Churchville. James had eight, and Poromon, seven. Terrence Wilson (6), John Keele (5) and Tylor Allen (2) rounded out the scoring for C-C.
No. 10 BRIGHTON (5-17) 47
No. 2 GREECE ATHENA (18-3) 70
Melvin Council, Jr. led Athena with 20 points. Kelvin Reaves, Jr. added 19, and Johnny Salone had 11. DeAndre Newsome chipped in 10. Nate Sponsel paced Brighton with 17. No. 2 Athena and No. 3 Irondequoit will meet in the semifinals. Other scorers: Athena – Isaiah Brock (4), Noah Horn (2), Jacob Cerone (2) and Austin Brown (2). Brighton – Matt Falter (9), Jack Falter (5), Najee Awad (5), Agathia Viseswaran (5), Lukas Stanat (2) and Tyler Ortiz (2).
No. 6 BROCKPORT (11-11) 36
No. 3 IRONDEQUOIT (14-6) 64
Keenan Robertson and Josh Stenglein scored 16 points apiece to lead Irondequoit which jumped to a 19-9 advantage in the first quarter. Patrick Thomas scored 14 points, and Luke Melidona had eight for the Eagles who will take on No. 2 Athena in the semifinals. Freddie June, Jr. and Kenny Gonzalez chipped in four apiece for Irondequoit. McGuire Craig and Keegan Vankerkhove had one point apiece. Sam Velletri paced Brockport with 10 points. Shamar Lee added seven. Oscar Vandetta (5), Kyle Palka (5), Ishmael Hannah (4), Willie Ball (3) and Troy Leibert (2) rounded out the scoring for Brockport.
Class A2:
No. 8 LEADERSHIP ACADEMY (12-10) 61
No. 1 EAST (20-1) 68 2 OT
Dyllon Scott and Zechariah Harris-Scott combined to score all eight of East's points in the second overtime. East will play No. 4 Wayne in the semifinals. READ MORE.
No. 5 MONROE (14-6) 50
No. 4 WAYNE (16-4) 55
Wayne will meet top-seeded East in the semifinals.
No. 10 WILSON MAGNET (9-13) 76
No. 2 NORTHSTAR CHRISTIAN (19-2) 68
Brennan Clark and Arthur Wilson combined for 14 fourth-quarter points when Wilson outscored Northstar 23-5 to close the game. Clark connected four times from the floor and scored eight of his 14 in the final stanza. Wilson hit a pair from 3-poit land, his only buckets of the day. Robert Davis paced the Wildcats with 20 points. Desi Floyd scored 16, and Christian Harmon had 14. Malikk Johnson (4) and Tory Bradley (2) rounded out the scoring for the Wildcats. Wilson will play No. 6 seed Pittsford Sutherland in the semifinals. Section V's all-time leading scorer, Miles Brown, finished with 31 points in the final game of his high school career. Sean Smith scored 11 for the Knights. Ryan Garwood had nine. Michael Brown added eight. Maalik Thomas (5) and Josh Pickett (4) rounded out the scoring for Northstar. Miles Brown's 2,916 points ranks third all time behind Syracuse basketball commit, Joe and Girard III and NBA veteran Lance Stephenson. Brown has received Division I offers from Bryant, Canisius, Central Arkansas, Fordham, Niagara and Stony Brook.
No. 6 PITTSFORD SUTHERLAND (14-8) 57
No. 3 NE DOUGLASS (16-5) 55
Ben DiGiovanni and John Luther combined for 13 points during a decisive 21-8 run as Pittsford Sutherland erased a double-digit deficit. Sutherland will meet No. 10 seed Wilson in the semifinals. READ MORE.
Class B1:
No. 8 LIVONIA (8-12) 53
No. 1 GREECE ODYSSEY (18-3) 54
Jaden Hartsfield scored 15 points, and Ray Colbert added 10 to lead Odyssey into the semifinals. Jalen Marshall led Livonia with 17 including a bucket to tie the game at 49 with under three minutes remaining. Livonia missed a 3-pointer and a putback attempt at the buzzer to win the game. Steffan Gwyn had 16 points and nine rebounds for the Bulldogs. Alex Minnehan added 11 points and three assists. Livonia went 20-of-26 from the free throw line. Aric Williams put Odyssey up 54-49 when he converted a putback.  Gwyn grabbed a loose ball and finished a layup to pull Livonia with in three.  Livonia got the ball back on a steal by Gwynn and subsequent layup left Livonia down one, 54-53.  Livonia fouled on the next possession to put Odyssey to the line with a one-and-one.  Livonia secured the rebound on the missed attempt and had the last possession with :13 seconds left. Odyssey advances to play No. 5 Geneva in the semifinals.
No. 5 GENEVA (12-9) 67
No. 4 WATERLOO (13-8) 57
Geneva will play top-seeded Odyssey in the semifinals.
No. 7 BATAVIA (11-11) 49
No. 2 NEWARK (17-3) 55
Mason VanDeMortel scored eight of his team-high 18 points in the fourth quarter, and Newark advanced to meet No. 3 Hornell in the semifinals. With the game deadlocked at 38 after three quarters, the Reds outscored Batavia, 17-11 over the final eight minutes. Jayden Peters added 15 points. Kyle Martinez (8), Josh Green (6), Devin Agosto (5) and Adian Elliott (3) rounded out the scoring for Newark. Batavia's Mason McFollins connected four times from 3-point land and led all scorers with 23 points. Andrew Francis added 11 for the Blue Devils. Jake Humes had six points for Batavia. Camden White chipped in five.
No. 6 GREECE OLYMPIA (11-10) 49
No. 3 HORNELL (14-6) 50
Jeff Jung, Jr. reached the career 1,000-point mark in the loss. Hornell will meet second-seeded Newark in the semifinals.
Class B2:
No. 9 WORLD OF INQUIRY (7-15) 62
No. 1 WELLSVILLE (16-5) 70
Wellsville will play Attica in the semifinals.
No. 5 ATTICA (13-8) 66
No. 4 PENN YAN (10-11) 58
Senior Dawson Nelson posted his 12th double-double (10 points/11 rebounds) of the season to pace four in double figures for Attica which advanced to take on top-seeded Wellsville. Trevor Goll connected four times from 3-point land including back-to-back triples to give the Blue Devils a lead they did not surrender. Goll finished with 12 points. Ayden Goll had 11 points, and Frankie Bisceglie added 10. Hayden Kehl chipped in eight points. Penn Yan had hit 10 3-pointers over the first three quarters and took an 11-point lead into the final eight minutes. Attica outscored Penn Yan 27-11 in the fourth. The Blue Devils converted 15 of 18 free throws.
"I was super proud of our team tonight," Attica head coach Rob Crowley said pointing out the performance of Kehl in particular. "They showed no quit tonight. We came in with a game plan, and Penn Yan took advantage of it. But these guys were willing to make changes, allow themselves to be coached and believe in each other. Couldn't be more proud of a come from behind win on the road in sectionals."
No. 7 MYNDERSE ACADEMY (11-11) 38
No. 2 LEROY (12-9) 27
Darren Miller led Mynderse with 17 points and 14 rebounds.  Jared King collected six points, five rebounds and two assists. Bob Lock had 11 points and six rebounds. Mynderse will play No. 3 Wayland-Cohocton in the semifinals.
No. 11 DANSVILLE (8-14) 43
No. 3 WAYLAND-COHOCTON (12-9) 74
Wayland-Cohocton will play No. 7 Mynderse in the semifinals.
Class D1:
No. 8 ALFRED-ALMOND (12-10) 53
No. 1 AVOCA (19-2) 74
Senior Nathan Nunn scored 10 of his game-high 28 points in the fourth quarter as Avoca avoided the upset and advanced to play No. 5 Genesee Valley in the semifinals. Nunn finished the game with six rebounds and three assists. LaDre Stanford collected 18 points, 13 rebounds, six assists and five steals. Brady Brandow hit five 3-pointers and finished with 20 points . Senior Davon Bloom led Alfred-Almond with 21 points. Junior Isaac Little added 14, and senior Dylan Guthrie finished with 13. Alfred-Almond led 45-44 going into the final stanza.
No. 5 GENESEE VALLEY (15-7) 76
No. 4 FILLMORE (14-7) 65
Genesee Valley will play top-seeded Avoca in the semifinals.
No. 7 BATAVIA-NOTRE DAME (12-10) 43
No. 2 MOUNT MORRIS (18-3) 77
Jansel Martinez scored 24 points and collected seven rebounds and four assists to lead Mount Morris into the semifinals. Cam Regal had 17 points, 13 rebounds and four assists. Dylan Cicero added 13 points, eight rebounds and six assists. Justin Martin grabbed 10 rebounds to go with six assists. Steven Soto (7), Collin Young (6) and Joe Pagano (4) rounded out the scoring for Mount Morris which will play No. 3 Scio in the semifinals. Mount Morris outscored Batavia-Notre Dame 23-4 in the second quarter.
No. 11 HONEOYE (8-14) 55
No. 3 SCIO (16-5) 56
Scio will play second-seeded Mount Morris in the semifinals.