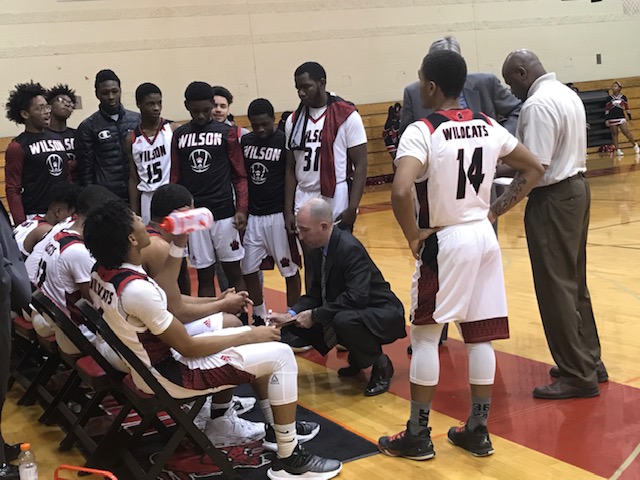 Class A1
No. 8 AQUINAS (7-12) 69
No. 9 SPENCERPORT (5-16) 46
Freshman Myles Blackwood netted a career-high 21 points, and the No.8 seed Aquinas Li'l Irish advanced to meet No. 1 Pittsford Mendon (20-0) on Saturday. READ MORE.
No. 7 FRANKLIN (9-12) 70
No. 10 BRIGHTON (5-16) 73
Brighton fought through a double-overtime game to defeat higher-seeded Franklin. Jack Falter and Matt Falter combined for four combined free throws in the second overtime to seal the game for Brighton. Matt Falter finished with a game-high 28 points, ten of which fell in the fourth quarter to keep Franklin from taking the game during regulation.Jack Falter finished with ten points on two treys during regulation and four shots from the line in overtime play. Lukas Stanat added 11 points throughout regulation. Tyrone House led Franklin with 21 points; Devonte Goins followed with 20 on five treys. Brighton will play No. 2 Greece Athena (17-3). Other scorers: Brighton – Nathan Martin (9), Nate Sponsel (5), Chase Seibold (4), Casey McDermontt (2). Franklin – Tyree Spann (14), Brandon Moore (9), Tahjir King (3), Anthony Smith (3).
No. 6 BROCKPORT (11-10) 64
No. 11 CANANDAIGUA (1-20) 60
Ishmael Hannah (4), Kyle Palka (4), Willie Ball (2), and Collin Cantrell (2) combined for 12 third quarter points, while holding Canandaigua to eight, to put Brockport within one point. Down 45-44, Sam Velletri scored seven and Shamar Lee dropped five to lead the fourth quarter comeback. Lee finished with a team-high 16 points. Velletri finished with 12 points, including two treys. Canandaigua's Chris Kurowski drained 23 points, connecting with five from beyond the arc, to lead the game. Brockport moves on to play No. 3 Irondequoit (13-6) in the quarterfinals. Other scorers: Brockport – Cantrell (9), Hannah (8), Ball (8), Palka (6), Troy Leibert (5). Canandaigua – Ryan Welch (9), Cody Aikey (8), Casey Herod (7), Mitch Pfeiffer (7), Andrew Boseck (6).
No. 5 CHURCHVILLE-CHILI (11-10) 77
No. 12 GREECE ARCADIA (1-20) 40
Churchville-Chili jumped out to a 25-9 first quarter lead and never looked back. The Saints finished with three double-figure scorers: Griffin Stella, Marcus Postell, and John Keele. Stella finished with a game-leading 16 points, 11 of which dropped in the first half. Postell followed with 14 points, while Keele scored 12. All three shot 100 percent from the free throw line. Greece Arcadia's Elijah Barnard led his squad with 11 points, all in the second half. Up next, Churchville-Chili will play No. 4 Eastridge (11-8). Other scorers: C-C – Kamerin Pomerin (9), Terrence Wilson (7), Marcellus James (5), John Bagley (5), Tylor Allen (5), Henri Koch (2), Davian Pride (2). Arcadia – Jerrell Robinson (6), Travers MacNeal (6), Casey Amato (4), Cooper LaValley (3), Evan Caufield (2), Anthony Stephenson (2), Gabe Taylor (1), Jared Magans (1).
Class A2
No. 8 LEADERSHIP ACADEMY (12-9) 66
No. 9 HONEOYE FALLS-LIMA (9-11) 52
Coming out of timeout with 5:46 to go in the third quarter, Rondell Watson drove the lane for two. Maurice McKinney followed with a bucket. Onajae Anderson converted a steal and layup. Kennyh Hardeman finished inside to give the Lions 43-32 advantage. Leadership plays No. 1 East (19-1) in the quarterfinals. READ MORE.
No. 7 SCHOOL OF THE ARTS (14-7) 50
No. 10 WILSON MAGNET (7-14) 88
Leading 20-16 at the end of the first quarter, the Wildcats started the second period on a 16-2 run for a 36-18 edge. Senior guard Robert Davis sparked the charge with a three-pointer and a layup. Wilson will play No. 2 Northstar Christian (19-1). READ MORE.
No. 6 PITTSFORD SUTHERLAND (13-8) 76
No. 11 VERTUS (1-20) 45
Sutherland will play No. 3 NE Douglass (16-4).
Class B1
No. 8 LIVONIA (8-11) 70
No. 9 MIDLAKES (6-15) 41
Livonia started slow, falling 9-2 early in the first, but the Bulldogs closed the game to a one-point Midlakes lead at the end of the first quarter. By forcing turnovers and capitalizing on opportunities, Livonia was able to break open the game and seal the victory. Alex Minnehan led all scorers with 23 points. Jalen Marshall and Nathan Genthner followed with 19 and 14 points, respectively. Kevin McCann led Midlakes with ten points. Livonia will play No. 1 Greece Odyssey (17-3) in quarterfinals.
No. 7 BATAVIA (11-10) 87
No. 10 PALMYRA-MACEDON (2-18) 41
Mason McFollins's sharp-shooting from three helped Batavia to an early lead that was never surrendered. McFollins finished with 25 points on six treys through the first three quarters. The senior guard was the only double-figure scorer for Batavia, but 13 Blue Devils contributed offensively throughout. Andrew Francis, Tyvion Ayala, and Camden White followed McFollins with nine points apiece. Pal-Mac's Nick Sapienza dropped a team-high 15 points on two field goals, two three's, and five free throws. Batavia moves on to play No. 2 Newark (16-3). Other scorers: Batavia – Caeden White (7), Joe Martinucci (5), Alex Hale (5), Jake Humes (5), Luke Grammatico (4), Max Rapone (3), Zach Gilebarto (2), Josh Weis (2), Steve Siverling (2). Pal-Mac – AJ Johnson-Ross (6), Tanner Thompson (5), John Blazey (4), Paul Goodness (4), Grady Arnold (2), Alex Callaghan (2), Michael Bergfjord (2), Zach Baker (1).
Class B2
No. 8 ROCHESTER PREP CHARTER SCHOOL (8-13) 63
No. 9 WORLD OF INQUIRY (7-14) 71
Jahlil Bell dropped in three of his four treys in the second quarter, as World of Inquiry extended the game to an 11-point lead. Bell finished with a team-high 19 points on four three-pointers, three from field goal range, and one from the stripe. In the game-sealing fourth quarter, Romel Brown scored ten of his 15 points on two three's and four free throws, while Bobby Searight added six points. Rochester Prep edged to a six-point deficit in the third quarter behind the efforts of Wesley Henderson and Jaden Hayes. Henderson finished with a game-high 24 points with six from behind the arc. Bruce Lewis remained consistent throughout the game and tallied 20 points. Jaden contributed ten. Up next, World of Inquiry plays No. 1 Wellsville (15-5). Other scorer: WOIS – Tremier Dollar (10), Joshua Shaw (9), Jaquin Close (4), Michael Thomas (4). Rochester Prep – Alonzo Thomas (5), Marquis Thomas (4).
No. 7 MYNDERSE ACADEMY (10-11) 52
No. 10 EARLY COLLEGE (5-16) 35
Jared King connected with two from beyond the arc and one within field goal range to get Mynderse started early. After one field goal in the first quarter, Darren Miller took over and finished with 24 points and 14 rebounds to lead Mynderse. Miller hit 11 shots from field goal range and sank two of his his four attempts at the line. King finished with 11 points, as did Sal Franzone. Jaequon Nesmith led Early College with 17 points with nine points in the second, the only quarter Early College outscored the Blue Devils. Up next, Mynderse will play No. 2 LeRoy (12-8). Other scorers: Mynderse – Griffin Herron (2), Mike Bogart (2), Nick Jones (1), Troy Kabat (1). Early College – Marquis Crawford (7), Javon Sargent (6), Sam Jackson (3), Joe Williams (2).
No. 6 BATH-HAVERLING (10-11) 46
No. 11 DANSVILLE (8-13) 52
Despite trailing the entire game, Dansville finished the game with a 17-4 final quarter to secure the win and move on. The Mustangs leading scorer was Ben Caruso with 16 points with two treys. Following him, Arrick Gerber flirted with double-double on 13 points, 10 rebounds, and eight assists. Nine of his 13 points came by way of the three ball. Jacob Failia also finished in double figures with 11 points, while adding five rebounds and eight assists. Drew Morrow pulled 12 boards for Dansville. Bath-Haverling's Alec Sestak scored a game-high 17 points; Jordan Deats followed with 16 points. Dansville will play No. 3 Wayland-Cohocton (11-9) next. Other scorers: Dansville – Morrow (8), Dylan Race (4). Bath-Haverling – Justin Marshall (11), Blake Hess (2).
Class D1
No. 8 ALFRED-ALMOND (12-9) 50
No. 9 KENDALL (8-13) 47
Davon Bloom scored a team-high 19 points and A-A withstood a second-half rally by Kendall to advance. READ MORE.
No. 7 BATAVIA-NOTRE DAME (12-9) 85
No. 10 HAMMONDSPORT (8-13) 40
Gabe Macdonald led three players in double figures as he finished with a triple-double of 27 points, 13 rebounds and 10 assists and the Fighting Irish opened up a monstrous first half lead en route to an 85-45 drubbing of No. 10 Hammondsport to advance to the quarterfinal round. READ MORE.
No. 5 GENESEE VALLEY (14-7) 85
No. 12 ARKPORT-CANASERAGA (3-18) 48
Genesee Valley will play No. 4 Fillmore (14-6) in the quarterfinals.