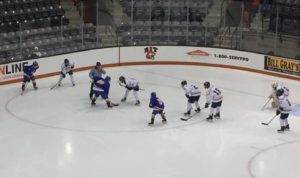 By KEVIN OKLOBZIJA
Wednesday was game day for the Webster Thomas Titans hockey team, which meant it was also team breakfast day.
For more than a dozen years, dining together at T's Family Restaurant in Webster Square has been an etched-in-maple-syrup, game-day hockey tradition for the Titans.
On Wednesday night, the Titans feasted again, this time on the Irondequoit Eagles at RIT's Gene Polisseni Center.
Sophomore Cade Spencer scored four goals — all in a span of just 6 minutes and 29 seconds of the second period — and sophomore Zack Wolfe scored three and assisted on four as top-seeded Thomas steamrolled No. 4 Irondequoit 10-2 in the Section V Class B semifinals.
"Since 2002 our program has been built on traditions," Thomas coach David Evans said. "We keep continuing to get kids that are willing to buy in and leave their mark on the program."
Spencer and Wolfe made quite a mark on Wednesday night. Wolfe scored the first two goals, both set up by Cullen Hennessy, then Spencer turned the Polisseni ice into an NHL '19 video game.
He fired a short short side off a Reed Currie pass at 8:58 for a 4-1 lead. At 11:25, he slammed home a rebound and the lead grew to 5-1.
Just 2:22 later, as Wolfe dangled through the Eagles zone, Spencer positioned himself at the top of the crease and made steering home Wolfe's pass look easy.
Then at 15:27, while killing a penalty, Spencer stole the puck at the Thomas blue line and skated away to score a short-handed goal for a 7-1 lead.
Your basic natural four-bagger.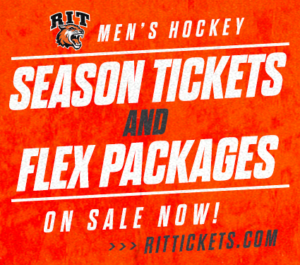 "They've got some highly skilled players," Irondequoit coach Rick Giuffrida said. "They move the puck well and they move without the puck well. I'm surprised they exposed us like they did. If you're not on your A-game against them, you're in trouble."
Spencer gave credit to his linemates, the team bonding breakfast in the morning and coach Evans for having them ready to play. The outshot Irondequoit 49-15.
But Spencer also gave a tip of the helmet to Irondequoit relief goalie Sam Drew, who made a sensational point-blank glove save on Spencer at 5:10 of the third period when it appeared the Titans forward was scoring his fifth goal of the game.
"That was crazy, probably the best save I've ever seen," said Spencer, who after shaking his head in disbelief, circled back and gave Drew a congratulatory fist-bump.
Kyle Vent, Teagan Spang and Will Fisher also scored goals for the Titans, who play for the Class B championship at 6 p.m. Monday at the Gene.
Tucker Velepec and Jack Feola scored the goals for the Eagles.