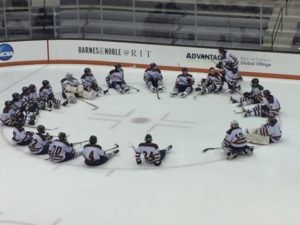 By KEVIN OKLOBZIJA
Last year, hockey was a chore, a burden really, for the Spencerport Rangers.
How could it be anything but demoralizing? When you go 2-17-1, rarely are you going to find coming to the rink fun. Even more rare is the chance of a joyous feeling leaving the rink.
And now, here we are a year later, and you'll be hard-pressed to find a group of hockey players having more fun and flashing broader smiles than this Spencerport High School team.
Why, even the NHL's Carolina Hurricanes with their elaborate, zany, post-game victory celebrations have nothing on these Rangers.
After Wednesday's 7-3 Section V Class B semifinal victory over defending champion Cananadaigua Academy, the top-seeded Rangers players sat in one large circle on the ice while senior defenseman Parker Scholand began to skate laps around them.
Let the celebratory game of Duck-Duck-Goose begin.
"We're trying to be as professional as we can in everything we do and carry ourselves the way NHL teams do, so why not celebrate like they do?" explained Scholand, who masterminded the post-game frolicking following a 3-2 quarterfinal victory over Aquinas last Thursday.
Hey, when you won two games a year ago and this year are 19-3 and heading to the first sectional championship game in program history, why not enjoy the moment.
You've heard the saying, "Act like you've been there before." Well, that's a little tough to do when you never have been there. Besides, maybe this is how high school athletes are supposed to act.
"They've been kicked around too long," first-year Rangers coach Ryan Ford said. "This is a great group of kids. They decided to work when we asked them to and they haven't altered from the plan. They deserve all the credit and they deserve to have so much fun."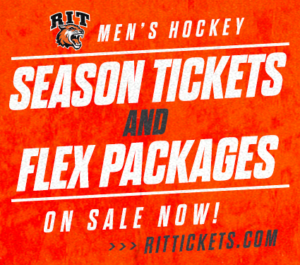 Thus, the smiles, the laughs and the Duck-Duck-Goose.
"Last year a lot of guys were down and out, they felt like losers because we never won," Scholand said. "This year our coaches want us to win in whatever we do off the ice in life and on the ice."
They were big winners on Wednesday at the Gene Polisseni Center. Seven different players scored, including junior forward Luc Fedele, who also assisted on three.
And one of the assists on his victory-clinching empty-net goal in the final minute went to junior goalie Rachel Brase, who made 24 saves in her first high school game since dislocating her left knee cap in December. She did play two games over the weekend for her girl's U-16 Edge travel team.
" 'Rach' has been battling hard to get back and she deserved the start," Ford said.
Jr. goaltender Rachel Brase was spectacular between the pipes this evening in a big sectional semifinal victory for @spenhshockey @Ranger_Sports. pic.twitter.com/1hI8obJZTE

— Matt Trabold (@TrabsMatt) February 21, 2019

The first period was a bit of a shootout, with Spencerport building a 4-2 lead. The pace was nice, Ford told his team at the intermission. He just wanted a little more attention to defensive detail.
The Rangers responded, playing a much more sound all-around game for the final two periods.
Joey Cuzzupoli, Scholand, Ryan Plouffe, Jason Uebelacker, AJ Giannavola and Mark Neu also scored goal for Spencerport, which will play Webster Thomas for the Class B title at 6 p.m. Monday at the Gene.
"It's a lot of fun, especially being able to turn the program around," Scholand said, "and enjoy the wins with your team."