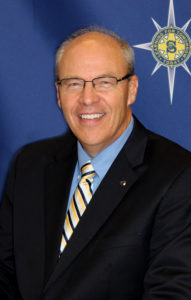 Press Release Courtesy of Spencerport Central School District
SPENCERPORT, N.Y. — Spencerport Central School District's director of physical education, health and athletics, John Pelin, has announced his plans to retire, effective June 30, 2019. Pelin will retire after 40 years in education, of which 30 years as the athletic director in Spencerport.
"(Serving as athletic director) has been a tremendous honor and privilege," Pelin said. "I feel very fortunate to have had the opportunity to lead our fantastic teams and student athletes as well as work with and alongside our incredible support staff, teachers, coaches and administrators."
Pelin indicated his decision to retire simply "felt like the right time", and added, "I am very proud to be able to retire as a Spencerport Ranger."
Under his leadership, the Spencerport athletic program expanded opportunities for student-athletes in numerous sports at the V/JV levels, as well at the modified level. He also was instrumental in advocating for and overseeing the building of and renovation of every athletic and physical education facilities, which are now regarded as one of best in Section V. The Rangers have won more than 100 Monroe County Divisional, 54 Section V, nine team and eight individual state championships.
The athletic program also established opportunities for student-athletes to give back to the community off the field. Pelin worked with Spencerport coaches to institute the Spencerport Student-Athletes Care community service program, which was named as the best in the nation in 1994; teams have also raised awareness and funding through events such as the More Than A Game basketball tournament. The MTAG alone has raised $90,000 for the Golisano Children's Hospital at Strong.
As the athletic director, Pelin has received numerous honors/recognition from local, regional, state and national organizations, and he has served as a mentor to many current athletic directors.
Superintendent Dan Milgate said, "I have had the good fortune to work with John Pelin for nearly 25 years and there is no one more dedicated to the students, coaches and our athletic program. We are so appreciative for all he has done for Spencerport, and wish him all the best in retirement."