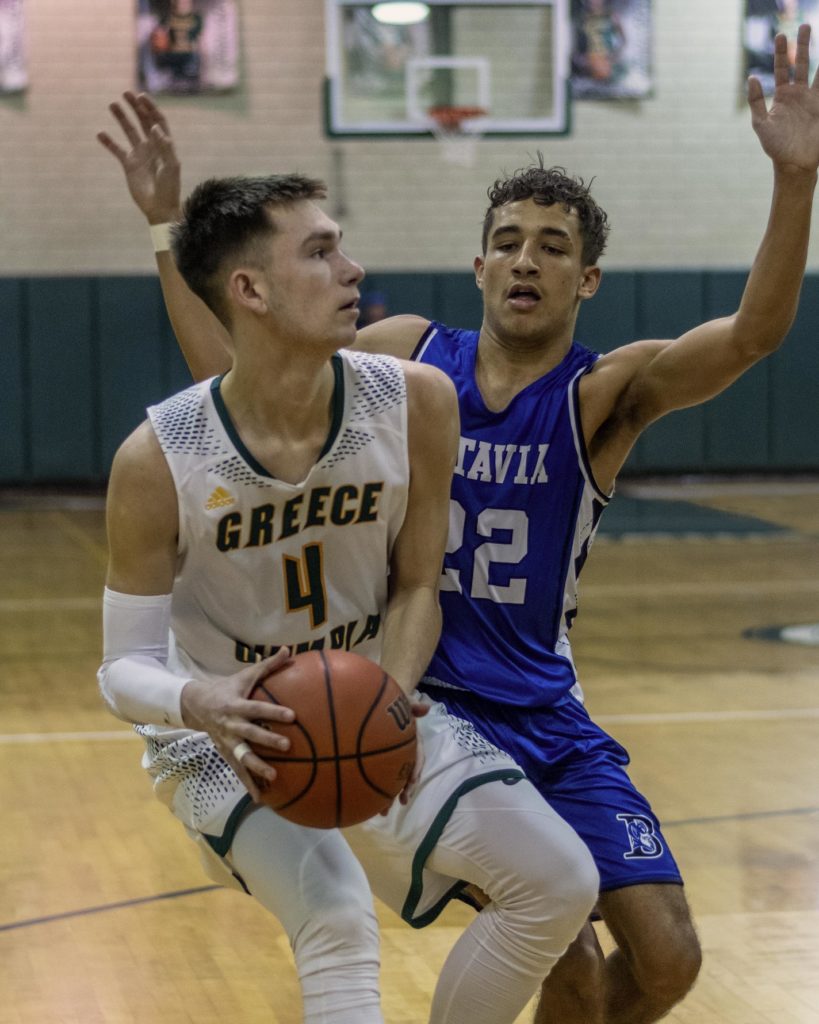 By MATT TRABOLD
TRABS KEEPS TABS
Late Season Means Revenge Season
With the way schedules are structured for this sport in this section, there are many instances where teams play each other twice during the season. This current stage in the campaign, with roughly a week left in the regular season throughout the section, is experiencing a legitimate amount of rematches of notable results from earlier in the season. On top of that, this final chunk of regular season love going forward before sectional brackets get finalized will also be no stranger to this brand of ballgame with a revenge opportunity on the line.
The biggest upset of this regular season across the section regardless of classification thus far was not so arguably currently .500 Webster Thomas taking down mighty Irondequoit by fifteen points back on December 20. Two days ago, the rematch came about. The Eagles' prior three contests had some in these parts wondering if there was actually a chance Irondequoit would not exact thorough revenge on those Titans this week. That trio of games included two defeats, to crosstown Eastridge and Class AA powerhouse Gates-Chili, as well as only beating currently 1-17 Edison Tech by ten points in the return to action for top option Patrick Thomas. A possible lack of momentum for Irondequoit ended up not playing a factor at all this time around against Webster Thomas, as Chris Cardon's guys reigned supreme by 38 points. Thomas and high-flying sophomore Keenan Robertson, who benefitted the most from the playing time he relinquished while dealing with that injury, combined for 23 points in the victory.
VIEW MORE JENNIFER LAEMLEIN PHOTOS HERE.
Then, there is Greece Olympia. In the span of simply six days coming into today, Joey Tisa's group played in a whole three games. Two of those were against squads that had previously defeated them this campaign. As Greece Olympia go-to guy Jeff Jung Jr. has been describing this recent stretch of competition on Twitter, having two battles so close together on the calendar with vengeance possibilities can be described as a "revenge tour." Last Friday night, the Spartans avenged a December 14 double overtime loss to Eastridge after Jung Jr. spun into the lane and hit a contested layup to break a 63-point tie with under a second left in regulation. Last time out, on Wednesday, Greece Olympia avenged an eleven-point loss from just three contests beforehand by getting past World of Inquiry by double figures. What makes this revenge tour even more of a concept is that Greece Olympia has three more payback chances in its last four regular season games. They are coming against Honeoye Falls-Lima, Batavia and crosstown Greece Odyssey in the regular season finale.
BIG TIME W 70-57 over WOIS 🤩❤️ 27 points 7 rebounds, Revenge tour part 2 ✅ Love this team so much 🚨👀🎒

— Jeff Jung Jr (@jeffjungjr) February 7, 2019
Greece Olympia is not the only Section V boys basketball team with revenge chances left on its regular season schedule. The top team at this point in the Class C3 standings is 16-1 Caledonia-Mumford. That one loss came against Avon, the team currently in the No. 4 spot in the Class C1 standings with a record eleven games over .500. The two clubs do battle this weekend on Friday night at Caledonia-Mumford. Connor Taylor and Vin Molisani, both captains for their respective teams, might just be the two biggest names in this matchup, but keep both eyes on the individual frontcourt battle of Nick Rowland vs. Ethan Pies. The Braves come into this one off of what could arguably be considered a six-point upset loss against Hornell. Avon definitely has the more senior-laden rotation in this tussle, which is also something to monitor when comparing how far these two groups get in postseason play here shortly. With that being said, Caledonia-Mumford 6-foot-3 freshman Kyle Wade is already a force to be reckoned with.
SLAP YOUR PEEPERS ON THIS FIVER
Wilson Magnet at Leadership Academy for Young Men—Fri., Feb. 8, 6:00 PM
Yes, getting more than doubled up in a loss by 36 points is never a great look, but that loss Monday for Wilson Magnet at least came against a Pittsford Mendon team that a wide majority in these parts believes is the top team in the section right now this season. Against most local foes, the recent return to action of 6-foot-5 frontcourt standout Brennan Clark will play a much bigger role. The Wildcats looked much more like their formidable selves on Tuesday, as they led by eleven points in the third quarter before falling by a mere three points to East High after the opposition ended the game on a 23-9 run. Taking the now 16-1 Eagles to the brink that much would be a positive showing, even in a loss, for basically any team in Section V this year. With the specific roster clout Leadership Academy for Young Men has boasted over the last four years since reaching a state title game, leadership and production has come more from traditional backcourt players than the wing and certainly the front line. Because of that, Brendan O'Toole and his staff will be leaning on arguably their main backcourt defender in Tory Bradley more in a matchup like this.
.@GoEastEagles, @BishopKearneyHS boys and girls winning out among results in Section V action tonight https://t.co/LK4jTOg6BK

— 13WHAM (@13WHAM) February 6, 2019
With Clark for the Wildcats and Shamir McCullough for the Lions now back playing after recent hiatuses of different lengths, this ballgame should feature the full true rotations for each side. Those are ingredients for an exciting contest here after the first meeting this season between these two clubs was decided by just two points, with Wilson Magnet coming out on top. Like the Wildcats, Leadership Academy for Young Men was also beaten by over thirty points by Pittsford Mendon over the last week, but Reggie Simmons and company rebounded well on Wednesday by getting past resurgent Aquinas Institute. Sometimes-used bench big Kris Martin, who is the biggest guy on the roster by a wide margin at 6-foot-5, was not on the bench this past weekend at Pittsford Mendon. If that is still the case going forward, that just means Kennyh Hardeman will have to continue his breakout campaign for a victory in this one.
School of the Arts at East High—Fri.,
Feb. 8, 6:15 PM
16-1 East High has displayed throughout this season that it is a second half team. That trend has proven to be no more apparent than in the last trio of outings for these Eagles. Three games ago, in the squad's only loss of this season thus far, it lost by just three points when it was all said and done after trailing by as many as twenty points. A week ago, Darrell Barley's group took down a very good Northeast Douglass team by the wide margin of a whopping 39 points off of a 50-15 second half advantage on the scoreboard. Then, on Tuesday, East High went all 23-9 in the scorebook in the fourth quarter to come back and beat Wilson Magnet by a trio of points. The two-game winning streak the team is presently enjoying has featured bruising freshman forward Kai McCullough playing and producing at a much greater level than what was happening for a sizable stretch coming into the last week. This most recent upswing by McCullough helps out the team cause significantly with senior fellow frontcourt bruiser Howard Eagle not experiencing as big of a piece of the pie on the court for these Eagles of late as he did to begin this campaign.
The reinvigorated McCullough brings up a more unique challenge for East High's opponents going forward this year because he has recently been doing a majority of his damage in the first half, unlike most of the rest of the squad. In the aforementioned blowout win over Northeast Douglass, Kai scored ten points in the first quarter that time around. If School of the Arts really wants to prevent McCullough, or any other East High front line player, from leading this opposing team to a hot start tonight, that endeavor will most likely come via large man in the middle Jotham Denegal and his 6-foot-5, 320-pound frame. As a senior captain this go-around, Denegal has become much surer with his hands, the manner in which he navigates around the paint and his decision-making on when to attempt a shot down there. The confident shot-making in key situations late in ballgames of sophomore wings Ethain Clarke-Desouza and Ke'Vion Mitchell is one of the main reasons Al Nash's group stays so competitive this year. That fact is shown by the recent eight-game winning streak School of the Arts experienced, with victories over Avon, Northeast Douglass, Greece Olympia and Geneseo.
Fairport at Webster Schroeder—Fri., Feb.
8, 7:15 PM
Scott Fitch is Scott Fitch is Scott Fitch. That is not a slight against his players this season, but few in this area would argue against the notion that he and his staff have certainly had at their disposal more impressive rosters than the current one. With all of that being true, Fairport comes into this Friday game off of a herculean trio of performances. Victor currently sits at four victories on the season, but beating any team by forty points is a big deal. In their two most recent contests, these Red Raiders upset red-hot McQuaid Jesuit on the road by thirteen points and heavily, heavily tested still undefeated Pittsford Mendon. With a couple of Fairport's main bigs in Ryan Lucey and 6-foot-5 Stefan Milinkovic doing some of their scoring on the perimeter, a good piece for Fitch and company to utilize to help even things out is the more trenches-style 6-foot-2 Collin Espada. Brett Heininger has been no stranger to being a thorough contributor on this squad in weeks and years past, but he has really turned into an extra caliber of weapon down the stretch here as a sweet-shooting wing with great size at just about 6-foot-5.
Andre Starks connects on the jumper, but @FCSDSports trails @mendonbball 43-39 with 25.1 to go in the 3rd. pic.twitter.com/aN9UGrlxlU

— Paul Gotham (@PickinSplinters) February 7, 2019
Well, you certainly cannot say that Webster Schroeder has been playing against cupcakes on its schedule recently. This one against Fairport will make it four ballgames in a row for the Warriors against teams in the top four of their respective standings in one of the top three classifications in this section in terms of size. Webster Schroeder did drop those other three contests against Northeast Douglass, Hilton and McQuaid Jesuit. While they certainly do not play the same position, a Warrior that has recently earned a bigger piece of the offense for Matt Spadoni's crew with springy sophomore Ky'Mere Meeks being sidelined for so long is 6-foot-1 junior downtown marksman Josh Hauman.
Pittsford Mendon at Greece Athena—Fri.,
Feb. 8, 7:15 PM
Right after Pittsford Mendon held off scrappy Fairport on Wednesday to stay undefeated on the year, one half of Greece Athena's talented "Melvin and Kelvin" show in Kelvin Reaves, Jr. tweeted, "I guess it's up to us now." He was seemingly referring to Pittsford Mendon's next game in this massive matchup. Kelvin's squad is definitely the mightiest team left on the remaining regular season schedule of three games for those Vikings. The Trojans strut into this battle as winners of eight ballgames in a row. One of the trademarks of Pittsford Mendon's success this season is the way the high production of the club is spread out among a pretty extensive number of players when it comes to go-to options. It is rare at the high school level for a team to have a whole five or six go-to guys. To combat that aspect of Bob Nally's forces, this easily could be an important game for the contributions of Greece Athena true rotation players that are not necessarily among the top few contributors for Mike Setzer and his staff this year. Some of those names that have shown flashes of real potential for a possible postseason run are Jake Cerone, 6-foot-2 freshman Terrell Wilson, Jr. and Robert Mitchell, Jr. If Greece Athena wins this night, a flaunting of depth could very well be a big reason for it.
I guess it's up to us now 💯🤷🏽‍♂️

— Kelvinreavesjr (@reaves_kelvin02) February 7, 2019
The player that has arguably made the most improvements throughout this dream season for Pittsford Mendon is 6-foot-1 senior swingman Charlie Bennett. With a quiet confidence, he has been productively jumping into opposing passing lanes, running the break without hesitation, speedily slashing to the basket for points for himself or opening up teammates for tallies of their own and powering inside the perimeter to hit jumpers from the baseline or more traditional mid-range area. One development that has been witnessed regarding this side down the stretch is that the domination it has been habitually exacting has allowed Dan Cook with all of that wingspan to play up at the top of the defensive front more, and all of the transition benefits that can come from that.
Dan Cook converts the steal and flush. 1:12 remaining in the half @mendonbball 25 @FCSDSports 25 pic.twitter.com/iJSXqIHBU0

— Paul Gotham (@PickinSplinters) February 7, 2019
Le Roy at Caledonia-Mumford—Sat., Feb. 9,
7:00 PM
Caledonia-Mumford is one of two squads in Class C3 currently with just one loss on the year, with Lyndonville being the other. The Raiders have won sixteen of their seventeen ballgames this season up to this point, including a current unbeaten streak of five contests. Dan Dickens and company have not won a game by less than double figures since December 14. If you are wondering who the opponent was in that one, it was Le Roy. Caledonia-Mumford has one of the top frontcourt-backcourt tandems in the section regardless of classification in junior guard Vin Molisani, in his fourth varsity season, and senior big man Ethan Pies. Molisani, who just moved into seventh place all-time in the program's career scoring list, pairs with his jump shooting acumen a quick first step to get past the first defender at the perimeter level to get teammates involved inside. Pies displays impeccable timing with how he uses his outstretched arms on both ends for buckets and high IQ blocked shots. 6-foot-3 freshman Kyle Wade can be seen many a time scoring through at least hustle plays.
Congratulations to Jr. guard @MolisaniVinny who has now passed Ryan Hallett '02 (888 pts) and Ron Poles '81 (906 pts) to move into 7th all-time in career scoring at 916 pts!!! #CalMumHoops

— Cal-Mum Basketball (@CalMumHoops) February 7, 2019
Le Roy also has very good standing at the moment in its particular classification, Class B2. With a higher amount of games remaining this regular season than just about every other team in the section, if any, the Oatkan Knights currently grasp the No. 3 spot in those Class B2 standings. Between the very end of December 2018 and the January that just wrapped up, Le Roy showed its relevancy with a six-game winning streak. The main stud for Matt Weinman's team is 6-foot-5 senior guard/forward Reece Tresco. He is able to use his long arms, solid athleticism and high-caliber size to routinely get to the rim, as well as score both from the outside off Giavanni Caccamise assists and driving into congestion. 6-foot-2 sophomore guard Cody Lytle is another Oatkan Knight that can score inside the arc smartly using the backboard square.
SECTION V IN DIVISION I UPDATE
Keith McGee—So., New Mexico (Greece
Arcadia)
Not that long after another Albany City Rocks product and former Bishop Kearney basketballer in Nahziah Carter achieved a career-high in scoring for his particular Division I college basketball side, Keith exploded on Tuesday night against San Diego State for his own as his Lobos won by double figures. In a start, McGee went for nineteen points while only missing on a mere two of his ten shot attempts from the field on the night, with 50 percent shooting from deep with a pair of treys and two steals. In the first half of that one alone, he tied his previous career-high in scoring at the Division I level of fourteen points. Maybe even more impressive than that statistic was that he had already reached double figures against the Aztecs that outing 9:22 into regulation. He is averaging 10.7 points an outing since returning from illness seven ballgames ago.
McGee with the layup gets him a UNM high with 16 points! #GoLobos pic.twitter.com/PgYv6QwuaI

— Lobo Basketball (@UNMLoboMBB) February 6, 2019
Dontay Caruthers—Sr., Buffalo (East High)
There
was just something brewing this past week when it came to Rochesterians in
Division I men's college basketball at the moment and them going for a
career-high in points within the confines of it. Out of the negative of his
Bulls losing their second conference game this season before the 2019 MAC Tournament
to Bowling Green State came the massive personal positive of a career-high 28
points in that one for Caruthers. Dontay was undoubtedly the best scorer for
Buffalo against the Falcons there, as he sauced for those team-high 28 points while
only missing one of his nine shot attempts from the field off the bench and
cashing in on all three of his heaves from downtown. At 6-foot-1, he also came
down with a big seven rebounds that evening. Over his last trio of ballgames,
Dontay has combined to hit all seven of his perimeter shot attempts against
Bowling Green State, Kent State and Ball State.
Anthony Lamb—Jr., Vermont (Greece Athena)
In the very short span of days from this past Saturday to this past Wednesday, Lamb put in a combined 43 points in wins over Maine and Massachusetts Lowell. Said span featured 69.2 percent shooting from the field with eighteen successful shot attempts. Outside of the scoring realm, Anthony hurt the Black Bears and River Hawks for a cumulative nineteen rebounds and four blocked shots over that stretch. Lamb is currently averaging 2.7 rebounds an outing more than he did as a sophomore for the Catamounts. His present shot-blocking average of 2.2 blocked shots per contest has him ranked No. 22 in the country in protecting the rim right now. Wait, did the column mention that this two-game statistical outburst came right after Anthony had to be sidelined for two contests due to being injured?