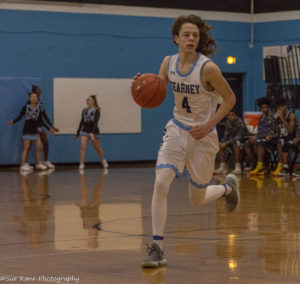 Bishop Kearney's Michael Gentile has scored in double figures in each of the last five games. (Photo: SUE KANE)
By MATT TRABOLD
TRABS KEEPS TABS
Cult Heroes to Watch for as the Postseason Approaches
The aspect of the basketball world dealing with cult heroes is one of the major reasons the sport is great and thoroughly popular. Cult heroes may not be the top option on a team, though sometimes they can be, but they are rather talents in the sport that are more unique in their advanced productivity. That supreme level of uniqueness and individuality are what frequently makes these cult heroes some of the most popular figures out there on the court in the minds and eyes of onlookers and fans.
If you want to relate this concept to the college basketball landscape, cult heroes can garner extra popularity than many around them at any point of a season, but the NCAA Tournament is where they really experience more stardom due to the added level of exposure. With there being roughly just two weeks left in this Section V boys basketball season, and cult heroes being more of a concept in a postseason bracket setting usually, it is a great time to highlight some candidates to be defined as an exciting cult hero around these parts at this point of the year. You should also try to get out and see these guys play a little bit before this regular season wraps up.
The first local cult hero is also the biggest. 6-foot-5, 310-pound World of Inquiry senior man in the middle Bobby Searight is a University at Buffalo football lineman target for a reason. He is mountainous, and he has wildly nimble limbs even with all that productive girth. With that being said, inspections with the naked eye this season show that he has slimmed down a good amount compared to his junior basketball campaign in the Griffins' program. His frame is still locally legendarily beastly though. What sets Bobby apart from other guys his size is that he actually can display some guard skills pretty regularly. If he finds himself up by the top of the key or the elbow after setting a screen or another kind of set in an offensive possession, he has the ability to put the basketball on the floor and smoothly dribble to the hole for at least two tallies in the scorebook. When he pulls off feats like that, even opposing fans sometimes have to stand up and give props through cheering of some sort.
For years and years, basketball fans have loved big boys that execute plays on the floor that big boys are not supposed to be able to execute. Back in 2006, a certain Mother of Sorrows boys basketball team practicing at Saint Charles Borromeo on Dewey Avenue not far from Aquinas Institute, Greece Olympia and where Greece Odyssey currently stands watched industriously thick Glen "Big Baby" Davis and Louisiana State upset JJ Redick and Duke in the NCAA Tournament that year on a small television just off the practice court. The fact that a player like Davis played a major role in that victory made people around the country and world remember that ballgame even better.
VIEW MORE SUE KANE PHOTOS HERE.
A second local basketball cult hero is known just as much for his flowing locks as his improved play on the hardwood this year. While 6-foot-2 Bishop Kearney junior guard Michael Gentile went away from his unhindered down long hair during games a handful of contests into this season, he still sports some of the best strands in the state now that he has opted to ponytail that mane out of his eyes better as he does work against opposing players. As for his equally as notable set of basketball skills, Gentile has grown from an important complementary backcourt player for the Kings to legitimately one of the top scoring threats on the team this time around as he has become a polished driver to the hoop with finger rolls, runners and aggressive layups. One could guess that this improvement is partially a product of Michael adding bulk over this most recent summer on top of a height spurt. Plus, Gentile still has in his arsenal the pretty jump shot he flaunted in seasons past. One reason noteworthy hairstyles have seemingly always helped in producing basketball cult heroes is due to there being no helmets in the sport. An example of a basketball cult hero with unique hair is when Nick Young created the hairstyle of the frohawk while playing for Southern California back in the day.
The @KearneyBoys program sure is fun to watch. • @kidtrell_4 @GentileDana pic.twitter.com/sJLjYS0NDJ

— Matt Trabold (@TrabsMatt) December 20, 2018
SLAP YOUR PEEPERS ON THIS FIVER 
World of Inquiry at Franklin—Fri., Feb. 1, 6:00 PM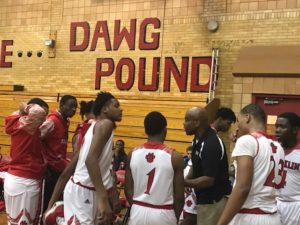 It has been a thorough while since the last time Franklin has had some sort of relevance late in a season, when it comes to down the stretch in the regular season and/or sectional play. If it works out where these Quakers do not have to play a top three team from their classification right from the start in postseason play this year, it is legitimately conceivable that they win a sectional game this time around due to having a roster core that satisfies so many vital roles. Eddie Lee's team currently sits in a No. 8 sectional spot with a 7-9 record if the season ended today. A supreme candidate for the moniker of the most underrated backcourt trio in the section right now resides on Norton Street with Devonte Goins, captain Tyree Spann and star freshman Brandon Moore. Goins is generously listed at 5-foot-7, but he makes up for that by usually being the fastest guy on the court. On top of that, he has no qualms about confidently taking and making shots before defense of any kind reaches him if he beats his defender down the floor. Watching the way Franklin's frontcourt tandem of significantly active paint performer Tyrone House and the more versatile Tahjir King compete, an onlooker would probably be shocked that they are listed on paper as just 6-foot-1 and 5-foot-11, respectively. On the other hand in this matchup, World of Inquiry for this season really only returned two major rotation performers from its stout side a year ago. Silkily coordinated mountain of a man and University at Buffalo football lineman target Bobby Searight has visually slimmed down a lot, even just since this most recent Section V football season. In the backcourt for these Griffins, there is the many-weaponed Tremier Dollar. The 5-foot-11 senior is currently leading the RCAC Lower Division in scoring with 27.9 points an outing.
Northeast Douglass at East High—Fri., Feb. 1, 6:15 PM
Low mercury levels in local thermometers prevented East High from doing battle Thursday night with Wilson Magnet, now with Brennan Clark newly back on the court, but weather will not get in the way of a matchup with some more cream of the Class A2 crop in the form of defending finalist Northeast Douglass one day later. These Eagles deserve all sorts of respect for only losing to McQuaid Jesuit this past Saturday by three points after trailing by twenty points at one moment in the second quarter. Cousins Zechariah Harris-Scott and Dyllon Scott certainly provide most of the height for this East High team, with both of them standing 6-foot-6. One thing the loss to Connor Zamiara and his Knights this past weekend showed is that some of the broader bigs at the disposal of Darrell Barley and his staff this year, like Jordan Randolph, Howard Eagle and Kai McCullough, could be vital in sectional play here soon. A positive aspect of that first half against McQuaid Jesuit was Dyllon Scott showing yet again this campaign how much more aggressive offensively he is this season compared to when he was at Penfield. He shows no fear breaking for the basket with a variety of mesmerizing driving moves.
Now, Class A2 had a good deal less depth last season when Northeast Douglass got to the sectional title game, but plenty of the Panthers' twelve victories so far show that they can very conceivably make it back to that championship game despite what would be a tougher road to get to that point this time. Jiahmere Mitchell has already poured in over a thousand points as a Panther and has been one of the most electrifying scorers in the section for three years now, but it is actually breakout Lamar Lovelace that is leading the squad in scoring at the moment at 20.1 points an outing. Another much improved player for Kyle Crandall and company is Adonis Flagler, who has gone from mostly an effort guy with tirelessly scrappy on-ball defense to also another premier scoring threat for this side.
.@jiahmere_m4 of Northeast Douglass hit 7 triples last game. Today vs. Brighton w/ 0:08 left, he won game w/ heave! pic.twitter.com/Uw5HzpPY7p

— Matt Trabold (@TrabsMatt) January 14, 2017
Penfield at Rush-Henrietta—Fri., Feb. 1, 7:15 PM 
Penfield is currently sitting in the No. 10 spot in the Class AA standings, but the Patriots could be making a push in the final two weeks of the regular season if their last four ballgames are any indication. That 2-2 stretch when it comes to record featured the quality results of upsetting Bishop Kearney, a team Penfield is now just one spot back of in the standings, by eight points and falling to Fairport by a single tally. There would not be too many arguments if you were to say that one of the most gifted scorers in the Rochester area these days in the improved Patrick Piampiano and floor general Javion Monroe are the top two options for these Patriots this season, but role players like Dan Vercruysse and 6-foot-1 sole captain RJ Green significantly help this group tick as well. Vercruysse is very fundamentally sound with his heady passing out of the elbow and mid-range jump shots. Green will happily go physically shoulder to shoulder with his defender as he bangs towards the cup to at least get to the charity stripe.
Look at what having arguably the best player on the team back from injury can do for you. In Shamire Broyld's fullest piece of playing time in a few games due to shoulder issues, Rush-Henrietta was in it until the very end last Friday night against an elite side in Hilton. These Royal Comets only fell by a single point in that contest as Mitchell Carr hit a threeball to win it with a few seconds remaining. A frontcourt asset that has only seen his playing time get more prevalent at every stage of this campaign is mountainous Nyles Goodwin. Chris Reed and his staff have been able to lean on him against thinner, even if bigger name, opposing front line players. Goodwin has been known to legally manhandle multiple defenders for sometimes more than one offensive rebound on a given possession and consequently put the rock back in for points.
Greece Olympia at Eastridge—Fri., Feb. 1, 7:15 PM
One would assume most Eastridge boys basketball supporters this season understandably believe the Lancers taking down mighty crosstown team Irondequoit this past Saturday is the squad's best result this year so far, but the double overtime thriller they pulled out at Greece Olympia back on December 14 should be towards the top as well. Eastridge presently has plenty of other seniors who have played at least two seasons with the varsity side of the school's program, like Jaden Keech, Adrian Rodgers and especially Terrence Reid, but 6-foot-0 senior guard Jordan Capers arguably exemplifies the specific role of a wily veteran more than the rest. Capers led by example on more than a couple occasions in that notorious victory against the Eagles last weekend with plays dripping with basketball IQ.
Terrence Reid @treidje sealed the deal with that towards very end of the second extra period for an @EastridgeHoops @ERidgeLancers comeback 2OT road win tonight. You cannot fault Kris Perez @Kc_DaPlug of @Olympiabball though because he was near unstoppable in those two OT frames. pic.twitter.com/EorNWeNxl1

— Matt Trabold (@TrabsMatt) December 15, 2018

By the time Greece Olympia hits the postseason bracket here in a couple weeks, it will be more battle tested this year than just about every other squad in its specific Class B classification due to playing a good amount of teams from Monroe County and the city league that reside in higher classifications. On top of games against Greece Athena, Brockport and School of the Arts thus far this go-through, that description also very much so includes the aforementioned battle past regulation against those Lancers. With what Kris Perez did in that contest scoring on the run, hoisting from deep and accumulating steals, he was the driving force behind these Spartans lasting so long against the opposition that night. Also, as it applies to the last chunk of regulation in the fourth quarter that evening, sophomore slasher Darnell Williams was a vital cog in getting Joey Tisa's battalion in a tie at the end of four quarters with a bevy of contested driving scores. The production repertoire of 6-foot-3 sophomore star Collin James has come a pretty long way since that outing in mid-December 2018. On top of his usual scoring acumen around the tin, James has started to up his transition prowess down the stretch. Twice in the first minute and a half of the second half last time out against World of Inquiry, James stole the sphere and ran his big body coast to coast for two points.
Leadership Academy for Young Men at Pittsford Mendon—Sat., Feb. 2, 2:00 PM
Bob Nally's Vikings are one of only two undefeated Section V boys basketball squads left this season with Northstar Christian. This game was initially supposed to grace the eyes of local hardwood fans this most recent Wednesday, but Jack Frost was having none of that. Simply by a mighty undefeated side having a very contrasting style of play from the still solid opponent it is about to go into a ballgame against, an upset is a possibility. That is not to say by any means that this game will undoubtedly end up as an upset. If you want to utilize the popular transitive property social media tactic, Pittsford Mendon beat rival Pittsford Sutherland by a big fifteen points in its last game against a Section V opponent, while Pittsford Sutherland handily dispatched of Leadership Academy for Young Men by 22 points two games ago. Dan Cook is the more known frontcourt player for these Vikings with his acrobatic buckets and wild wingspan, but 6-foot-2 junior Nate Strauf is rarely not some kind of x-factor for the team due to always finding a way to make his presence felt at least to some degree in an intelligent way.
Available personnel for Leadership Academy for Young Men is a hearty storyline going into this one after one of the very best defenders for these Lions, on-ball or otherwise, in Shamir McCullough was not able to play in the last game for the program. What would make that absence even more severe to Leadership Academy success is the chance he will not be able to use his specific talents to guard Jacob Shadders, Connor Krapf and Michael Harrington out on the perimeter. With the perimeter expertise this Pittsford Mendon opponent brings to the table, it will be important to a certain degree that Nate Doyle, Jr. and sophomore Maurice McKinney also hold their own out there offensively for the most part.
SECTION V IN DIVISION I UPDATE
Brian Fobbs—Jr., Towson (Bishop Kearney)
Brian's performance on Thursday against North Carolina at Wilmington was so special that this column is not even going to elaborate on his outing of 22 points and six rebounds this past weekend against Hofstra and its winning streak of legend. Before even getting to the golden statistics of the night by Fobbs versus the Seahawks yesterday, it should be mentioned that the Bishop Kearney product won it for his Tigers with five ticks left in regulation off of a pair of free throws. Last night, Fobbs led the game with 24 points on 9-of-13 shooting from the field on top of hitting three of his four shot attempts from deep. On top of that, while standing under 6-foot-5, Brian tied the Seahawks' Devontae Cacok on the boards with eleven rebounds on the night. Cacok came into that game ranked third in the country in rebounding average.
Dontay Caruthers—Sr., Buffalo (East High)
On Monday afternoon, Buffalo got a big vote of confidence from the college basketball world in its fight for an at-large bid to the 2019 NCAA Tournament, if need be, due to staying at No. 18 in the national rankings despite being upset within that last week to Northern Illinois. The next day, Dontay blazed in 21 minutes off the bench against Ball State to the tune of 21 points on 8-of-10 shooting from the field, 2-of-2 shooting from deep and 3-of-3 shooting from the charity stripe. It was his second game in a row going a perfect 2-of-2 from downtown. In that ballgame against the Cardinals, Caruthers continued his rampant tear of throwing down memorable dunks. Speaking of jams, University Preparatory Charter School for Young Men product freshman Jeenathan Williams had a tip slam over three Cardinals a few nights ago that placed him as the No. 3 play on SportsCenter later in the night.
The #BuffaloBounceHouse was in full effect tonight!

Check out all of the dunks from the 83-59 victory over Ball State#UBHornsUP | #UBLegendary pic.twitter.com/cfSctKSDEd

— UB Men's Basketball (@UBmenshoops) January 30, 2019