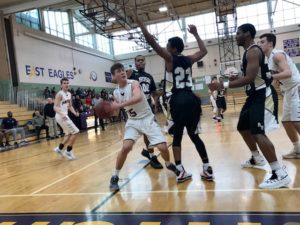 By WOLVERIDGE LANGAN
Not much movement occurred among the top Section V teams in this week's NYSSWA Rankings. Class A Top 10 teams Pittsford Mendon, Northstar Christian and East all kept their positions from last week, while Class D teams Prattsburgh, Avoca and Elba maintained Top 5 spots.
With a quality win over crosstown favorite Pittsford Sutherland, Pittsford Mendon (13-0) stayed at the No. 3 NYWSSA Class A . An offense averaging 82.91 points per game led by double-double machine Daniel Cook (19.5 ppg) and senior guard Michael Harrington (19.3 ppg) will face another explosive offensive team in Leadership Academy on January 30th. A February 8th matchup with divisional and ranked opponent Greece Athena will be among Mendon's stiffest tests for the rest of the regular season.
The East Eagles (14-1) suffered their first loss of the season versus a talented ranked McQuaid squad last week, 65-68. The Eagles retained their No. 7 NYWSSA Class A position regardless. The offensive juggernaut (83.27 ppg) paced by Zach Harris-Scott, who averages 20.3 ppg, looks to bounce back in their next contest with Wilson Magnet on January 31st. Three consecutive matchups against NE Douglas, SOTA and Leadership have East starting February with tough opponents as the Eagles get set for the postseason.
The Northstar Christian Knights (16-0) put together back-to-back-to-back wins last week, starting with a win over Wilson before topping Hornell 64-33 and East Aurora 79-58. Commanding wins failed to move them past the No. 8 NYWSSA Class A position, which they held last week. Another lethal scoring team (84.20 ppg), the Knights and Section V active scoring leader Miles Brown (34.1 ppg) face Corning at home on January 31st in their return to action. A game against C.G. Finney the following week features the top two teams in the Private/Parochial division going head-to-head for the second time this season.
The last Section V squad among the Top 25, Greece Athena (14-2) jumped six spots to No. 13 NYWSSA Class A. Athena secured a victory over Brockport 67-58. The Trojans take on Greece Arcadia next at home on February 1st.
Section V Class D representative Prattsburgh (15-1) split last week with a 93-17 dismantling of Arkport-Canaseraga and a 62-73 loss to York. The Vikings still remain in the No. 1 NYWSSA Class D position for the third week in a row. Avoca (15-2) went 3-0 to stay at No. 3 NYWSSA Class D, with an undefeated week from Elba (14-2) keeping them at No. 4 NYWSSA Class D for the third week straight. Mount Morris (10-2) did not play last week but wrapped up the Section V teams at No. 14 NYWSSA Class D.
For Class AA, McQuaid (11-3) made no movement up or down in spite of their win over East, 68-65. The Knights took the No. 14 NYWSSA Class AA for the second week in a row. They play defensive stalwart Irondequoit next on January 3oth.
A single win against fellow ranked opponent Wellsville proved enough to inch Greece Odyssey (12-2) up to the No. 18 NYWSSA Class B ranking after dropping to No. 19 last week. Wellsville (11-5) companied the defeat with a 54-47 win over Allegany to move up three spots to No. 22 NYWSSA Class B.
Lyons (14-1) hopped one spot to a No. 4 NYWSSA Class C position, with C.G. Finney (13-2) and Caledonia-Mumford (13-1) also increasing their stock, garnering the No. 7 and No. 10 spots respectfully. Avon (12-2) and Marcus Whitman (12-1) held on to their rankings from last week, with the former staying at No. 9 and the latter at No. 12.