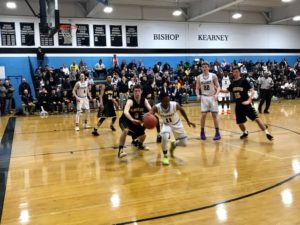 HILTON (11-3) 49
GREECE ATHENA (14-2) 59
Melvin Council Jr. scored 18 of his team-high 22 points in the first half as Greece Athena (No. 19 NYWSSA Class A) took a 29-23 lead into the break on the way to their seventh straight win. The junior guard, who leads Monroe County III in scoring (20.1 ppg) connected nine times from the floor including a trio of 3-pointers. Kelvin Reaves Jr., another top five Monroe County III scorer, added eight of his 14 points in the third quarter as the Trojans pushed their advantage to double digits. Johnny Salone contributed 12 points while DeAndre Newsome and Isaiah Brock both added four points. Austin Brown rounded out the scoring for Greece Athena, netting three points. Monroe County I leading scorer Tah'Jae Hill (34.1 ppg) paced Hilton with a game-high 26 points. Najier Daniels added nine, with Mitch Carr putting in seven points. Jackson DiPalma scored three points while Noah Malta and Ryan Kurtz both had two points each for Hilton. Athena held Hilton, averaging better than 71 points per game, to a season-low output. 
MCQUAID (14-0) 74
BISHOP KEARNEY (4-8) 61
Little more that 48 hours after handing RCAC rival East its first setback of the season,  McQuaid took to the hardwood of Ed Nietopski Gymnasium. Four scored in double figures as Jesuit Knights erased an early deficit to win its fourth straight game. READ MORE.
UTICA-PROCTOR (III) 68
PITTSFORD MENDON (13-0) 90
Pittsford Mendon's (No. 3 NYWSSA Class A) Daniel Cook connected nine times from the floor all insde the 3-point arc, powering him to a team-high 22 points paired with 20 rebound for his 12th double-double of the season. Cook, one of Monroe County III's top five scorers, also went a perfect 4-of-4 from the charity stripe. Jacob Shadders managed a double-double as well, tying Cook's 22 points while dishing out ten assists. The sophomore connected from deep three times in the effort. Michael Harrington joined them in double figures, finishing with 13 points. Caleb Arena added nine points, with both Conner Krapf and William Orzell scoring five points. Kyle Hennessey had four, with Kevin Keneally, Charles Bennett and Nate Strauf all contributing three points. Isaiah Cotton put in one free throw to round out the scoring for Mendon. Tasean Cooper led Utica-Proctor with 17 points (two 3-pointers). Taj'mere Phillips and Cam Johnson also scored in double figures. Phillips finished with 14 while Johnson had 12. Mendon has scored 90 or more points seven times this season.
WHEATLAND-CHILI (0-15) 44
EARLY COLLEGE (3-11) 54
Marquis Crawford let go a barrage of three-pointers for Early College, making seven en route to 27 total points. Jaequon Nesmith also got into double-digits, adding 12. Joe Williams finished with six points, Sam Jackson had five, Jaiden Daymon scored four and Jahan Richetts put in two to makeup the scoring for Early College. Aaron Lund paced Wheatland-Chili, scoring 20 points, nine in the third quarter, for the Wildcats. Brian Napier added eight points and Brendan Moore finished with seven. Jordan Richards had six and Maurice Brown scored two to finish off the scoring for Wheatland-Chili.
RUSH-HENRIETTA (8-8) 53
WILSON MAGNET (5-10) 78
Robert Davis scored nine of his team-high 27 points during a 24-point second quarter that catapulted Wilson Magnet to a 37-22 lead at the half. Davis connected four times from the floor in what proved to be the decisive quarter and finished 7-of-8 from the free throw line for the night. Brennan Clark also eclipsed the double-digit mark, adding 18 points. Malikk Johnson scored nine points and Latief Holmes had seven. Tory Bradley and Rashi Smith-James both put in six points, while Desi Floyd, Christian Harmon and Maurice Young all added two for Wilson Magnet. Eddie Beverly poured in 19 points off six 3-pointers for Rush-Henrietta. Jevonte Williams finished with seven points and Abdule Bon added six points. Charles Bowden scored five points, while Tyshawn Searight and Shamire Broyld both had four apiece. Tim Jackson put in 3 points, with Nyles Goodwin and Francisco Lawson contributing two points each. Patrick Sherron knocked down a free throw to wrap up the scoring for Rush-Henrietta.
CANANDAIGUA (0-15) 59
CHURCHVILLE-CHILI (8-7) 74
Griffin Stella scored 13 of his team-high 23 points in the fourth quarter to keep Churchville-Chili in the lead. Stella also went 5-for-6 from the charity stripe. Marcus Postell (15 points) and Kamerin Poromon (13 points) also scored in double figures for the Saints. Marcellus James and Terrence Wilson both added seven points, with John Bagley contributed five points while John Keele had four for Churchville-Chili. Chris Kurowski led Canandaigua with 16 points (two 3-pointers), with Casey Herod (15 points) right behind him. Ryan Welch finished with eight points and Mitch Pfeiffer added six points. Andrew Boseck had four points, Nick Brunelli and Elijah Iheoma both scored three points each while Ambrose Carey and Luke Pawlicki each had two points apiece to round out the scoring for Canandaigua.
AQUINAS (6-8) 77
MONROE (11-5) 72
Myles Blackwood scored six of his 19 points in overtime as Aquinas won its third straight and fifth out of the last six games. Blackwood converted three free throws and connected once from the floor during the overtime period when AQ outscored Monroe 14-8. Jack Scanlon connected three times from 3-point land and finished with a team-high 20 points on the night. Tyler Warner completed the trio of double-digit scorers with 15 points. Both Steve Mahar and Jack Bleier had six apiece and James Jones put in two for Aquinas. Monroe's De'vante Mateo scored a game-high 30 points (three 3-pointers). Tyquil Glasgow added 13 points (two 3-pointers) with Jamar Williams throwing on seven. Jahmir Bloom had six, Jo-Nathan Jones scored five and both Fidel Brock and Trevone Glasgow put in a bucket each to round out the scorers for Monroe.
FRANKLIN (7-8) 50
BRIGHTON (4-9) 49
Brendan Moore hit four 3-pointers in the third quarter as a part of his team-leading 22 points to pace Franklin to its fourth straight win. Tyrone House (12 points) and Tahjir King (10 points) combined nine of Franklin's 13 fourth quarter points to keep the Quakers in front. Tyree Spann put in two points and Devonte Goins made a free throw to complete the scoring for Franklin. Lukas Staant paced Brighton with 21 points. Matt Falter scored all of his points in the fourth, finishing with 11 while Tyler Evans added six. Jack Falter scored five points, Nate Sponsel put in four and Najeeb Awad had two for the Barons.
AVON (13-2) 60
LETCHWORTH (3-11) 54
Paddy Coyne scored 12 of his 19 points in the first half to pace Avon (No. 5 NYWSSA Class C) to a 34-27 lead on the way to the Braves third straight win and fifth in the last six games. Connor Taylor added a double-double, scoring 14 points and grabbing 15 rebounds. The senior guard also had eight assists and five steals. Nick Rowland finished with 12 points and seven rebounds. Tyler Dailey hit a pair of 3-pointers and contributed eight points. Zack Colvin went 3-of-4 at the free-throw line to total five points and Ian Read added two points of his own for Avon. Will Shearing of Letchworth had matched and raised Coyne's first half where he put up 14 of his 20 points and went 2-of-4 at the free-throw line. Will Bean scored 14 points in the second half to contribute to his total of 16. Brett Vasile (8), Jimmy Cole (6) and Zach Brown (4).

BATH-HAVERLING (7-8) 60
ADDISON (12-4) 35
Jordan Deats scored six of his 18 points in the second quarter for Bath-Haverling, who outscored Addison 18-4 in the same quarter. Deats pulled down 16 rebounds for the double-double while sending back six shots. Alec Sestak also put up 18 points, which included four 3-pointers and grabbed seven rebounds in the process. Justin Marshall and Thomas Binkowski both put in six points, with Austin Palmer and Blake Hess each scoring five points. Nate Yehl wrapped up the scoring for Bath-Haverling, with two points. Gage Ames led Addison with 13 points, with nine coming from beyond the three-point line. Danny Ames added 10 points along with John Stierly, who had eight rebounds and eight blocks. Nick Sutryk rounded out the scorers for Addison, finishing with two.
WHITESVILLE (0-14) 38
HAMMONDSPORT (6-10) 65
The Hammondsport Lakers sealed their 5th win in a row over the Whitesville Bluejays 65-38. Parker Watson scored 16 points with 6 steals and Michael Beam and Byron Stevens both had 10 points each for the Lakers. For the Bluejays, Chris Gillette netted 20 points as Jesse Pensyl added 16 points.

BRADFORD (4-10) 38
AVOCA (15-2) 71
Senior Nathan Nunn led Avoca (No. 3 NYWSSA Class D) with 24 points, seven rebounds, four assists, four steals and two blocks. Senior Ladre Stanford played contributed seven points, six rebounds, three assists and two steals. Senior Logan Dubois chipped in with five points. Junior guard Brady Brandow knocked down five 3-pointers and scored 19 points. Other scorers for Avoca included Devin Stowe (2) and Thomas Derick (2). Bradford was led by Senior Ben Lucas with 12 points followed by Tristan Stark (8), Zack Hammond (2) and DeJay Hammond (2).
ROCHESTER PREP (4-11) 57
WORLD OF INQUIRY (5-9) 63
Tremier Dollar led three in double figures, and World of Inquiry won for the third straight game. Dollar, the RCAC's leading scorer (27.4 PPG), finished with 16 points on the night. Jahlil Bell and Bobby Searight added 11 apiece for the Griffins. JaQuan Close and Michael Thomas both had eight points. Jeshua Shaw (4), Romel Brown (3) and Dorian Smith (2) rounded out the scoring for WOI. Wesley Henderson paced Rochester Prep with 21 points. Alonzo Thomas added 11 for the Tigers. Jaden Hayes had 10 points while Bruce Lewis chipped in with nine points. Emmanuel Graham (6) and Jaquis Robinson (4) rounded out the scoring for Rochester Prep.
ATTICA (9-6) 67
KENDALL (6-9) 56
PEMBROKE (7-8) 53
HOLLEY (3-12) 46
SCIO (10-3) 36
BELFAST (10-5) 42
GENESEE VALLEY (9-6) 58
PERRY (8-8) 61