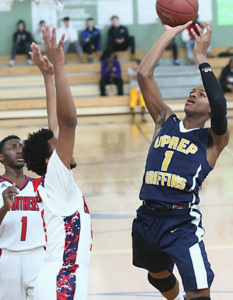 By MATT TRABOLD
TRABS KEEPS TABS
Who to Watch in Class AA outside the Big Three
There is not much of a question about who the top three contenders are in Class AA this season. Some of the reasoning behind that is this classification not experiencing as much depth as usual this campaign, but some of the reasoning is also that those top three teams in the current standings for the classification are very strong.
Hilton was the team of the trio that stayed undefeated the longest this year, as it won its first seven contests of this season. Less than ten days ago, the squad currently occupying the top spot in the Class AA standings in Gates-Chili sped past those Cadets late for a victory by nine tallies. Defending Class AA sectional champion McQuaid Jesuit has just one Section V loss this go-around thus far.
The first team in this discussion of candidates that might have what it takes to rise up around those three titans of the sport locally down the final stretch of this regular season and in postseason play is a program with a storied history of success over the years in Rush-Henrietta. The Royal Comets currently sit in the No. 5 spot of the Class AA standings. The level of success Chris Reed's group grasps going forward this go-through is largely dependent on the availability of 6-foot-5 top option Shamire Broyld. In the final couple minutes of the first half of Rush-Henrietta's lopsided loss to undefeated Pittsford Mendon this past Saturday, Shamire was fitted with a sizable ice wrap around one of his shoulders, like you would see an MLB starting pitcher have on during interviews following one of his starts. Then, he came out from the halftime break of that one already in his street clothes due to the injury. On Tuesday night against Webster Thomas, the hobbled Broyld played sparingly versus those Titans. A Royal Comet that shows fearlessness on the court, regardless of the size of the defenders in his path to the tin, is 5-foot-9 junior Charles Bowden.
While most other teams in this section have around twice as many games remaining this regular season, University Preparatory Charter School for Young Men has only three outings left on this schedule of theirs before the newest sectional bracket starts up. With that being said, those three ballgames, all on the Griffins' home court at Roberts Wesleyan College, should all be good tests with the opponents in them being Bishop Kearney, Gates-Chili and Aquinas Institute. No matter which names are on the roster each year, it is to be assumed that University Prep is going to have some of the top team height, top team length, top team transition speed and top team vertical athleticism every single season. That is the kind of more meat and potatoes, God-given stuff that can make all the difference come sectional time, when every game is your season. As he has detonated for scoring performances in the late teens and in the twenties over the past couple weeks for the No. 9 in the standings Griffins, Na'Zea Folks has pulled off the tough task of rising up for the most part with Jakhi Lucas and Kayshawn Ross as the top caliber of scoring threat for this University Prep club.
VIEW MORE RON KALASINKAS PHOTOS HERE. 
The third team in this discussion, Bishop Kearney, is arguably the toughest one to put a finger on this year. Just take the last two ballgames in which these Kings have competed. On January 16, Bishop Kearney was upset on the road by eight points against a Penfield group currently five games under .500. On Monday, this team had enough to take mighty, still undefeated East High to the brink in a true road game, despite it being part of a showcase event, and only came out on the losing end by a mere pair of points. The currently No. 8 in the standings Kings are probably a top three team in the section in terms of talent displayed on paper, but the squad now needs to figure out a way to consistently turn all that pure basketball and athletic talent into positive results.
This just happened…@ESPNSCTop10 pic.twitter.com/1fUIifgo6k

— John Mitchell Likanje Junior (@jml5798) January 21, 2019
SLAP YOUR PEEPERS ON THIS FIVER
Monroe at Wilson Magnet—Fri., Jan. 25, 6:00 PM
Yes, Wilson Magnet currently sits at five games under .500, but you still have to consider them a supreme candidate to make a run in sectional play coming up here soon if you take a gander at their roster. As the saying goes, games are not played on paper, but this Wildcats' roster screams both star power, with renowned point guard Robert Davis, Desi Floyd and old-school frontcourt talent Malikk Johnson, and depth, including bench big Maurice Young and 5-foot-8 breakout candidate supplementary guard Arthur Wilson. It was a surprise to many people in the area when this squad started the season with three losses in a row. Wilson Magnet is actually currently in a longer losing streak than that, as the club enters this one after four consecutive defeats. Granted, any team in this section would have at least a little bit of trouble with a span against Gates-Chili, McQuaid Jesuit, Northstar Christian and University Preparatory Charter School for Young Men.
While Wilson Magnet is dealing with a sizable losing streak at the moment, the Red Jackets have rattled off a winning streak of a trio of ballgames. The most impressive victory during that stretch was last time out against an Eastridge team that is much mightier than its record shows. After being sidelined for a little over a month, Churchville transfer guard Fidel Brock made his presence felt and then some in his return to the floor against those Lancers, especially in terms of breaking down defenders off the dribble to open up the offensive attack for his crew when help-side defense comes over. Having two big-name, starting-caliber point guard types in Brock and especially De'vante Mateo should really boost Matthew McCormick's group come postseason time, particularly with them both being such blurs. Another senior backcourt player in Kerone Kearse has come a long way with his contributions this year compared to seasons past.
Ty Glasgow gives @JMHSRedjackets a 60-58 edge with 12.9 to go pic.twitter.com/1rI3egIKR6

— Paul Gotham (@PickinSplinters) January 24, 2019
Greece Athena at Brockport—Fri., Jan. 25, 7:15 PM
These Trojans have really started to look like vintage Greece Athena when it comes to this sport over the past few weeks. Mike Setzer's men have not been defeated since December 29, which equates to an unbeaten streak of five contests. The most recent pair of wins came by just a combined four points against upswung Pittsford Sutherland and loaded Irondequoit. With Hilton and undefeated Pittsford Mendon still left on this regular season schedule, it is a good sign for Greece Athena that it has valiantly displayed of late that it can win close games, especially versus notable opponents. This Greece Athena team notoriously has the "Melvin and Kelvin" connection largely leading the charge this year, but DeAndre Newsome has also grown into the caliber of asset in this program that is very willing and able to take and make key shots at the end of close games. Senior captain forward Isaiah Brock has helped the cause this year even more than many expected him to, which is saying something, as he has retooled his repertoire to the point of becoming a pretty reliable perimeter threat on offense, especially from the corner, after mainly being a productively undersized trenches frontcourt player in seasons past.
Brockport has rather quietly had a solid season so far this go-through with a record above .500 behind seven triumphs through to this point in the campaign, including against Pittsford Sutherland and Churchville. Four-year varsity player Willie Ball, who went by Emilio Ball in years past, usually pulls off whatever necessary to put up numbers for the cause of his team, including a growingly more efficient jumper ranging out to the arc. Over the years, he has always been able to hurt the opposition in transition due to his wheels. This campaign, 6-foot-5 Ishmael Hannah has swimmingly stepped into the big, active man in the middle role vacated when Noah Schultz graduated following last school year. Mulleted Sam Velletri regularly shows why he is a captain for these forces coached by Tom Velletri and company with the manner in which he annoys opposing players with his committed, attached at the hip on-ball defense. Like Sam, Esten Schalge is a varsity stud this year after being on the JV side of things a year ago. Schalge is a perimeter offense role player with a mean shot fake.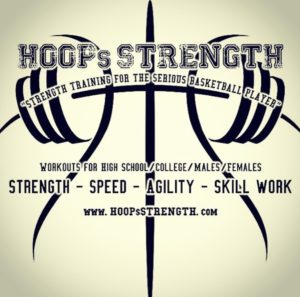 McQuaid Jesuit at East High—Sat., Jan. 26, 4:00 PM
Is there anything more particular to this East High team and Chaz Washington than him winning a highly competitive battle for his Eagles with a pair of free throws? The tenured Washington does all the little things, is entirely calm with the ball in his hands in massive moments at the end of a game and displayed his complete grasp of the fundamentals with that trip to the charity stripe on Monday afternoon to beat high-flying Bishop Kearney at home in the finale of the 2019 Rochester Area Players Invitational. Very soon, the main point guard for this squad in Maurice Coney will be firing on all his usual cylinders after being sidelined by injury for a wide majority of this season up to this point. As Maurice has been working his way back, the Eagle that has seen his passing abilities and court awareness improve the most is the eldest of Darrell Barley's two sons on the team in Kaori Barley.
Zachariah Harris-Scott with the emphatic dunk for @GoEastEagles pic.twitter.com/GewuJjPEVj

— John Mitchell Likanje Junior (@jml5798) January 21, 2019
Still undefeated East High is quite the opponent for McQuaid Jesuit to do battle with in its first game in ten days, but even a narrow loss in this one would season the Knights nicely for a stretch run featuring many a stout foe. That final span of this regular season for Jack Leasure's forces starting next week boasts matchups with Irondequoit, Fairport, Bishop Kearney and a Leadership Academy for Young Men side that has already beaten them this campaign. The two underclassmen on this roster right now could provide a legitimate depth boost at the end of the season here shortly. 6-foot-3 freshman Justus Ross-Simmons, the little brother of former 6-foot-7 Canisius Golden Griffin Tomas Vazquez-Simmons, has been scoring a couple buckets here and a couple buckets there over the last few games since becoming healthy enough to legitimately get into games for these Knights recently. Sophomore guard Keith Warren shows more poise, and consequently makes fewer underclassman mistakes, with every game this year.
Irondequoit at Eastridge—Sat., Jan. 26, 6:45 PM
It is not very often that both of these public school teams from the town of Irondequoit are legitimate contenders in this sport during a given season. At the moment, in the specific Class A classification standings they are both a part of, Irondequoit holds the No. 2 spot, while Eastridge holds the No. 6 spot. Last time out, Eastridge doubled down on its January 18 upset loss against Batavia with a narrow two-point defeat versus a good Monroe squad. 6-foot-2 senior Jaden Keech should be considered part of the core of these Lancers alongside Tony Arnold, Jalen Rose Hannah and Terrence Reid. Before even getting into the contributions he can provide scoring the sphere, Keech is one of the very best defenders and passers in a pinch that Dan Roser and his staff can put out on the court. Vertus Charter transfer Jahmel Demery has gone from rather surprisingly not playing much early on this go-around to being the big this Eastridge side leans on towards the end of games in many scenarios due to him having the best lengthiness on the roster.
Brighton made a run late yesterday, but Tony Arnold sealed the deal for @EastridgeHoops @ERidgeLancers with a transition dunk. Then, he returned to the scene once it was over. How about the @Kizeech dime?! Plus, @JalenRoseHanna1 had a clutch bucket just before that. Team. Shoes. pic.twitter.com/FkgYkypIwS

— Matt Trabold (@TrabsMatt) January 14, 2019
Irondequoit took out its frustration from losing a close one against Greece Athena two ballgames ago by running over winless Canandaigua by 31 points in its last game last Friday. Just about the same repertoire expansion Josh Stenglein flaunted right from the very start of this season fellow 6-foot-3 backcourt player Connor Shafer has displayed more and more as this season has progressed. At one point, both Stenglein and Shafer were perimeter offense role players, but they are now both blocking jump shot attempts, scoring inside the arc here and there, as well as pickpocketing opposing players pretty regularly. Josh is presently even not that far behind the defensive stealing prowess his older brother Zach Stenglein recently exhibited in his final two seasons within the Irondequoit program.
Pittsford Sutherland at Pittsford Mendon—Sat., Jan. 26, 7:00 PM
Much has been made in prior installments of this column of the first meeting this season between rivals Pittsford Sutherland and Pittsford Mendon. Summing up that meeting, the Vikings led by handfuls and handfuls of points in the second quarter before allowing a comeback so mighty by the Knights that Pittsford Mendon actually trailed by more than a possession going into the fourth quarter of that one on a neutral floor. Pittsford Mendon ultimately pulled it out, and it still stands at an unbeaten record. Fast-forwarding to the past week, the first day of the 2019 Rochester Area Players Invitational this most recent Saturday morning was all Pittsford. Many believed that these undefeated Vikings would be able to pick up a win at East High that snowy morn against Rush-Henrietta, but few could have predicted it being a blowout as big as a margin of victory of 32 points. In the later game there that day, now 8-6 Pittsford Sutherland turned what was a neck-and-neck affair for the first half of play with Leadership Academy for Young Men into a 22-point victory due to a 40-7 run to end regulation.
6-foot-6 captain Kevin Ryan just about always has a big outing for Pittsford Sutherland, but what gave John Nally's team a major jolt against those Lions that morning was the other bigs around Ryan playing a significant role in the win. Those significant roles came in the form of rising over smaller defenders for successful triples tries, like with 6-foot-7 Owen Flisnik, or quickly scoring around the basket before the defense collapsed, like with 6-foot-6 Conner Fitzsimmons. John Messina has become so polished for these Knights at either driving for flexible points of his own or driving and dumping off the rock to now open bigger teammates for assists. As for Pittsford Mendon, a name that has shown lately that he needs more notoriety for his stellar play, like Messina, is Charlie Bennett. If an opposing team allows Bennett to dart inside the perimeter, he has shown of late that he can hurt them in a variety of ways, including baseline jumpers, step-back jumpers in the lane and kicking it to a teammate for an assist off a drive into the paint.
Dan Cook, behave. This is what happens when your arms are long enough to tie your shoes without bending down. Apex wingspan. Plus, that Blue Devil is one hell of a defender. ● @mendonbball @PCSDAthletics pic.twitter.com/4SIQaIR3qU

— Matt Trabold (@TrabsMatt) January 12, 2019
SECTION V IN DIVISION I UPDATE
Keith McGee—So., New Mexico (Greece Arcadia)
As part of a stretch of essentially four whole ballgames where he was sidelined due to illness, Keith was only able to log two minutes of playing time six contests ago as his Lobos notoriously upset the No. 6 team in the national rankings at the time in Nevada by a big 27 points. McGee has really turned it up though since returning to action. In the four games since coming back from that illness hiatus, against Colorado State, San Diego State, Wyoming and UNLV, he has averaged scoring in double figures at 10.5 points an outing. On top of that, Keith hit a stellar half of his fourteen shot attempts from downtown over that span of a quartet of outings. One of those successful triples tries was last time out against UNLV as he just narrowly beat the halftime horn from deep.
In the game last night for New Mexico MBB vs. UNLV, @GreeceArcadia @TheCityRocks product Keith McGee @why_notkeith hit the final shot for either team in both the first and second half. Since returning to action, he has averaged PPG in double figures at 10.5 PPG with 57.1 3FG%. 🎸 pic.twitter.com/UPNMqGs5aK

— Matt Trabold (@TrabsMatt) January 23, 2019
Quinton Rose—Jr., Temple (Bishop Kearney)
Coming into Thursday, Rose had not been shooting quite as well from downtown this season so far in comparison to his efficiency from out there a season ago. Quinton took a massive step in the right direction in that regard though last night against Memphis, and in the eyes of NBA scouts, by starting the game hitting five of his first six shot attempts from behind the arc on his way to a team-high 26 points. Plus, his Owls held off a strong comeback attempt by those Tigers to pick up a very important victory in their quest to at least get their hands on an at-large bid to the 2019 NCAA Tournament in the last chance for renowned head coach Fran Dunphy. Quinton's assists mark Thursday night of five dimes versus Memphis was his best nightly number in that statistical category in four games.