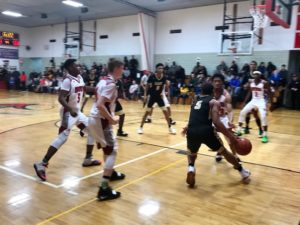 WORLD OF INQUIRY (3-9) 51
VERTUS (0-11) 49
Tremier Dollar dropped 27 points, 19 of which came in the second half, grabbed 12 rebounds and snatched eight steals to lead World of Inquiry. Dollar has scored double-digit numbers points in each game he has played this year and exited the game averaging 28.36 points per game. The Griffins entered the final quarter of play trailing 34-33, but managed to outscore Vertus 18-15 in the fourth to take the two-point victory. The win snaps a five-game losing streak for World of Inquiry. Amauri Smith and Jabez Thompson tied for the Vertus lead in points with 11 each, followed by Cesar Ostolaza with 10 points. Vertus finished 10-for-16 from the charity stripe as a team. Other scorers: WOI- Jahlil Bell (8), JaQuan Close (8), Dorian Smith (4), Michael Thomas (2), Ja'Kye Williams (2), Vertus- Quanmay Early (5), Rashawn Williams (4), Eric LeBrane (2), Clovis Meikle (2), Jarel Dixon (2), Xalen Lucas (2).
BUFFALO EAST (VI) 69
NORTHSTAR CHRISTIAN (13-0) 85
Miles Brown scored 42 points and Northstar Christian (No. 11 NYSSWA Class A) rallied to beat the reigning NYSPHSAA Class D champion. READ MORE.
BLOOMFIELD (8-5) 37
MARCUS WHITMAN (11-1) 71
Jon Donovan, a senior playing a fifth season on the varsity squad, fueled Marcus Whitman (No. 12 NYSSWA Class C) with 19 points. Donovan knocked down three of the Wildcats' nine threes in the win. Seth Benedict finished with 13 points and Jordan Lahue added 10 points for the Wildcats. The Wildcats held Bloomfield to five points in the first half, breaking the game open with a 20-2 scoring difference in the first quarter and holding a 38-5 lead at the half. The win extends Marcus Whitman's winning streak to 10 straight games. On December 7, Marcus Whitman beat Bloomfield 49-34, with both matchups seeing Bloomfield's lowest point totals of the season. Devin Campbell proved to be the Bombers' lone double-digit scorer of the evening, collecting 13 points while hitting a pair of three-pointers, all in the third quarter. Campbell accounted for all of Bloomfield's scoring in the third quarter. Whitman held Tanner Kimball (16.83 points per game), the Bombers' leading-scorer, to seven points. Other scorers: Marcus Whitman- Noah Hildreth (8), Liam Prendergast (8), Aiden Royston (7), Christian Daniels (3), Carson Miller (2), Conner Tomion (1).
CLYDE-SAVANNAH (4-10) 58
GANANDA (12-2) 85
Jayden Castrechini hit three 3-pointers and  finished 4-for-6 from the charity stripe en route to a 29-point evening to lead Gananda to a bounce-back win. Castrechini netted 13 of his 29 points in the third quarter, accounting for half of the Gananda's offense in the quarter as the Blue Panthers outscored Clyde-Savannah 26-13 to take a 30-point lead into the final stanza. Andrew Gabbard added 21 points, including 13 points in the first quarter. Gananda kicked off the game by outscoring Clyde-Savannah 27-14 in the first quarter and an eventual 47-30 lead at the half. Gananda hit nine three-pointers as team over the course of the game. The Blue Panthers entered the game coming off a 94-75 loss to Lyons (No. 5 NYSSWA Class C), which snapped a nine-game winning streak. Cam Chance topped Clyde-Savannah with 25 points, followed by Steven Dunn with 13 points and Jaiden McKinney with 11 points. Other scorers: Gananda- Zach Dier (10), Jerry Brongo (6), Sebastian Hergert (6), Tim McClare (4), Kole Wright (3), Zachary Ciprich (2), Joel Bean (2), Sergio Lopez (2), Clyde-Savannah- Kollin Maddox (4), Tanner Brown (3), Hunter Donselaar (2).
NAPLES (11-2) 64
DUNDEE (0-11) 61  OT
Cole Rathbun fueled Naples with 24 points, helping the Big Green survive in overtime and pick up a third straight win. Adam Quarterman, who scored nine points, drew a foul as time ran out in regulation and went to the line with Dundee leading by one. Quarterman sank one-of-two two free throws, sending the game to overtime. Quarterman then capitalized on Naples's opportunity, dropping in the eventual game-winning layup, allowing for a pair of Nick Clearman free throws to put Naples up by three. The Big Green finished the outing 23-for-31 in total from the free throw line. Austin Gibson led the Scotsmen with 15 points, followed by Preston Cratsley with 14 and Isaac Seamans with 13. Other scorers: Naples – Nick Green (13), Ben Green (8), Dundee- Nick McCurry (9).
AVOCA (12-2) 70
ARKPORT-CANASERAGA (3-11) 23
LaDre Stanford propelled Avoca (No. 2 NYSSWA Class D) with 25 points, including 14 in the third quarter alone while Nathan Nunn contributed 14 points and Devin Stowe had 12 points. Stanford, a member of the varsity roster for five years, hit a trio of three-pointers during his 14-point third quarter. Avoca led 31-13 heading into halftime and broke the game open even further in the third quarter, outscoring Arkport-Canaseraga 19-4 to take a 50-17 lead into the fourth. After starting the season winning 11 consecutive games, the Tigers had lost back-to-back games entering the matchup. Zach Porter topped Arkport-Canaseraga with 11 points, followed by Ray Campbell with 10 points. Other scorers: Avoca- Logan DuBois (5), Brady Brandow (5), Arkport-Canaseraga- Nate Herman (2).
LYONS (12-1) 90
RED CREEK (4-10) 52
Justice Smith and David Weaver led five in double figures as Lyons (No. 5 NYSSWA Class C) won its sixth straight. Weaver connected six times from 3-point land and shared team-high with Smith at 20 points. Justin Smith, Jr. scored 17. Horace Betts IV and Hunter Bastion added 12 apiece for the Lions which held a 44-19 advantage at halftime. Ahmir James (5) and Xavier Reeves (4) rounded out the scoring for Lyons. Dan Smith paced Red Creek with 13 points. Damin Jones chipped in with 12, and Cyrus Lerch had 10. Lucas Fernandez Pruta (7), Liam Bonney (5), Lucas Maurizio (4) and Noah Dauphin (1) also scored for Red Creek. Justice Smith ran his career point total to 1,661 points. The senior stands in third place among the Section V's active career scoring leaders.
NORTH ROSE-WOLCOTT (1-12) 32
SODUS (7-6) 55
Lonnie Logins topped Sodus with 23 points, followed by John Molisani with 11 points. Other scorers: Sodus- Marcelus Burton (8), Marquese Burton (7), Amanti Jones (2), Paul James (2).
ROMULUS (6-7) 39
RED JACKET (11-3) 63
HARLEY-ALLENDALE-COLUMBIA (5-8) 51
SOUTH SENECA (2-10) 36
FILLMORE (7-4) 89
HINSDALE (3-8) 47
MARION (2-11) 31
WILLIAMSON (5-9) 71
ROCHESTER ACADEMY (2-8)
ROCHESTER PREP (3-9)
CUBA-RUSHFORD (4-3)
GENESEE VALLEY (7-4)
PALMYRA-MACEDON (1-11)
WATERLOO (7-5)