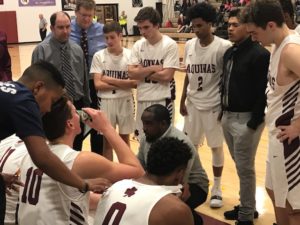 By MATT TRABOLD
TRABS KEEPS TABS
Taking Inventory of the Most Improved Teams This Season
With this regular season of Section V boys basketball action being seven weeks in the books at the moment with five weeks still to come, the sample size is proper enough for it to be a pretty good time to judge which teams are truly significantly improved from a season ago. There is even one very notable team that already has more victories in its record this season despite it only being just past the halfway point than it grasped all of last year.
This dialogue simply must begin with East High. You did not have to wait very long to find out which team in this section is already past its win total from the most recent full campaign. Get this. After going into sectional play last season with a 6-13 record, the Eagles are already up to a resolute record of 12-0 this go-through. The expansive batch of new rotation faces this go-around for Darrell Barley and his even new-look staff can largely explain that hefty uptick in victories, with University Preparatory Charter School for Young Men transfer Zechariah Harris-Scott, Penfield transfer Dyllon Scott, Howard Eagle, freshman Kai McCullough and fellow freshman Damani Barley. Class of 2021 Oregon football commitment and defensive stopper Seven McGee may have transferred back to California around the Christmas break, but fellow local football star Freddie Brock put on quite the defensive display Wednesday night against a good Monroe team in the first ballgame for the squad since the transfer, including taking a pair of charges.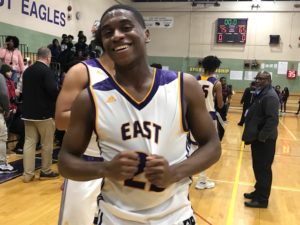 A team that might surprise some to be on this list is Aquinas Institute. This inclusion is mostly based on heavy potential. For really the first time in the last season and a half, John McCauley and his staff have an entirely healthy roster right now. That is thanks to the very recent returns from football injuries of 6-foot-7 Steve Mahar and Ruben Torres. Their team utilized that asset this past Saturday against a Canisius team that beat McQuaid Jesuit on the road earlier this season with a fifteen-point win against the Crusaders from the Buffalo area. While that victory only moved Aquinas Institute to a 2-7 mark this season, the program does not have too long of a way to go to surpass its win total last year of five victories. If everyone can remain on the floor, this Aquinas Institute roster has an upward trajectory probability this season that goes positively beyond the numbers.
Do not look now, but another team, like Aquinas Institute, that classified down from Class AA to Class A1 coming into this campaign in Churchville-Chili quietly has the chance to enter postseason play coming up here before too long with a better record than it ended last regular season at. This is a smidge surprising after the program's top option last season in Eric Lewis graduated and joined his older brother Isaiah Lewis on the team at Roberts Wesleyan College. On top of that, the second-best option for Tim Miller and his staff a year ago in Fidel Brock transferred to Monroe, where he has been starring this campaign. The currently 5-3 Saints, a number good enough at the present time for the No. 4 spot in the Class A1 standings, are just a trio of wins away from a superior win total this season compared to last season. 6-foot-3 junior Griffen Stella, also a volleyball star in this section, is again using his shifty tactics to find every which way to produce. Main big man Marcus Postell has the tenacity to play much taller than his 6-foot-2 height. Senior captain Marcellus James is able to use his specific frame to bully opposing backcourt players.
With ten games remaining this go-around, presently 9-1 Avon has plenty of chances to best its regular season record from a year ago of 14-6. Barring some sort of collapse down this final stretch, the Braves should also be better than the No. 6 seed in their sectional bracket, like they were in early 2018. Connor Taylor is obviously the first name you think of when the topic of this squad comes about, and for good reason after he wove yet another triple-double last time out against Mynderse. Nick Rowland is one of the most underrated big men in Section V this season with his solid size and activity in the paint. Around the star power of Taylor and Rowland, Avon has a chance to make a postseason run of some sort due to the perimeter offense role players around them in the form of Padraig Coyne and Tyler Dailey. The Braves' quest for those six additional wins this regular season starts Friday night against still undefeated Caledonia-Mumford.
Section V Active Career Scoring Leaders
School
Yr.
Career Points
Miles Brown
Northstar
Sr.
2,582
Adam Enders
Belfast
Sr.
2,084
Justice Smith
Lyons
Sr.
1,582
LaDre Stanford
Avoca
Sr.
1,569
Keegan Ocorr
C.G. Finney
Sr.
1,459
Robert Davis
Wilson
Sr.
1,450
Keith Slack
Gates-Chili
Sr.
1,417
Mason Putnam
Prattsburgh
Jr.
1,331
Jakhi Lucas
UPrep
Sr.
1,272
Daniel Ames
Addison
Sr.
1,137
Jiahmere Mitchell
NE Douglass
Sr.
1,096
Chaz Washington
East
Sr.
1,069
Rondell Watson
Leadership
Sr.
1,029
Tah'Jae Hill
Hilton
Jr.
1,023
*Occor was omitted from orginal list.
SLAP YOUR PEEPERS ON THIS FIVER
University Preparatory Charter School for Young Men at Wilson Magnet—Fri., Jan. 11, 6:00 PM
This campaign for University Preparatory Charter School for Young Men gained some verve for going down the final stretch within the last few days as the Griffins more than tested undefeated Northstar Christian, in a ballgame where they actually led for long stretches, Wednesday night. Just having a local superstar lead guard like Jakhi Lucas is going to keep them in most games. Onlookers at his games get exhausted just watching the valiant way Lucas puts his body on the line in a plethora of basketball scenarios and pulls out all the stops to end a possession with points for his side. If high-flying junior Kayshawn Ross does not get too ensconced in trying to utilize his improved jump shot, he can dominate spans of games with his driving prowess. Na'Zea Folks is not younger than Ross and the also springy returnee Christian Jefferson-Edwards in terms of grade in school, with all three being juniors, but this is the first season for Folks with this varsity squad. Na'Zea has shown the potential here and there this year that he can follow in the footsteps of Ross and Jefferson-Edwards when it comes to becoming a key wing for this program pretty soon. Whenever senior forwards Kendrick Cheyshad and Krystain Lee can provide a little something on the offensive end, it is gravy because they help out so much with their stifling defensive effort and good size.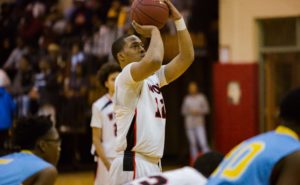 The Wildcats come into this battle with wins in three of their last four contests. Yes, a pair of those victories came against very improved but still 3-7 Franklin and Edison Tech in a rebuilding season, but one assumes Wilson Magnet is more than happy to boost its record in that manner after the season began with three consecutive losses. Brendan O'Toole's group will continue turning around its record largely on the backs of calm veteran presence frontcourt players Desi Floyd and Malikk Johnson. Malikk is arguably the Tim Duncan of Section V boys basketball currently in terms of old-school paint production.
Penfield at Webster Schroeder—Fri., Jan. 11, 7:15 PM
Webster Schroeder is still three games under .500 on the year, but at least these Warriors kept a recent losing streak at five games last time out with a win by double figures against Canandaigua. Webster Schroeder's next game after this one is of the rivalry sort against crosstown opponent Webster Thomas, but it should not be overlooking this particular matchup Friday evening. Matt Spadoni and his staff will not allow that. Ky'Mere Meeks is just about ready to explode into true Section V relevance once his composure and seasoning improve a little bit because his physical and athletic tools are undeniable. He is only a sophomore still. It will come. Fellow notable sophomore in this program Luke Insley is a captain as an underclassman for a reason. He might not go off for big-time scoring outbursts on quite as many nights this campaign as a season ago, but he still displays very outwardly his leadership among the members of this team, whether showing it with his body language and words on the floor or on the bench.
For a simple recent comparison of the two clubs in this ballgame, both have played against Canandaigua within the last two weeks. The difference though is that the margin of victory was ten points higher when it came to how Penfield dominated those Braves. These Patriots have undoubtedly had their moments already this go-around, but they are still looking for their first win in their specific division of Monroe County competition. That might just come in this outing on the Webster side of Ridge Road. 5-foot-11 starting point guard Javion Monroe has of course seen his production skyrocket this year as a product of all the talent that graduated after last campaign and the consequent role expansion for him, but his stepping up as a senior goes beyond the numbers when it comes to the extra echelon of competing that you can see he is willing to do in his eyes and thus the way that trickles down to what his limbs can accomplish. At the start of the week, vastly enhanced top option Patrick Piampiano and Monroe found themselves at second in scoring at 17.4 points per game and fourth in scoring at 15.0 points per game, respectively, in the first division of Monroe County.
Webster Thomas at Gates-Chili—Fri., Jan. 11, 7:15 PM
If you were to be told that these squads held the top two spots in the standings for the second division of Monroe County as recently as Tuesday afternoon, most would probably expect that 8-2 Gates-Chili was the higher of the pair compared to 6-3 Webster Thomas coming off a three-game span featuring two losses. Those people would be incorrect because Webster Thomas, in large part due to its upset victory earlier in the season over fellow division mate Irondequoit, actually sits atop that board with an unblemished 3-0 divisional record. It is an easy concept that Andrew Mason is the go-to guy for Griffin Coles and his staff for the second season in a row. The 6-foot-3 Mason is on the short list of the very best shooters in this era of Section V boys basketball, no matter what range. His present scoring average of 26.2 points per game includes within it an ability as well to befuddle opponents with more unorthodox scoring methods in a pinch. His above-average size for his position also allows him to arguably be the best defender for these Titans on top of all that. Similar to JoJo Plummer at Webster Schroeder just a few minutes away, just in a slightly shorter package, junior Dannie Palmer does just about anything, if not everything, in a basketball game pretty well.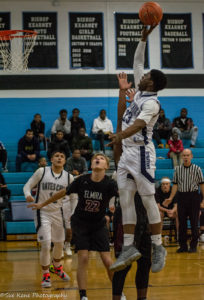 We can expect Gates-Chili to be firmly in the mix at the top of Section V boys basketball for as long as Terry Nowden is the head man for the program. That is a confident statement despite him still being pretty new to the head coaching ranks. The reason for that confidence is the manner in which he immediately rebuilt his club into being a powerhouse just like last year despite the legions of talent that graduated after last season. These Spartans enter this Friday affair having won five of their last six outings. Four of those positive results came by double figures. Last season, Gates-Chili had 6-foot-4 Thomas Jones, 6-foot-4 Gunther Kroth and 6-foot-3 Vincent Ibezim up front. The current team might actually have a little more rotation size down low though this go-through with 6-foot-3 Adam Williams, 6-foot-3 captain Tre Green, 6-foot-3 Andrew Newcombe and 6-foot-3 Mitchell Harris.
Rush-Henrietta at Fairport—Fri., Jan. 11, 7:30 PM
Last Friday, Rush-Henrietta had its winning streak stopped at six games against an Irondequoit team that a couple days ago picked up a supreme candidate for what could be considered the top victory across the section this regular season by beating previously undefeated Hilton in a ballgame that saw the Eagles lead throughout. These Royal Comets did not have the services of one of Rochester's elite basketball talents in Shamire Broyld for that defeat. An interesting observation at that lopsided battle in Irondequoit this past weekend was Broyld sitting next to former Rush-Henrietta superstar Dane Miller towards the end of the team bench. Miller joined current Los Angeles Laker Lance Stephenson as the only unanimous selection for the 2010 Big East All-Rookie Team. He is supposedly helping out with the JV team at the school this year. Another observation from that particular night for these Royal Comets flaunted the work ethic of junior guard Ziemere Howard. Connor Shafer got a tip block on Howard at one point in the fourth quarter, but a teammate then popped him in the head with an unexpected short outlet pass. Howard wasted no time jumping on the loose ball for a transition layup.
VIEW MORE SUE KANE PHOTOS HERE. 
After falling in both of its games in a recent tournament at Onondaga Community College, Fairport returned to its winning ways in its last time out with a sixteen-point victory over Webster Thomas. Those two defeats could have been worse though, seeing that they came against usual state superpower Shenendehowa and a Rome Free Academy team that is currently in an honorable mention spot in the state rankings at 9-3. Speaking of that tussle with Rome Free Academy, senior guard Andre Starks had a scoring performance there that was better than any one night of points from any of the former Red Raiders that went on to play in the highest division of collegiate basketball. His school-record 43 points on 11-of-15 shooting from deep that time around showed that Starks has the potential to be a true star performer rather than the supplementary player he has been many times in the past.
Charles Finney at Northstar Christian—Fri., Jan. 11, 7:30 PM
Section V boys basketball history may not include two programs that play mightier than what the size of their schools would suggest than Northstar Christian and Charles Finney. These two teams might come from schools with a combined current enrollment around 250 students, but this is unequivocally the matchup of the night. Most of the time, programs from schools of this size get their production from guys that have been groomed over two or three or four years through JV and/or varsity ball. There are plenty of talented versions of that specific type of weapon present on each of these teams, but JJ Garwood and Joe Marchand also have the delight of being able to incorporate stoic underclassmen into their attacks as well. On the Charles Finney side of things, we have to take a walk to the middle school wing of the school building there because that is where star eighth-grader Markus Robinson takes his classes. On top of being built already like a high school senior, Robinson is currently averaging 21.7 points per game. The Falcons also boast a stout trio of veteran pieces with now better-rounded sniper and leading scorer Keegan Ocorr, bruising Xavier Smith and inside-outside threat Caleb Anger.
The stoic underclassmen for the Knights are freshman head coach's son Ryan Garwood and a new face to the school in sophomore Sean Smith. Right off the bat, Smith's one big contribution to the cause was stifling on-ball defense, but it did not take too long for him to start contributing greatly at the offensive end on top of that. For a legitimate stretch earlier this go-through, Smith, who is currently at 14.5 points per game, turned into the definite top scoring option for Northstar Christian behind twins Miles Brown and Michael Brown. The last couple games though have seen Garwood more than even that out and break out a little bit, like he did a few times last campaign as an eighth-grader. The depth of this squad will be all the better because of it with all four of those gentlemen now averaging double-digit scoring. Garwood started playing a little bit better right around the time he, along with the Brown twins, started working out with quickly emerging Rochester-bred skills and dribbling coach Anthony Iglesia right on the court there at Northstar Christian.
Last night, Miles Brown @milesballers earned @SecVBBasketball scoring record, but view this no-look dime to his twin Michael Brown @_SheLovesMike__ to essentially seal the win for @NCA1972. After those twins graduate, a top two candidate to become the go-to guy is So. Sean Smith. pic.twitter.com/OQ3IbIGttE

— Matt Trabold (@TrabsMatt) December 31, 2018
SECTION V IN DIVISION I UPDATE
Nahziah Carter — So., Washington (Bishop Kearney)
As was typed out into the Twitter URL during the game Thursday night, sound the alarm. With around a whole 8:41 left in regulation against Utah in that one, Nahziah achieved his career-high in scoring with eighteen points in a sixteen-point road win for his Washington side; the team from that unfortunately underachieving conference with the best NET ranking coming into the day. He ended the contest with 7-of-9 shooting from the floor and 3-of-4 shooting from deep. Carter first noticeably improved his perimeter jumper during his final Nike EYBL grassroots season with Albany City Rocks. Nahziah certainly flaunted that bad boy versus the Utes. Also, we should remember what happened when Carter played against Larry Krystkowiak's club last season: a tip slam that was widely considered one of the very tip-top dunks nationally last season.
He came out of nowhere! Nahziah Carter dunk game 💯.

Watch #Pac12Hoops live on the app: https://t.co/ZhZuI5ezsa pic.twitter.com/xAPW1D9oDF

— Pac-12 Network (@Pac12Network) February 16, 2018
Dontay Caruthers — Sr., Buffalo (East High)
When Caruthers went off against fellow nationally-ranked side Marquette not long ago on December 21, it looked like it awoke something a little extra within him from a scoring perspective. Amongst the three ballgames he has played since that performance, Dontay got his hands around his second double-digit scoring outing against a team from the highest division of collegiate basketball of his senior campaign Tuesday night. In a game that saw Buffalo score a stupefying 110 points and throttle the squad many thought was second-best in the MAC this year in Toledo by thirty points, Caruthers went for ten points on 50% shooting from the floor and four assists. Also as part of that night versus the Rockets, Dontay came away with a season-high four steals. The aforementioned battle against the Golden Eagles must have also opened the floodgates for him in terms of wanting to flaunt the boings he frequently showed in his high school days because that ten-point performance against Toledo featured a thunderous transition dunk with one mitt in particular.