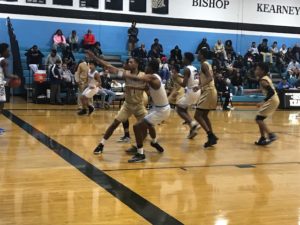 LEADERSHIP ACADEMY (6-4) 63
BISHOP KEARNEY (5-5) 64
Kidtrell Blocker finished with a game-high 28 points including the winner in the closing seconds as Bishop Kearney won its second straight game. READ MORE.
MCQUAID (7-3) 64
PARK SCHOOL (VI/NYS Class A No. 2) 71
Keonjay Carter fueled Park School (No. 2 NYSSWA Class A) with 24 points, followed by Noah Hutchins with 19 points. McQuaid (No. 12 NYSSWA Class AA) fell into a hole early, as Park outscored the Knights 25-18 in the opening quarter, creating a deficit the Knights were unable to erase. Jermaine Taggart dropped 32 points for McQuaid in the loss, while Kobe Long netted 16 points. Other scorers: Park- Ebuka Nwagbo (12), Caleb Hutchins (10), Jaidan Dunn (6), McQuaid- Jon Catone (6), Justus Ross-Simmons (4), Connor Zamiara (4), Harry Bruu (2).
ROCHESTER PREP (3-9) 61
C.G. FINNEY (11-1) 74
Markus Robinson (29) and Keegan Ocorr (26) combined to score 55 of C.G. Finney's 74 points. Jaden Hayes led Roc Prep with 14 points, followed by Jaquis Robinson with 13, Weskey Henderson with 12 and Marques Thomas with 10 points. Other scorers: Finney- Xavier Smith (9), Caleb Anger (8), Josh Taylor (2), Roc Prep- Emmanuel Graham (3).
LYNDONVILLE (10-1) 40
ALEXANDER (9-2) 55
Chris McClinic dropped 21 points as Alexander handed Lyndonville its first loss. READ MORE.
WHEATLAND-CHILI (0-10) 42
ATTICA (8-4) 56
Aaron Lund led Wheatland-Chili with 18 points, followed by Brendan Moore with 9. Other scorers: Wheatland-Chili- Brian Napier (4), Jordan Richards (3), Gabriel Rosado (3), Cory Collinge (3), Jose Rivera (2)
KENDALL (4-7) 51
HOLLEY (2-9) 43
John Rath topped Kendall with 14 points on the evening. Nathan Warters and Hunter Menze each scored nine points, while Derek Edick and Dale Steffen each had seven points. Mason Kuhn rounded out the scoring with three points.
HONEOYE (3-6) 74
DUNDEE (0-9) 43
Dom Trippi netted 21 points, 19 in the first half alone, to lead Honeoye in scoring. Tyler Rudolph picked up a double-double, scoring 18 points and grabbing 17 rebounds to go with five assists. Rudolph had 12 of his 18 points in the third quarter. Jack Reynolds added 12 points and five assists, while Alex Jarosinski handed out six assists and snatched six steals. Honeoye started strong and never looked back, going up 22-6 in the first quarter of play and leading 36-19 at halftime. Austin Gibson topped Dundee with 21 points and Preston Cratsley followed with 10 points. Other scorers: Honeoye- Darren Redmond (10, Joey Morsheimer (7), Jared Waldon (4), Zack Hass (2), Dundee- John Bentley (3), Isaac Semans (3), Nick McCurry (2), Brandon Edmister (2).
GENESEE VALLEY (6-3)
FILLMORE (5-1)
OAKFIELD-ALABAMA (5-6) 51
ELBA (9-2) 63
Colton Dillon led Elba (No. 5 NYSSWA Class D) with 21 points, including 16 points in the fourth quarter alone. Dillon knocked down four three-pointers during his fourth quarter scoring spree. Collin O'Holloran added 13 points for Elba, all of which came in the first half, while Jon Boyce netted 12 points. Elba jumped out early by outscoring Oakfield 19-11 in the first quarter. Travis Wiedrich topped Oakfield with 21 points of his own, scoring 11 in the fourth quarter and finishing 9-for-12 from the charity stripe. Aiden Johnston had 14 points for Oakfield. Other scorers: Elba- Zach Marsceill (9), Evan Hare (5), Greyson Huntington (3). Oakfield- Joey Burdick (11), Peyton Yasses (4), Nick Wissinger (1).