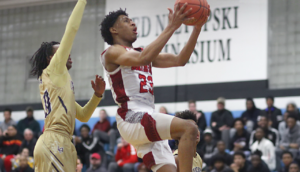 By WOLVERIDGE LANGAN
The Greece Athena Trojans and the NE Douglass Panthers joined four other Section V teams as the newest additions among the Top 25 in the state at the Class A level.
Greece Athena (9-2) won a pair of games last week to jump into the rankings (No. 23 NYSSWA Class A), dropping Greece Olympia 88-59 and beating Horseheads a day later 51-44. Melvin Council Jr. (18.7 ppg) and Kelvin Reaves Jr. (16.8 ppg) lead an offense that averages over 65 points per game. The Trojans play next on January 11th at Brighton.
NE Douglass (8-2) topped Monroe 85-62 to vault into the Top 25 (No. 24 NYSSWA Class A), bouncing back from a 10-point loss to Whitesboro in the prior week. Lamar Lovelace is fifth in RCAC Lower scoring for the Panthers, averaging 19.0 ppg. They play divisional opponent Early College next on January 9th.
Pittsford Mendon (6-0) and East (11-0) both held on to their spots from last week. Mendon (No. 5 NYSSWA Class A) put the hurt on Honeoye Falls-Lima 70-38 to retain their position, while East (No. 11 NYSSWA Class A) took down Edison Tech 92-53 and World of Inquiry 89-67 to stay at No. 11.
Northstar Christian (9-0) stayed undefeated, winning a pair of close contests against Aquinas, 101-96 and Meekel Christian, 77-75. The Knights (No. 13 NYSSWA Class A) moved up two spots from their No. 15 ranking last week.
Irondequoit (6-1) used a 62-39 win over Rush-Henrietta to jump a few spots from last weeks No. 19 ranking. The Eagles (No. 16 NYSSWA Class A) face a deadly offensive Hilton team later today.
McQuaid remains the only Section V team in the Top 25 for Class AA. The Knights (No.12 NYSSWA Class AA) suffered a 76-81 loss to Leadership Academy last week which cost them their No. 8 spot. McQuaid looks to bounce back as they play Edison Tech later tonight.
The Hilton Cadets remain in the honorable mentions for Class AA despite boasting an undefeated season with quality wins over Greece Athena and Webster Thomas. Hilton's high-flying offense will be tested tonight as they face an Irondequoit team limiting opponents to 47.4 ppg. Monroe County leading scorer Tah'Jae Hill (33.4 ppg), senior forward Mitch Carr and the rest of the Cadets will have their hands full in a game with potential ranking implications.
Greece Odyssey (9-1) moved up two spots to No. 14 for Class B with their fourth and fifth wins in a row, while Newark (8-1) are back in the Top 25 (No. 19 NYSSWA Class B) after a dominant win over Penn Yan, 63-33.
Lyons (9-1), C.G. Finney (10-1) and Caledonia Mumford (10-0) now own the No. 5, No. 6 and No. 7 spots respectively among the Class C Top 20. Other Section V representatives Marcus Whitman (No. 12) moved up one spot while Addison (No. 15) made no change from last week.
Avoca (10-0) retains the No. 1 NYSSWA Class D spot with Prattsburgh (9-0) hot on their heels at No. 2. Elba (7-2) also entered the Top 5 with a win and a DeRuyter loss last week. Genesee Valley (No. 14 NYSSWA Class D) wrapped up the Section V representatives in the rankings after being left out the last week.