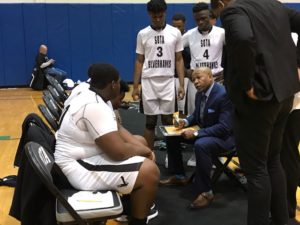 PENN YAN (6-5) 64
WORLD OF INQUIRY SCHOOL (2-7) 57
Colton Smith and Peter Nicholson combined for 15 of Penn Yan's 20 third quarter points to pull away after being tied at halftime. Smith led the Mustangs with 15 points, with Nicholson (14 points) not too far behind him. Connor Fingar also scored in double figures as he took 10 trips to the free throw line, finishing with 11 points. Kyle Berna put in eight and Mason Kuver had six points. Peyton Schuck added five, Brennan Prather scored three and Devon Gerhardt put in two to complete the scorers for Penn Yan. Tremier Dollar, who leads the entire RCAC in scoring (28.4 ppg), paced the World of Inquiry attack with 24 points. The senior guard scored twice from beyond the 3-point arc and went 6-for-9 from the free throw line. Jeshua Shaw reached double digits with 16 points, which included three 3's. Bobby Searight finished with eight, Jahlil Bell put in seven and Michael Thomas had two to round out the scoring for WOIS.
HONEOYE FALLS-LIMA (5-5) 56
MONROE (7-3) 74
Monroe's Tyquil Glasgow scored 20 of his game-high 30 points in the second half to break open a tight game. De'Vante Mateo added 15 points for the Redjackets, and Jamar Williams had 14. Trevor Chamberlain paced HF-L with a career-high 27 points. The senior collected five rebounds and three assists. Sophomore Patrick Lustyk added 19 points and eight rebounds for the Cougars. Other scorers: HF-L – Derek Childs (4), Hayden Smith (2), Turner Wilson (2) and Josh Vogt (2). Monroe – Jo-Nathan Jones (4), Kerone Kearse (4), Fidel Brock (3), Cameron Thomas (2) and Zaikai Titus (2).
BATAVIA (3-5) 46
EAST AURORA (3-6) 54
A 20-9 third quarter, which included 11 of Will Covington's game-high 26 points, blew the game open for East Aurora, which trailed 25-21 at halftime. Covington launched an impressive 3-point attack, finishing with eight 3-pointers against a Batavia defense which only allowed on average 49.7 points per game (second in Monroe County) to opposing teams. Noah Denz, who put in two threes of his own, added 14 points. Ian Moog scored nine points and Tage Hoeg had five (one 3-pointer) to round out the scoring for East Aurora. Batavia's Caeden White led the team with 12 points, all of which came from behind the arc and grabbed two boards. Mason McFollins (two 3-pointers) and Andrew Francis both contributed 10 points, while Camden White finished with eight points and three rebounds. Francis grabbed 12 rebounds in a double-double performance along with four assists, while McFollins secured six rebounds and four assists. Zach Gilebarto, who led the team in assists (six) had four points and Joe Martinucci scored two to go with three rebounds.
SCHOOL OF THE ARTS (7-4) 76
GREECE OLYMPIA (4-4) 70
Logan Hayes scored 22 while Ethain Clarke-Desouza finished with a 19 point double-double. Read More
ADDISON (10-0) 69
WILLIAMSON, PA (0-1) 62
Daniel Ames erupted in the second half, scoring 20 of his team leading 26 points for Addison (No. 15 NYSSWA Class C).  The senior guard buried five 3-pointers in the team's two 21-plus point third and fourth quarters after trailing at halftime. Ames also had five assists, seven rebounds and three steals. Trevor Knapp and John Stierly both finished with 10 points each. Stierly secured 10 rebounds, five blocks and a steal in the double-double effort, while Knapp grabbed seven rebounds, four steals and an assists. Blake Driskell added nine to go with two rebounds, two assists and four steals, Nick Sutryk put in seven along with two boards, two assists and three steals, and Gage Ames contributed six points and four rebounds. All three had a 3-pointer for the Knights. Tanner Adriance led Williamson with 19 points, which included five 3's. Kolby Allen (14 points), Carter Strange (12) and Brandon Paul (11) all scored in double digits for the Warriors. Addison's Daniel Ames, who is in the top 10 among career active Section V leading scorers, now has 1,114 points all time in his high school career.
ALFRED-ALMOND (5-4) 54
WHITESVILLE (0-8) 19
Isaac Little put in an extraordinary effort for Alfred-Almond on the stat sheet, finishing with a 15 point double-double (10 rebounds). The junior dished out three assists, had four blocks and swiped two balls. Davon Bloom also secured a double-double of his own, but without the points. The senior added 17 rebounds to go with 11 blocks, while logging four assists and five steals to go with his nine points. Arnold Saint-Phard and Dylan Guthrie both scored in the double digits, putting in 13 and 10 respectively. Saint-Phard contributed a rebound and two steals, Guthrie had three helpers and one steal. Jonas Kays finished with three points, six rebounds, a block and a steal, with Logan Whittall and Kyle Margeson rounding out the scoring for Alfred-Almond with two points each. Margeson added two assists and three boards as well.
HAMMONDSPORT (1-8) 50
BLOOMFIELD (5-4) 62
Tanner Kimball's game-high 33 points eventually made the difference for Bloomfield, who struggled to pull away after a close first three quarters. The senior guard finished with four assists, four rebounds and a steal to go with his scoring spree. Alexander Roach registered a double digit scoreline, posting 12 points and eight rebounds. Ryan Hawkins flirted with a double-double, providing eight points along with 10 rebounds and four assists. Simon Willie and Adam Sheehan made up the rest of the Bomber's scoring, adding six and three respectively. Willie dished out two assists, grabbed four boards and secured three steals while Sheehan pulled down six rebounds as well as two assists and three steals. CJ Hill led all Hammondsport scorers with 14 points. Thomas Kressly and Parker Watson both contributed 11 apiece for the Lakers.
BOLIVAR-RICHBURG (4-6) 46
ANDOVER (4-4) 47
Chris Calladine led the charge for Andover, putting up a team-high 20 points. The senior guard also had five assists, five rebounds and three steals. Colby Walker finished with nine points, four rebounds and a steal while Chris Walker scored six points to go with seven rebounds and a steal. Spencer Cook added six points as well, along with two assists, one board and a steal. Marc Givens and Preston Ordway each had three points. Givens secured three boards and Ordway dished out three helpers, corralled three rebounds and swiped two steals.
DESTINY CHRISTIAN (0-7) 42
SODUS (5-4) 50
WILLIAMSON (2-8) 52
EAST ROCHESTER (7-3) 64
GANANDA (9-1) 53
MIDLAKES (4-7) 48
OLEAN WALSH (4-2) 56
HINSDALE (2-6) 40
PERRY (5-4) 51
LETCHWORTH (0-8) 36
ROMULUS (5-4) 57
MARION (1-9) 36
CANISTEO-GREENWOOD (4-7) 44
HAVERLING (4-6) 76
WAYLAND-COHOCTON (4-7) 00
CAMPBELL-SAVONA  (3-8) 00
SCIO (4-2) 00
BELFAST (1-4) 00 PPD.
ROCHESTER PREP (2-7) 00
LIMA CHRISTIAN (1-6) 00