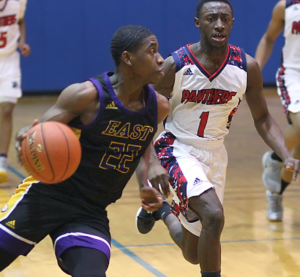 By MATT TRABOLD
TRABS KEEPS TABS
Six Weeks in and Still Untarnished
Ladies and gentlemen, we are now a sturdy six weeks into the Section V boys basketball season. Lyons, Avoca Tigers and bears, if you count the one in the middle of the Spencerport High School athletic logo, oh my! Spread from Class AA all the way down to both Class D classifications, this section still magnificently has eight unbeaten squads. It can only be a good thing for the section as a whole that there are still this many unblemished records remaining. Buckle up good and tight for the remaining stretch of this regular season.
Speaking of Class AA, the one team in those specific ranks with an undefeated record as we type and read is Hilton. Troy Prince's group valiantly included the strong likes of Bishop Kearney, Eastridge and Greece Athena in its recent Christmas tournament, but these Cadets still came out on the other side of the showcase unscathed. It is so rare to find a high school basketball superstar like Tah-jae Hill that gets his teammates involved quite this much. Hill has been so polished this campaign at mixing tens of points and countless bouts of expertly incorporating his teammates into team production and success on the same night. In a fairly recent home game against Penfield, Hill went into halftime with nearly double-digit assists and less than a double-digit number in points, which is pretty rare for a scorer of his caliber, but he still finished the contest with a team-high nineteen tallies.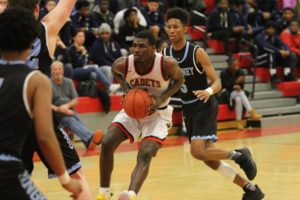 The lone team in Class A1 presently with an unbeaten record in its grasp is Pittsford Mendon. Some thought that the Vikings' last ballgame, just their fifth of the season up to this point, had upset loss potential with the away foe in Webster Thomas coming in off an upset victory over Irondequoit. That could not have been further from the truth though as Bob Nally's boys drubbed them by 33 points. Sophomore Jacob Shadders, long-armed Dan Cook and Connor Krapf are undoubtedly the top three options for Pittsford Mendon right now, but senior Charlie Bennett broke out a little bit against those Titans this past weekend. As part of that shellacking in favor of his Vikings, Bennett scored in a collection of different ways on the afternoon, including a confident baseline jumper and a driving fadeaway shot in the lane over a pair of defenders.
Class A2 actually has multiple unbeaten battalions at this current time with depth-laden East High and Northstar Christian up a couple classifications from last season. Wednesday night, East High vehemently beat Edison Tech by 39 points after getting by the Inventors by a much more modest eighteen points earlier in the season. These days, it is more of a surprise if University Preparatory Charter School for Young Men transfer Zechariah Harris-Scott does not score in the twenties in a ballgame rather than the alternative. The recent returns from injury of main point guard Maurice Coney and burly 6-foot-3 Jordan Randolph now give these Eagles a colossal true rotation of twelve quality pieces. Despite having exponentially less height and length on the roster in comparison to Aquinas Institute, as well as a wild fourth quarter comeback by the home side, Northstar Christian went on the road Thursday night and beat the former behind a season-high 48 points from the one and only Miles Brown. With what Northstar Christian has done this season and the past few seasons with its size, both of the entire student body and the physical sizes of the guys on the present roster, one should never be surprised by the scholastic basketball feats this squad pulls off. With the help of his staff and roster of course, JJ Garwood can do all things.
After Avon was taken down on the road by School of the Arts on Wednesday night, Addison is now the only Class C1 side still unbeaten. When it comes to Class C3, Caledonia-Mumford, led by Vin Molisani and his penchant for winning games right before the final horn blows, is at the top of those standings with a 10-0 mark. Mason Putnam's recent running mate in Garrett Socola graduated following last season, but he still has Prattsburgh from Class D2 with eight victories in as many games up to this point this year. Mason ignited for 46 points versus a Naples group that also entered Wednesday night undefeated. Bolstered by long-time Section V scoring machine LaDre Stanford and new superstar Nathan Nunn, Avoca is another Class D team, Class D1 specifically, looking at perfect numbers in the record part of the standings.
MOLISANI MIRACLE!!!! Vinny Molisani nailed a half court shot at the buzzer to give the Raiders the 62-60 win over Mt. Morris!!!@WetWilly03 led with 28 pts. @MolisaniVinny finished with 15 pts 7 assts. @JCLaursen10 added 14 pts 9 rebs #CalMumHoops #RaiderRegime pic.twitter.com/rZPLU489Si

— Cal-Mum Basketball (@CalMumHoops) December 13, 2018
SLAP YOUR PEEPERS ON THIS FIVER
McQuaid Jesuit at Leadership Academy for Young Men—Fri., Jan. 4, 6:00 PM
During this month a year ago, these two squads competed in a highly touted ballgame that culminated in one of the most notable results of the Section V boys basketball regular season last go-around as McQuaid Jesuit went on the road and handed Leadership Academy for Young Men just its first loss of the season. The ingredients are a tad different this time around though. Reggie Simmons and his staff have done well rebuilding after and recovering from the graduation losses of Dezmere Ellis, 6-foot-5 Davon Brown, Marcus Barr and 6-foot-5 Tyler Banks, but the Lions enter the clash this go-through coming off falling in their last three contests. 6-foot-3 guard Kennyh Hardeman has actually done a majority of his work for Simmons and company this year so far on the interior with the team being a good deal smaller this time through. His length has allowed for him to become quite versed in scoring off of offensive boards. Senior guard Onajae Anderson, a reason former Bishop Kearney King, Fordham Ram and University of Connecticut backcourt starter Antwoine Anderson can be spotted at many of the team's games this campaign, is also one to watch in this matchup due to the improvements he has made darting through defensive fronts and scoring at the tin. The X factor down low here though is arguably mammoth 6-foot-5 bench big Kris Martin.
Speaking of the frontcourt battle in this game, the Knights still possess all of the rotation forwards and centers from their state semifinalist team from a year ago with towering Connor Zamiara at the middle of it all. Fellow senior Harry Bruu has become a legitimately reliable frontliner on both ends in his second varsity season. 6-foot-5 junior Rueben Daniel aggressively returned from an injury hiatus against rival Aquinas Institute in McQuaid Jesuit's last game. If you like seeing absurd wingspans at work, this is the evening out of the house for you due to Daniel and Hardeman.
Rueben Daniel flush pic.twitter.com/BySGnK22mO

— Paul Gotham (@PickinSplinters) December 22, 2018
Greece Athena at Greece Olympia—Fri., Jan. 4, 7:15 PM 
This Friday pairing of crosstown clubs is one of the reasons Greece Athena head man Mike Setzer, Melvin Council, Jr., Kelvin Reaves, Jr. and Austin Brown could be seen scouting and observing in the Greece Olympia stands on Wednesday night as the Spartans beat Waterloo by 21 points behind a thirty-point outburst from captain Jeff Jung Jr. Along with Council, Jr., the fourth-year varsity player Jung Jr. will be one of two guards in this ballgame with height around 6-foot-5 to go with plenty of length. Jeff utilizes that size well to separate up and over defenders for triples and to extend to tip opposing passes for steals for his side. Zippy senior starting point guard Kris Perez gets out on the break in a hurry for transition layups. Sophomore guard Darnell Williams was pivotal getting his Spartans to overtime against a very good Eastridge team towards the start of this season with his slashing exploits in the fourth quarter. Williams finds success against taller players by using the rim as defense from the defense on many different types of layups.
SOTA boys beat undefeated Avon in 2OT, plus victories for @GreeceOlympia boys and Edison girls https://t.co/D1RmHsozvW

— 13WHAM (@13WHAM) January 3, 2019
Collin James is a pretty sizable lane stuffer in the middle for Greece Olympia, so this battle could be a good barometer for the 6-foot-3 Greece Athena sophomore Brown, as well as for one of the best shorter post players in these parts in senior Isaiah Brock. Senior captain Johnny Salone gets in foul trouble every once in a while, but it is fairly hard to find a more active and tireless defender moving around the floor, and not just inside the perimeter, in the Rochester area currently than him when he can stay on the floor. A new rotation piece for these Trojans in Jake Cerone has shown the ability to display creativity attacking the opposition on the baseline and on the break. Cerone might play a bigger role than usual this time around with Greece Athena presently having more frontcourt depth than backcourt depth on top of Greece Olympia being the opposite in that regard.
Webster Schroeder at Gates-Chili—Fri., Jan. 4, 7:15 PM
Webster Thomas has been the more referenced Section V boys basketball team from Webster of late due to upsetting mighty Irondequoit by double figures recently, but Webster Schroeder still arguably has the superior roster, at least in terms of depth, between the two at the moment. Of their current losing streak of four consecutive contests, only one of the losses in the Churchville-Chili instance by a whopping nineteen points was truly head-scratching. The remaining threesome came against the notability of Irondequoit, presently undefeated Hilton and Fairport. Speaking of those Irondequoit Eagles, 6-foot-5 Collin Donnelly had a fantastic showing against the big frontcourt, both in sheer physical size and in depth, of Chris Cardon's squad. On that early December 2018 night, Donnelly scored with ease both inside and outside on top of blocking or at least altering many an opposing shot attempt. Do-everything junior wing JoJo Plummer has improved himself from seasons past to the extent that he is now one of the very most complete players in Monroe County.
6-foot-3 sophomore Adam Williams had a game or two early on this season in which he came back down to earth with his output, but he is on such a tear now that he is actually getting pretty close to the consistency this go-around of Gates-Chili legend Keith Slack. That is the caliber of an accomplishment that not many could have expected out of the young weapon coming into the year. Another 6-foot-3 sophomore for Terry Nowden and his staff in Andrew Newcombe is playing the role for this program that Vincent Ibezim and Gunther Kroth played a season ago when it comes to doing all of the little things inside on both ends of the floor. The quicks of Slack, Traylan McCray and Devin Walton, with his gloriously large sideburns, should be a key factor if the Spartans end up winning this outing.
Pittsford Sutherland at Eastridge—Fri., Jan. 4, 7:15 PM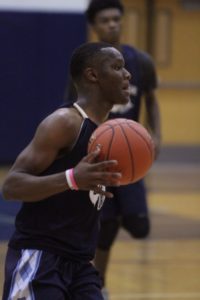 Host Hilton ended up taking the crown in the end at its Christmas tournament last weekend, but Eastridge also had a delectable showing at the event. That is just what these Lancers needed after falling by 23 points against still undefeated Pittsford Mendon back on December 18. In Hilton around a week ago, Eastridge lost by a mere eight points against Greece Athena and beat exciting Bishop Kearney by a rather surprisingly big margin of victory of thirteen tallies. Whether it be 6-foot-1 Tony Arnold, 6-foot-0 Terrence Reid or 5-foot-9 Adrian Rogers, this team has a wealth right now of tough dudes that play much taller than they stand. That wrinkle for these Lancers, along with the play of emerging Vertus Charter transfer and by far the tallest player of the bunch in Jahmel Demery, will be incredibly important Friday night versus a Pittsford Sutherland squad with a rotation featuring five players 6-foot-5 or taller.
The third week of December 2018 did not treat Pittsford Sutherland very well. The three ballgames the club played in that span featured an unexpected loss to a large degree against Brockport and that rough first half against rival Pittsford Mendon at the 2018 Rainbow Classic that has been referenced before in this column. These Knights have tightened the hinges in their last five halves of basketball since then though; from their massive, massive third quarter comeback in that same 2018 Rainbow Classic contest to knocking off favored Gates-Chili by sixteen points in the recent Christmas tournament at Rush-Henrietta to barely losing by a trio of points to the host 6-2 Royal Comets the night after that. There are multitudes of very tall humans on John Nally's team this go-through. The tallest of the lot is 6-foot-7 Owen Flisnik. In this his first varsity season, Owen is being worked little by little further into the fray.
Rush-Henrietta at Irondequoit—Fri., Jan. 4, 7:15 PM
After the double-digit Webster Thomas loss mentioned above, Irondequoit quickly got back to its winning ways in monumental fashion two days later via a sixteen-point victory over a Canisius side that beat local Class AA powerhouse McQuaid Jesuit on the road earlier this season. The broad shoulders of 6-foot-5 Patrick Thomas will have to be understandably confidently relied upon again in this one with the opposition boasting the equally as tall Shamire Broyld. Plenty of sternums, hips and rims will be hurting after this ballgame with those two being involved in the trenches battle. Similar to Rickey Gamble last season for Wilson Magnet or Seven McGee this season for East High, Freddie June Jr. is another local scholastic football star that is an elite on-ball basketball defender in these parts. What makes June a little different though is that he brings more height to the table than them.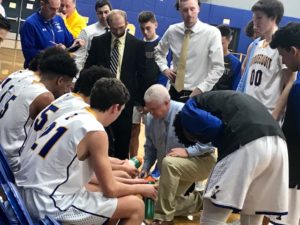 Rush-Henrietta began this season with an 0-2 record after respectable losses against stout Gates-Chili and still undefeated Hilton. Since that tiny losing streak, these Royal Comets have rattled off six consecutive victories. When you take part in a Christmas tournament that also features in its field the current boys basketball offerings from Gates-Chili and Pittsford Sutherland, it is absolutely something to take pride in if you come out on top, even if you hosted the event. Plenty has been made so far this season about how junior backcourt player Javonte Williams has gone from a role player last season to one of the definite leaders of the program this season. Recently, Williams has even risen above just being a guy that has been experiencing a significant scoring uptick as a junior to one that can be counted upon for buckets in crunch time in close battles.
Jevonte Williams with the drive and bucket to give RH the lead! pic.twitter.com/zaQcMJTAbl

— Rush-Henrietta Athletics (@RushAthletics) December 29, 2018
SECTION V IN DIVISION I UPDATE
Quinton Rose—Jr., Temple (Bishop Kearney) 
Over the past week and change, like is tradition, there has not been as much college basketball action due to holiday breaks, but Rose did compete in one ballgame for his university within the last week. Last time out on Wednesday night, Temple did happen to fall by a mere five points to a likely 2019 NCAA Tournament team in Central Florida, but Quinton was at least able to put together his most efficient performance since the end of November 2018. The Bishop Kearney product recorded seventeen points on 7-of-13 shooting from the field and 3-of-5 shooting from deep, four rebounds, four assists and four steals. This outing against Central Florida was one of four on the season thus far for him that featured a foursome of steals. Rose is currently tied for sixteenth in the country in steals average and twentieth in the country in total steals.
Jalen Pickett—Fr., Siena (Aquinas Institute)
Thursday night, Pickett also went 7-of-13 shooting from the field as part of his sixteen points, eight assists, two blocks and two steals in a loss against Saint Peter's. This was the third ballgame in a row that saw Jalen go for at least eight assists. He is presently seventh nationally in assists average and No. 35 nationally in assist-turnover ratio. Those were the first two blocked shots for the freshman stud point guard in nine outings. That battle with the Peacocks this week also ended up being his third game in the last foursome that featured a pair of steals. This past Saturday versus California Polytechnic State University, Jalen was able to go 4-of-7 letting them fly from downtown. Additionally, the Mustangs only forced a single turnover upon him in that showing last weekend.