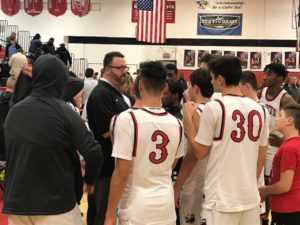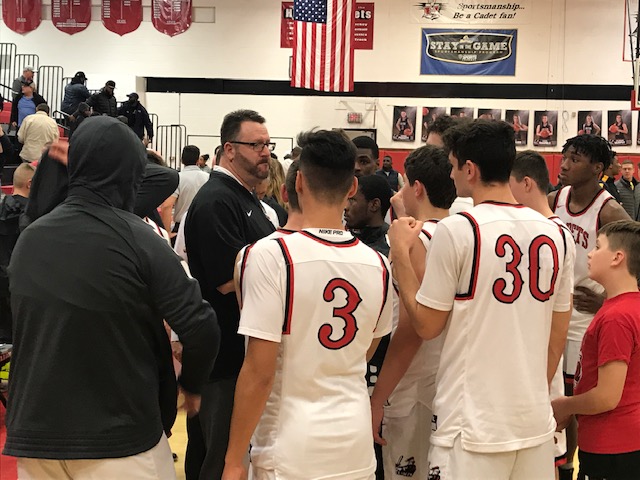 EARLY COLLEGE (1-7) 56
WAYLAND-COHOCTON (3-7) 55
Early College's Jaequon Nesmith finished a 12-point performance with the game-winning layup off a rebound and dish from Ahmir Buckhannon. Marquis Crawford knocked down four 3's for the Cobras, contributing to his team high 18 point total. Jaiden Daymon also put in 12 points, while Buckhannon and Sam Jackson both scored six apiece. Kemar McCloud rounded off the scoring for Early College with two points. DeAndre Green led Wayland-Cohocton with 18 points. Connor Englert scored twice from behind the three point arc, finishing with 11 for the Eagles, who outscored Early College during the first half. Derek Cheasman had seven points, Cameron Huber put in six and Justin Horton scored five points. Keeghan Savoir and Jamie Carman both finished with four for Way-Co.
SCHOOL OF THE ARTS (4-4) 60
C.G. FINNEY (10-1) 73
Two 20-point plus quarters set the tone early for C.G. Finney, who led 44-15 at halftime. Marques Robinson scored 20 of his team-high 29 points in the first half for the Falcons. Captain Keegan Ocorr also brought his A-game early on, scoring 14 of his 24 points in the first two frames. Josh Taylor added nine points, Captain Xavier Smith finished with six and Captain Caleb Anger put in five to round out the scoring for C.G. Finney. Ethain Clarke-Desouza put up a game-high 31 points and secured 11 rebounds in a double-double effort to lead SOTA. Clarke-Desouza also had two steals while Captain Ke'Vion Mitchell and Logan Hayes each had eight points apiece. Mitchell added three boards, three assists and two steals with Hayes bringing down four rebounds, dishing out two assists and blocking a shot to go along with four steals. Captain Jonathm Denegal scored seven and Keshaun Chatman finished with six to complete the scoring for the Silverhawks as both grabbed six rebounds. Denegal had an assist, two blocks and a steal while Chatman added a block and a steal of his own.
GREECE ATHENA (7-2) 60
HILTON (6-0) 71
Hilton Captain Tah'Jae Hill built on every quarter, eventually exploding for 16 in the Cadet's 26-point fourth quarter in the Hilton Holiday Hall of Fame tournament final. Hill finished a perfect 12-of-12 from the charity stripe enroute to a game-high 35 points. He leads all of Monroe County in scoring, averaging 33.7 points per game. Fellow Captain Mitchell Carr poured in 20, Colin Burkis added eight, Najier Daniels scored six and Ryan Kurtz had two for a Hilton team that never trailed after the first. Greece Athena Captain Melvin Council Jr. finished with 21 points, Captain Kelvin Reaves Jr. scored 15, and DeAndre Newsome added 14 to lead the scoring for the Trojans. Austin Brown had eight and Captain Isaiah Brock put in two to round out the scoring for Greece Athena.
Two Hilton and Greece Athena players headlined the 2018 Hilton Holiday Hall of Fame All Tournament team. From Hilton, Mitchell Carr and Najier Daniels made the squad, while Greece Athena is represented by Melvin Council Jr. and DeAndre Newsome. Bishop Kearney's Miles Monchecourt and Eastridge's Tony Arnold completed the selections.
PENFIELD (2-6) 67
CANANDAIGUA (0-9) 45
Eight Patriots contributed on the scoreboard in a 26-point second quarter for Penfield. Javion Monroe finished with a game-high 21 points with top five Monroe County I scorer Patrick Piampiano (15.0 ppg) adding 19. Monroe and Piampiano combined for six made 3's, while Dan Vercruysse put in two from beyond the arc as part of his eight points. Colin Pichany and Captain RJ Green both had five points each for the Patriots. Matt Gable scored three, Ryan Wensley and Jayden Bulger had two apiece, with Tyler Salmon and RJ Wilkins hitting free throws as they both finished with one. Canandaigua Captain Chris Kurowski led the team with 19, which included four 3-pointers. Ryan Welch added 16, Casey Herod put in five and Cody Aikey had two points. Captains Joey Brinza and Andrew Boseck each scored one to round out the scoring for the Braves.
WEBSTER THOMAS (5-3) 46
PITTSFORD MENDON (5-0) 79
Mendon connected on 11 of 16 attempts from the floor to start the game and sprinted to a 25-10 lead over the Webster Thomas Titans after eight minutes of play. They added to the advantage in the second stanza. READ MORE. 
GREECE ODYSSEY (7-1) 69
WATERLOO (6-3) 52
Aric Williams (17 points) and Jaden Hartsfield (11) both finished in double digits to lead Greece Odyssey. Hartsfield continues a consistent run of scoring, as he is fourth on Monroe County IV's scoring leaders averaging 14.8 ppg. Ray Colbert, Travon Harper and Romell Griffin all put in nine points apiece for the Leopards. Korey Canton scored seven, Dylan Kolmetz had five and Presten Mathis added two to round out the scoring for Greece Odyssey. Brothers Derek and Kyle Slywka put in 15 and 12 points respectively for the Waterloo Indians.
NORTHSTAR CHRISTIAN (7-0) 68
GENEVA (5-4) 59
With a Euro step in the lane early in the fourth quarter  Miles Brown became Section V's all-time leading scorer. READ MORE.
LYNDONVILLE (8-0) 73
KENDALL (3-4) 47
Dale Steffen scored 13 points and grabbed 11 rebounds to finish with a double-double for Kendall. Captain Nathan Warters led the Eagles in scoring with 14 points to go along with seven rebounds, an assist, a steal and a block. Noah Rath added nine points and three boards and Nicholas Spellan scored five points, dished out two assists and secured a rebound. Captain John Rath led the team in helpers (7) while scoring two points and grabbing three boards. Mason Kuhn and Hunter Menze both added two points each, while Kuhn finished with seven rebounds and an assist and Menze snagged a steal and two off the glass.
COWANESQUE VALLEY(3-4) 41
ADDISON (9-0) 66
The Addison Knight's 24 point second quarter created the separation they needed to pull away down the stretch. Captain Daniel Ames stuffed the stat sheet with a game-high 26 points (11 in the second) to go along with six rebounds, four assists and six steals. Captain Nick Sutryk led Addison in assists with five, as well as adding eight points, a rebound and three steals. Shawn Ribble put in seven points and had one assist, while Justin Hendrickson and John Stierly both scored six apiece. Stierly also led the team in blocks (6) and grabbed five boards. Blake Driskell finished with four points, two assists and a steal, while Trevor Knapp, Ronald Dailey and Gage Ames all scored three points each. Knapp secured five rebounds and Gage Ames had three. Skyler Vinluan led Cowanesque Valley with 12 points and five rebounds. Tyler Vargeson knocked down two 3's and finished with nine points. Seth Huyler added eight to go with five boards and Dustin VanZile scored six. Owen Fitewater, Christian Kirap and Kurtis Easton all had two to round off the scoring for Cowanesque.
BISHOP KEARNEY (4-4) 66
EASTRIDGE (4-4) 79
ROCHESTER ACADEMY (2-7) 55
HOLLEY (2-6) 45
HORNELL (6-1) 45
PENN YAN (5-3) 40
LYONS (7-1) 00
ROCHESTER PREP (2-6) 00
BELFAST (1-3) 00
ALLEGANY-LIMESTONE (4-0) 00
ODESSA (0-2) 00
CAMPBELL-SAVONA (3-5) 00