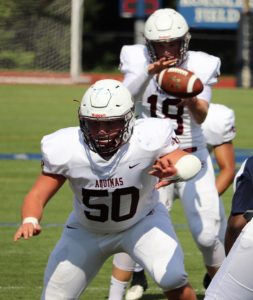 BY PAUL LIOTTI
Offensive linemen are a rare breed.
They are the guys up front who protect the franchise's golden arm or do the dirty work while those running through the holes they make get all the glory and grab all the headlines.
They've been called "The Hogs." Or "The Big Uglies."
Long in muscle fiber; short in grey matter.
But that was then.
This is now.
Offensive lineman are no longer viewed as the slobbering giants of the football world; indeed the position has evolved over the years. They are lean – and still mean of course – but also are cerebral. More brains than brawn now. Picture Auguste Rodin's "The Thinker."
Aquinas's Nick Annechino is the latest example of just how far offensive lineman have come.
"That perception is changing. Offensive linemen tend to be some of the smartest players on the field other than the quarterback," he said. "They have to know the protections, they have to know who's working with whom and they need to know the jobs of each other, which is certainly more difficult compared to other positions which only need to know what's in front of them."
The senior center, the anchor of the Irish offensive line and two-time state champion, will continue to show just how intelligent offensive linemen are when he trades his maroon clover leaf for bio-chemistry books as he starts at the University of Rochester in the fall to study neuroscience with an emphasis on Chronic Traumatic Encephalopathy (CTE) research.
"I have always wanted to go into the medical field. Since I was second grade I wanted to be a surgeon, but the science of the brain has always interested me," said Annechino, whose mom, Cindy, is a pediatric nurse practitioner. "Especially concussions and CTE. I want to study the brain and see how it works."
CTE is a brain condition associated with repeated blows to the head. It is also associated with the development of dementia. Potential signs of CTE are problems with thinking and memory, personality changes, and behavioral changes including aggression and depression. It has come to the forefront in recent years due to the influx of brain-related diseases and issues experienced by professional football players.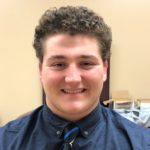 "I've been playing football for 13 years and have seen it first hand," said Annechino, who has had concussions over the years from the hits that he's taken. "What I really want to do is find ways to diagnose CTE before someone dies, because currently the only way you can do it is with an autopsy of the brain after the person dies."
It's not a coincidence that the football-playing Annechino has chosen this course of study. Football has had a major impact on this decision.
"As time has gone on and the older I got, the more of a chance I had of getting a concussion. I've had two – both in eighth grade – and haven't had any since, but the older you get the greater the chance of getting one," he said. "So football definitely played a hand in what I wanted to study."
Annechino, who carries 3.98, four-year Grade Point Average, earned a partial academic scholarship to UR, and will also play football for the Yellowjackets, most likely at center.
"The (UR) coaches visited us last summer and I was very impressed," he said. "I was thinking Ivy League or UR as I was deciding where to go for college, and this past summer I applied early decision to Rochester, which was the only school I ended up applying to."
And earlier this month, he was officially accepted and will start in the fall. It will be a challenge to balance life, academics and athletics at the collegiate level, something that Annechino is looking forward to.
"Going to treat balancing school and football in college the same way I treated it here at Aquinas – lift, practice, do homework, go home and eat, sleep, go to class and start it all over again," he said. "It shouldn't be any different than the last four years. It will be a challenge, but I've never been one to shy away from a challenge and this is just another step that I want to take.
"And if I figure it out (pre-CTE diagnosis), I could end up helping the world."
Last month Annechino capped a stellar year by winning his second state title in four years and the program's eighth overall. As a freshman he was called up from JV to varsity for the playoffs was part of the 2015 undefeated team that was rarely challenged on its way to the title.
While a state title is always on the agenda for the Irish, earning one this year was a stretch goal for the program.
"At the beginning of the year we knew we were going to be a good team, but we turned it into something special," he said.
And the championship was made all that much sweeter because of the bond he has with his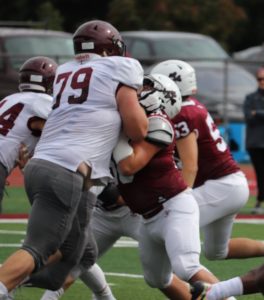 teammates, especially the offensive linemen.
"We are like one machine that works together perfectly," he said. "We've been together so long that we knew what the other was thinking while we are playing and it just builds up the chemistry and lets us play better. Winning a state championship with my line mates was definitely a highlight. We have grown closer all these years and are best friends so this was a perfect finish for us."
The entire offensive line this season was undersized and often times went up against defensive linemen that held a decided size advantage. Annechino is listed as 5-foot-11 – which is a stretch – and 245 pounds and often drew defensive tackles that were considerably bigger. Such as an October afternoon at home against Buffalo St. Joe's.
In that game, Annechino drew the assignment of blocking tackle Will McDonald, a 6-6 325-pound goliath. But against the Marauders – who owned a size advantage at every position along their defensive line – Annechino and his fellow offensive linemen owned the trenches and paved the way for nearly 600 yards of offense, including 474 yards and seven touchdown passes from Tyler Szalkowski and another 90 yards on the ground in a 49-21 rout.
But all things must come to an end. And, just like the rest of the senior gridders across Section V, the state and the nation, the final horn in the final game was bittersweet.
"No one else can say they have had the experience of coming out in August when it's 90 degrees and doing two-a-days, spending eight or nine hours together, and then practicing all the way through November when it's snowing out," he said. "What I will take away from my six years in the program is that this is a family; I've made friendships that will last a lifetime.
"There's not one thing that I'm going to miss the least: I liked all of it. Giving up Aquinas football is going to be very, very hard."
One thing that will be especially hard in the Annechino household will be to part ways with his head coach – at least on the field. His father, Derek, is the Li'l Irish's second-year head coach and has been roaming the sidelines on Dewey Avenue since 1998. And before Nick came to Aquinas, Derek help coach him in Pop Warner with the Greece Chargers.
"Being done playing for Aquinas – and my dad – is very hard," an emotional Annechino said. "The best memory I have was winning the first sectional championship last year. Because that was my dad's second year (as head coach) and it was the first one I won as a starter and it was my Dad's first sectional title as the head coach. That was a special moment for me."
But it wasn't always so special.
"Starting off my sophomore year when I was working against a senior for a starting spot, my dad was as the O-line coach. But he stepped down as that coach so that I could earn the spot on my own without him influencing the decision," the younger Annechino said. "At that same time we had to learn to separate 'church from state' if we were going to have any kind of relationship."
That point was driven home after one not-so-successful game early in Nick's sophomore season.
"After that game at home he picked me apart in this film," he said. "I was a sophomore and I was going up against this senior and was getting hammered. When we were going over the film it was brutal. It was at that moment that we had to keep home life separate from football or else we would never be able to be with each other.
"Spending so much time together over the year can get rough sometimes, but I love him and I wouldn't have wanted to do it with anyone else. No one."
And as Nick progresses in college, he's sure to get tips from his old man, but this time around it will only be as an observer.