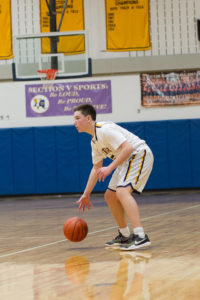 Matt Caggiano steadied Victor in a one-point loss and a win. Andrew Mason combined for over 50 points in a pair of Webster Thomas victories. Brockport's Ishmael Hannah posted double figures in the Blue Devils' game against Spencerport. Trevor Chamberlain propelled Honeoye Falls-Lima to two wins,
Monroe County honored the four with Player of the Week (Dec. 17-21) honors for their division.
Caggiano and his Blue Devils lost 54-53 to Gates-Chili. The junior tallied ten points in the loss. He followed the double-digit performance with another against Canandaigua. Caggiano racked up 14 points and three steals against the Braves. He went 9-for-18 from the field last week with six assists and five rebounds. Victor (2-5) takes the court again after the break at Webster Thomas on Friday, Jan. 4.
Mason put together an impressive week with 51 points, 17 rebounds, nine assists, and three steals. The 6-foot-3 junior went 17-for-30 from the field and drained ten three-pointers in wins over Penfield and Irondequoit. In the 62-53 victory at Penfield, Mason scored half of Thomas's points with 31. Two days later, he led with 20 points in the 72-57 win over Irondequoit. Mason and the Titans (5-2) look to pick up where they left off at Pittsford Mendon at 3 p.m. on Saturday, Dec. 29.
Hannah neared a double-double this week, following his first double-double of the season last week. The Brockport center dropped 16 points and pulled down eight rebounds in the 60-42 win over Spencerport, notching his third double-digit game of the season. Hannah and the Brockport Blue Devils (4-2) suit up again on Thursday, Dec. 27 at 6 p.m. to face Brighton.
With Chamberlain's help all over the court, HF-L moved to 5-1 this week with two wins against Greece Arcadia and Greece Olympia. In the 60-40 game at Arcadia, Chamberlain scored a game-high 13 points, pulled down five rebounds, dished three assists, and blocked two shots. The six-foot guard one-upped himself two days later in the 69-64 victory over Olympia. He filled the stat sheet with 16 points, eight assists, six rebounds, and three blocks. Over all, the senior was 10-for-24 from the field and 8-for-14 at the line.
| | | | | | | | | | | | | |
| --- | --- | --- | --- | --- | --- | --- | --- | --- | --- | --- | --- | --- |
| | | | | | Overall | | | | | | | |
| Monroe County I | CL | W | L | Pct. | W | L | Pct. | PF Avg | PA Avg | Strk | GP | NR |
| Hilton | AA | 3 | 0 | 1.000 | 4 | 0 | 1.000 | 68.50 | 51.75 | W4 | 4 | 0 |
| Fairport | AA | 3 | 0 | 1.000 | 6 | 1 | 0.857 | 65.43 | 53.43 | W1 | 7 | 0 |
| Rush-Henrietta | AA | 2 | 1 | 0.667 | 4 | 2 | 0.667 | 59.67 | 57.67 | W4 | 6 | 0 |
| Webster Schroeder | AA | 1 | 2 | 0.333 | 2 | 5 | 0.286 | 60.86 | 68.29 | L4 | 7 | 0 |
| Victor | AA | 0 | 3 | 0.000 | 2 | 5 | 0.286 | 57.86 | 61.14 | W1 | 7 | 0 |
| Penfield | AA | 0 | 3 | 0.000 | 1 | 5 | 0.167 | 49.17 | 60.83 | L5 | 6 | 0 |
| | | | |
| --- | --- | --- | --- |
| Scoring Leaders | School | Grade | PPG |
| Hill, T. | Hilton | Jr. | 33.7 |
| Caggiano, M. | Victor | Jr. | 15.4 |
| Plummer, J. | Schroeder | Jr. | 15.2 |
| Piampiano, P. | Penfield | Sr. | 15.0 |
| Meeks, K. | Schroeder | So. | 12.8 |
| | | | | | | | | | | |
| --- | --- | --- | --- | --- | --- | --- | --- | --- | --- | --- |
| | | | | | Overall | | | | | |
| Monroe County II | CL | W | L | Pct. | W | L | Pct. | PF Avg | PA Avg | Strk |
| Webster Thomas | AA | 3 | 0 | 1.000 | 5 | 2 | 0.714 | 66.29 | 59.14 | W3 |
| Gates-Chili | AA | 2 | 1 | 0.667 | 6 | 1 | 0.857 | 63.57 | 55.29 | W3 |
| Irondequoit | A1 | 2 | 1 | 0.667 | 5 | 1 | 0.833 | 64.50 | 48.83 | W1 |
| Churchville-Chili | A1 | 0 | 1 | 0.000 | 2 | 2 | 0.500 | 68.25 | 59.75 | W1 |
| Spencerport | A1 | 0 | 2 | 0.000 | 2 | 4 | 0.333 | 47.83 | 53.50 | L2 |
| Canandaigua | A1 | 0 | 2 | 0.000 | 0 | 7 | 0.000 | 52.00 | 70.29 | L7 |
| | | | |
| --- | --- | --- | --- |
| Scoring Leaders | School | Grade | PPG |
| Mason, A. | Thomas | Jr. | 27.1 |
| Slack, K. | G-C | Sr. | 19.8 |
| Thomas, P. | Iron. | Sr. | 18.8 |
| Williams, A. | G-C | So. | 14.2 |
| Keele, J. | C-C | Jr. | 13.5 |
| Postell, M. | C-C | Jr. | 13.5 |
| | | | | | | | | | | |
| --- | --- | --- | --- | --- | --- | --- | --- | --- | --- | --- |
| | | | | | Overall | | | | | |
| Monroe County III | CL | W | L | Pct. | W | L | Pct. | PF Avg | PA Avg | Strk |
| Pittsford-Mendon | A1 | 3 | 0 | 1.000 | 4 | 0 | 1.000 | 78.75 | 60.75 | W4 |
| Greece Athena | A1 | 2 | 1 | 0.667 | 6 | 1 | 0.857 | 65.50 | 54.33 | W5 |
| Brockport | A1 | 2 | 1 | 0.667 | 4 | 2 | 0.667 | 64.50 | 57.33 | W2 |
| Pittsford Sutherland | A2 | 1 | 2 | 0.333 | 3 | 3 | 0.500 | 61.80 | 59.40 | L1 |
| Brighton | A1 | 1 | 2 | 0.333 | 1 | 3 | 0.250 | 56.25 | 68.50 | L2 |
| Greece Arcadia | A1 | 0 | 4 | 0.000 | 0 | 7 | 0.000 | 39.14 | 64.43 | L7 |
| | | | |
| --- | --- | --- | --- |
| Scoring Leaders | School | Grade | PPG |
| Harrington, M. | Mendon | Sr. | 19.0 |
| Council, M. | Athena | Jr. | 18.7 |
| Ryan, K. | Sutherland | Sr. | 17.6 |
| Shadders, J. | Mendon | So. | 15.5 |
| Cook, D. | Mendon | Sr. | 15.2 |
| | | | | | | | | | | |
| --- | --- | --- | --- | --- | --- | --- | --- | --- | --- | --- |
| | | | | | Overall | | | | | |
| Monroe County IV | CL | W | L | Pct. | W | L | Pct. | PF Avg | PA Avg | Strk |
| Greece Odyssey | B1 | 3 | 0 | 1.000 | 5 | 1 | 0.833 | 71.80 | 51.20 | W1 |
| Honeoye Falls-Lima | A2 | 2 | 1 | 0.667 | 5 | 1 | 0.833 | 55.00 | 52.83 | W2 |
| Eastridge | A1 | 1 | 1 | 0.500 | 3 | 3 | 0.500 | 67.83 | 68.00 | L1 |
| Batavia | B1 | 0 | 2 | 0.000 | 0 | 4 | 0.000 | 45.33 | 58.33 | L4 |
| Greece Olympia | B1 | 0 | 2 | 0.000 | 2 | 2 | 0.500 | 72.25 | 65.25 | L1 |
| | | | |
| --- | --- | --- | --- |
| Scoring Leaders | School | Grade | PPG |
| Jung, J. | Olympia | Sr. | 22.5 |
| James, C. | Olympia | So. | 19.2 |
| Chamberlain, T. | HF-L | Sr. | 15.4 |
| Hartsfield, J. | Odyssey | Jr. | 14.8 |
| Arnold, T. | Eastridge | Jr. | 14.6 |