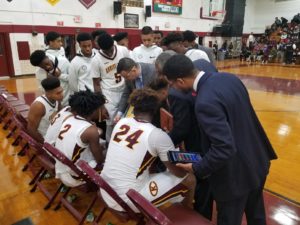 By JOHN LIKANJE
MIDDLE VILLAGE, N.Y. – Coming into Sunday afternoon's matchup, the Christ The King Royals were looking for something to spark their season and give them consistency. Head coach Joe Arbitello's squad had yet to go on a winning streak through two weeks of game play. Fortunately, the Royals might have found their answer in junior guards Nicholas Molina and Quaran McPherson. Molina and McPherson combined for 46 points and led the Royals (4-3/No. 6 NYSSWA Class AA) to a 97-94 triple overtime win over the Cardinal Hayes Cardinals (8-1/No. 1 NYSSWA Class AA).
Molina netted eight in the third overtime in which there were six lead changes and one tie-all of which occurred in the first minute and a half. He knocked down two three-pointers-one from the top of the key and the other from the left corner-and a couple of free throws.
McPherson scored six points in the third overtime, including the go-ahead layup to give the Royals an 88-87 lead with 2:29 remaining. He made two layups and converted a couple of shots from the charity stripe in the period.
McPherson started a 6-0 run in the last two minutes of the second overtime as well. He went 2-2 from the charity stripe to cut the Royals' deficit to 80-76 with 1:52 left. After a forced turnover, senior guard Malik Lacewell swished a three-pointer from the right corner and Jared Harrison-Hunte hit the game-tying free throw with 22.7 ticks remaining to knot the game at 80 apiece.
The Royals got off to a fast start and had a double-digit lead late in the game. McPherson, Hunte, and Lacewell did all the scoring during an 8-3 run from the end of the third quarter into the fourth for a 63-49 edge with six minutes remaining. The Royals started the game on a 13-3 spurt, including 8-0 at one point, in which five players scored (Hunte, Lacewell, McPherson, Nathaniel Curry, and Sterling Jones)
In the middle of the second quarter, Molina netted eight of the team's 10 points on two three-pointers and a couple of free throws to give the Royals a 30-25 lead. He scored 10 in the period and had three rebounds, two assists, and a game-high six shots made from beyond the arc.
Coach Arbitello's squad had three players grab double-digit rebounds with Curry leading the way with 20. Curry also converted seven layups as part of his 18 points, dished out two assists, and blocked a shot. Hunte had 10 on three layups, a jumpshot from the top of the key, and two free throws along with 18 rebounds, two blocks, two steals, and an assist. McPherson finished the game with 22 points, 15 rebounds, five assists, and a team-high four steals. He went 9-9 from the charity stripe, made four layups-one of them part of a three point play-a jumper from the right wing, and a long-range shot.
Junior guard Ryan Myers knocked down three shots from beyond the arc in the third quarter en route to 12 points. He grabbed four rebounds and handed out three assists. Jones had a game-high 10 assists along with two steals and a rebound.
Lacewell (7) and Jones (4) rounded out the scoring for the Royals.
For the Cardinals, junior guards Joe Toussaint and Julien Somauro each scored 20 points. Freshman guard Jaylen Murray netted 20 as well. Toussaint scored the team's last four points in regulation, including a buzzer-beating layup to knot the game at 66 apiece and send it to overtime. He hit two shots from beyond the arc, six free throws, grabbed eight rebounds, dished out eight assists, and had four steals as well.
Cardinals and Royals going to OT tied at 66 on this buzzer-beating layup by Joe Toussaint. @ctkroyals @CardinalHayes @CHSAA_NYC @eliovelez @PickinSplinters pic.twitter.com/Okw6ysZEAn

— John Mitchell Likanje Junior (@jml5798) December 23, 2018
Somauro knocked down a team-high five three-pointers. In the middle of the third quarter, he finished a four point play after being fouled from the left corner as part of a 9-0 Cardinals run to cut their deficit to 63-58. Somauro was 5-7 from the charity stripe, including 3-4 in the overtimes, had three steals, three rebounds, and two assists.
Murray hit four long-range shots, three floaters, a layup, and grabbed a couple of rebounds. Sophomore forward Adam Cisse had a team-high 13 rebounds and four blocks.
Bryan Adams (10), Cisse (9), Jalen Smith (9), Shemani Fuller (3), and Thomas Hoffman (3) rounded out the scoring for the Cardinals.
Christ The King will be seeking their first winning streak of the season on Thursday when they head down to Myrtle Beach, South Carolina to take on Yates High School out of Texas at 3:30 PM. Cardinal Hayes gets the rest of the holiday break off before traveling to Saint Raymond's on January 4th to take on their division rival Ravens. Game time set for 4:00 PM.