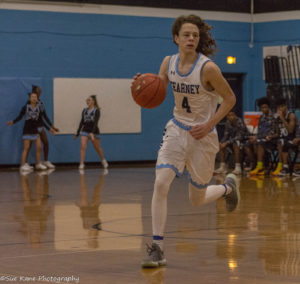 BY CAITLIN McCLARE
FRANKLIN (2-6) 65
McQUAID (5-1) 98
After landing at No. 12 in the NYSSWA state rankings, McQuaid dropped 98 points against Franklin. Kobe Long, Jermaine Taggart, and the Knights overpowered from tipoff with 31 points in the first quarter. Long and Taggart combined for 27 of those points. Franklin trailed 31-12, but outscored McQuaid 31-20 in the second to narrow the score to 51-43 at the half. However, the second half was all McQuaid, as Long and Taggart racked up the points. Long finished with a game-high 33 points and Taggart finished with 22.
ST. FRANCIS (2-0) 76
UNIVERSITY PREP (4-5) 85
Jakhi Lucas scored 35 points to lead UPrep over St. Francis (No. 8 NYSSWA Class A). It was fourth time this season Lucas has scored 30 or more points in game including in each of UPrep's last three games.
Jermaine Taggart @JTaggart02 and Kobe Long @kobelong_3 yet again showed tonight for @McQuaidBball that they have such a mighty court connection this season. Drip. pic.twitter.com/f8u6QbCLch

— Matt Trabold (@TrabsMatt) December 20, 2018
VERTUS (0-6) 57
BISHOP KEARNEY (4-2) 80
Vertus hung around Bishop Kearney until the Kings pulled away in the third quarter when Kidtrell Blocker and Michael Gentile combined for 20 points. Blocker finished with a season-high 27 points. The junior connected 14 times from the four, including four in the second quarter and four in the third. The second half of  Wednesday night's one-two punch hit three three's and finished with 17 points. Leading for Vertus was Cesar Ostolaza with a season-high 15 points. He hit three three-pointers and went 4-for-6 at the line. Other scorers: Kearney – Miles Rose (8), Deiontray Dixon (8), Miles Monchechourt (7), Antwan Williams (6), Jamal Williams (5). Vertus – Jabez Thompson (13), Rashawn Williams (8), De'Andre Hunter (8), Eric LeBrane (6), Clovis Meikle (4), Quanmay Early (3).
.@KearneyBoys Fr. Miles Rose has such a likable personality on the court. Smiles Rose. Do not get it twisted though, he can turn on the eye of the tiger when need be. His older brother is an NBA prospect, but Miles keeps making a bigger and bigger name for himself. • @qrose_3 pic.twitter.com/m1AjjZr8F8

— Matt Trabold (@TrabsMatt) December 20, 2018
CLYDE-SAVANNAH (2-6) 52
EAST ROCHESTER (5-3) 73
Junior guard Allen Otero poured in a team-high 26. He got off to a hot start, scoring eight of the Bombers' first 13 points of the game on three layups and a fadeaway jumper from the right wing. READ MORE.
VIEW MORE SUE KANE PHOTOS HERE. 
MARION (1-4) 45
SODUS (3-2) 66
Four Spartans dropped double digits against Marion, including one 20-point topper. Paul James scored 28 for Sodus, followed by John Molisani with 13. Marcelus Burton and Marquese Burton each added ten. The final five points came from Jacob Att (3) and Amanti Jones (2).
WILLIAMSON (1-5) 40
RED CREEK (3-6) 46
LYONS (7-0) 93
NORTH ROSE-WOLCOTT (0-7) 39
ATTICA (4-1) 48
ALEXANDER (5-1) 57
Attica faltered for the first time this season against Alexander, even with seven scorers. Devon Henderson led the Blue Devils with 12 points for his third consecutive double-digit game. Frankie Bisceglie (9), Dawson Nelson (8), Tyler Meyer (6), Marco Magarelli (6), Ayden Goll (5), and Trevor Goll (2) also contributed for Attica.
BYRON-BERGEN (2-5) 50
HOLLEY (2-4) 45
ELBA (4-2) 55
LYDONVILLE (6-0) 62
WHEATLAND-CHILI (0-5) 48
KENDALL (2-4) 49
In the one-point victory, three Kendall players added up double digits, including Mason Kuhn's double-double. Kuhn scored ten points and pulled down 12 rebounds. Kendall's leading scorer was Nathan Waters with 16 points. He also dished two assists and rebounded three. Following him was John Rath with 12 points, six assists, five rebounds, and five steals. Hunter Menze grabbed ten boards and blocked three. Other scorers: Kendall – Menze (6), Dale Steffen (5).
YORK (4-2) 59
KESHEQUA (2-4) 38
York set the pace during the first quarter, as the Knights held Keshequa to three points. By halftime, York led 37-12. Keshequa played closer to York in the second half, but was ultimately unable to overcome the dominant first half. The game's scoring leader was Keshequa's Cameron Chestnut with 16 points. As for York, David Cuozzo and James Kennedy each notched ten points. Other scorers: York – Riley Stella (9), Tim LaGeorge (7), Lucas Garza (7). Keshequa – Bryson Melin (8).