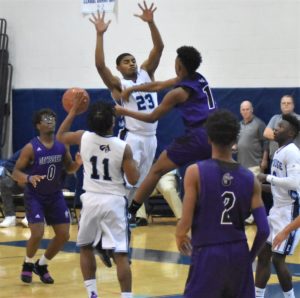 BY CAITLIN McCLARE
Ryan Lucey paced Fairport in two road wins, moving his squad to 5-0 to start the season. Patrick Thomas set a career high in Irondequoit's home opener after matching last year's season high. Jacob Shadders led Pittsford Mendon to a 95-55 victory. Terrence Reid steadied Eastridge on both sides of the ball in two wins this week.
For their standout efforts, Monroe County honored the four as the Player of the Week (Dec. 10-14) for their respective divisions.
The Red Raiders sit at 5-0 on the season after taking two games on the road this week. Lucey went 7-for-10 from the field, scoring a game-high 16 points, as Fairport beat Canandaigua 77-40. The junior captain also pulled down nine rebounds and dished three assists. Lucey followed that game with a 14-point finish against Victor. He went 5-for-9 from the field, while pulling five rebounds and two assists.
Irondequoit also logged a 2-0 week with wins over Webster Schroeder (71-43) and Gates-Chili (64-58). Thomas combined for 47 points and 22 rebounds during the week. In the Eagles' home opener against Schroeder, Thomas matched the season high he set during his junior campaign with 21 points. The six-foot-five forward was 9-for-14 from the field and pulled down nine rebounds. READ MORE. He followed that performance with a career one against Gates-Chili. The senior finished with a double-double, 26 points and 13 rebounds. He tallied 26 by going 10-for-18 from the field and 6-for-9 at the line.
Lucey and the Red Raiders are back on their home court on Tuesday, Dec. 18 to face Thomas and the Irondequoit Eagles.
Shadders drained five three-pointers while going 8-for-14 in field in Mendon's 96-55 win over Brighton. The sophomore guard paced the Vikings with 24 points in the 26 minutes he was on the court. He also grabbed four boards and dished out three assists without a turnover.
Reid combined 26 points in two wins, helping Eastridge bounce back from a two-loss week. The Lancers beat Greece Arcadia 60-40, where Reid finished with ten points. Against Greece Olympia, Reid's 16 points were key in pushing the game into overtime and lifting the Lancers to an 86-83 victory. The senior averaged 13 points, five rebounds, two assists, and two steals this week, as he went 12-for-20 from the field.
Shadders and the Vikings are scheduled to tip off against Reid and the Eastridge Lancers at 7:15 p.m. at Pittsford Mendon.
Division
Overall
Monroe County I
CL
W
L
Pct.
W
L
Pct.
PFAv
PAAv
Strk
GP
Fairport
AA
2
0
1.000
5
0
1.000
65.00
49.60
W5
5
Hilton
AA
2
0
1.000
3
0
1.000
64.33
52.00
W3
3
Rush-Henrietta
AA
2
1
0.667
3
2
0.600
60.40
60.60
W3
5
Webster Schroeder
AA
1
1
0.500
2
3
0.400
62.80
65.00
L2
5
Penfield
AA
0
2
0.000
1
3
0.250
47.75
55.50
L3
4
Victor
AA
0
3
0.000
1
4
0.200
56.60
64.00
L4
5
Division
Overall
Monroe County II
CL
W
L
Pct.
W
L
Pct.
PFAv
PAAv
Strk
GP
Irondequoit
A1
2
0
1.000
3
0
1.000
67.67
41.67
W3
3
Webster Thomas
AA
2
0
1.000
3
2
0.600
66.00
60.80
W1
5
Gates-Chili
AA
1
1
0.500
4
1
0.800
65.20
55.80
W1
5
Spencerport
A1
0
1
0.000
2
2
0.500
47.50
49.00
W1
4
Churchville-Chili
A1
0
1
0.000
1
2
0.333
66.67
61.67
L2
3
Canandaigua
A1
0
2
0.000
0
5
0.000
53.40
73.40
L5
5
Division
Overall
Monroe County III
CL
W
L
Pct.
W
L
Pct.
PFAv
PAAv
Strk
GP
Pittsford-Mendon
A1
2
0
1.000
2
0
1.000
80.50
58.00
W2
2
Greece Athena
A1
2
1
0.667
4
1
0.800
64.20
53.40
W3
5
Brockport
A1
2
1
0.667
3
2
0.600
65.40
60.40
W1
5
Pittsford Sutherland
A2
1
1
0.500
2
2
0.500
63.00
59.00
L1
4
Brighton
A1
1
2
0.333
1
3
0.250
56.25
68.50
L2
4
Greece Arcadia
A1
0
3
0.000
0
6
0.000
39.00
65.17
L6
6
Division
Overall
Monroe County IV
CL
W
L
Pct.
W
L
Pct.
PFAv
PAAv
Strk
GP
Greece Odyssey
B1
2
0
1.000
4
0
1.000
72.75
52.25
W4
4
Honeoye Falls-Lima
A2
1
1
0.500
3
1
0.750
50.25
53.25
L1
4
Eastridge
A1
1
1
0.500
3
2
0.600
67.40
63.00
W2
5
Greece Olympia
B1
0
1
0.000
2
1
0.667
75.00
64.00
W1
3
Batavia
B1
0
1
0.000
0
2
0.000
44.50
53.50
L2
2