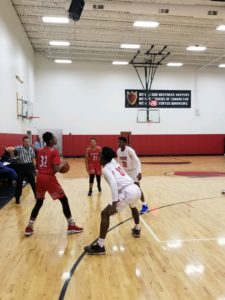 FRANKLIN (2-5) 79
VERTUS (0-5) 58
Brandon Moore was dominant in the first half, scoring 24 points, including 16 straight in the first quarter, as the Quakers grabbed a 43-20 halftime lead. READ MORE. 
PALMYRA-MACEDON (1-5) 38
AVOCA (8-0) 60
Senior guard LaDre Stanford scored 11 of his game-high 27 points in the first quarter as the Avoca Tigers jumped out to a 20-8 lead. Stanford never slowed down, adding 10 rebounds, eight steals and four blocks Teammate Nathan Nunn finished with 18 points to go along with 11 rebounds and three blocked shots. Devin Stowe scored 10 points and dished out five assists. Brady Brandow notched a three pointer while Tristian Stark chipped in two points to round off the scoring for the Tigers. Nick Sapienza led Pal-Mac with nine points, who received a balanced scoring effort across the board. Tanner Thompson finished with eight, including two from beyond the arc. Michael Bergfjord added seven, Grady Arnold scored four points and John Blazey put in a three pointer. Nick Patnode also dialed up three points while Ashton Phippen and Mike DeSain both scored two apiece for the Red Raiders. Pal-Mac used a box-and-one on Stanford in the second quarter and then a triangle-and-two later in the game to try and slow Stanford and Nunn. 
MIDLAKES (1-5) 73
GANANDA (6-1) 87
The Gananda Blue Panthers never looked back after a 25-point first quarter, which included 11 of captain Jayden Castrechini's game-high 31 points. Andrew Gabbard added 21, Tim McClare finished with 11 and Kole Wright had nine points. Castrechini connected four times behind the 3-point arc. Gabbard hit two from long range, and Wright added three for a Gananda squad which finished with 10 3-pointers on the night. Jerry Brongo put in eight points and captain Zach Dier scored seven points to round out the scoring for Gananda. Matt Mattoon led the Screaming Eagles, notching 30 points. Trevor VanNostrand exploded with seven treys in his 24-point effort. Ryan Spingler finished with eight points, going four-for-four from the charity stripe. Kyle McCann scored five, Chris Weston added four and Kaleb Mahoney got two points for Midlakes.
ATTICA (4-0) 58
OAKFIELD-ALABAMA (2-4) 48
Devin Henderson finished with 18 points, three rebounds, two blocks and a steal to lead the Attica Blue Devils. Frankie Bisceglie recorded a double-double with 14 points and 10 rebounds, adding an assist and two steals along with it. Ayden Goll and Trevor Goll each scored seven apiece. Both also dished out an assist and secured three rebounds, while Ayden Goll added a block and three steals, with Trevor Goll getting one swipe. Tyler Meyer notched five points, four assists, eight rebounds, a block and two steals. Dawson Nelson stuffed the stat sheet with four points, 11 assists, 14 rebounds and two steals for a double-double. Marco Magarelli finished off the scoring for Attica, putting in three points, recording one assist and two rebounds.
CLYDE-SAVANNAH (2-5) 31
MYNDERSE ACADEMY (3-2) 56
Six Blue Devils contributed on the scoreboard in a dominant 14-2 second quarter to help Mynderse to pull away. Captain Darren Miller led the way with 15 points and 10 rebounds for the double-double. Jared King scored nine and Jake Smith put in eight as each knocked down a pair of three pointers. Nick Jones finished with eight inside, Mike Bogart had six and Troy Kabat scored five. Griffin Herron added three and captain Sal Franzone scored two points to round out the scoring for the Blue Devils. Captain Camden Chance paced the Golden Eagles with 13 points. Jayden McKinney added seven, Hunter Donselaar scored six. Jordan Cooley added a field  and a three-pointer for Clyde-Savannah.
LIMA CHRISTIAN (1-4) 31
HOLLEY (2-3) 75
LYNDONVILLE (5-0) 63
WHEATLAND-CHILI (0-4) 45
ELBA (4-1) 62
MEDINA (5-1) 34
BRADFORD (2-4) 56
CANISTEO-GREENWOOD (3-4) 69
ANDOVER (2-4) 45
BOLIVAR-RICHBURG (4-3) 63
RED CREEK (2-5) 00
PORT BYRON (0-0) 00