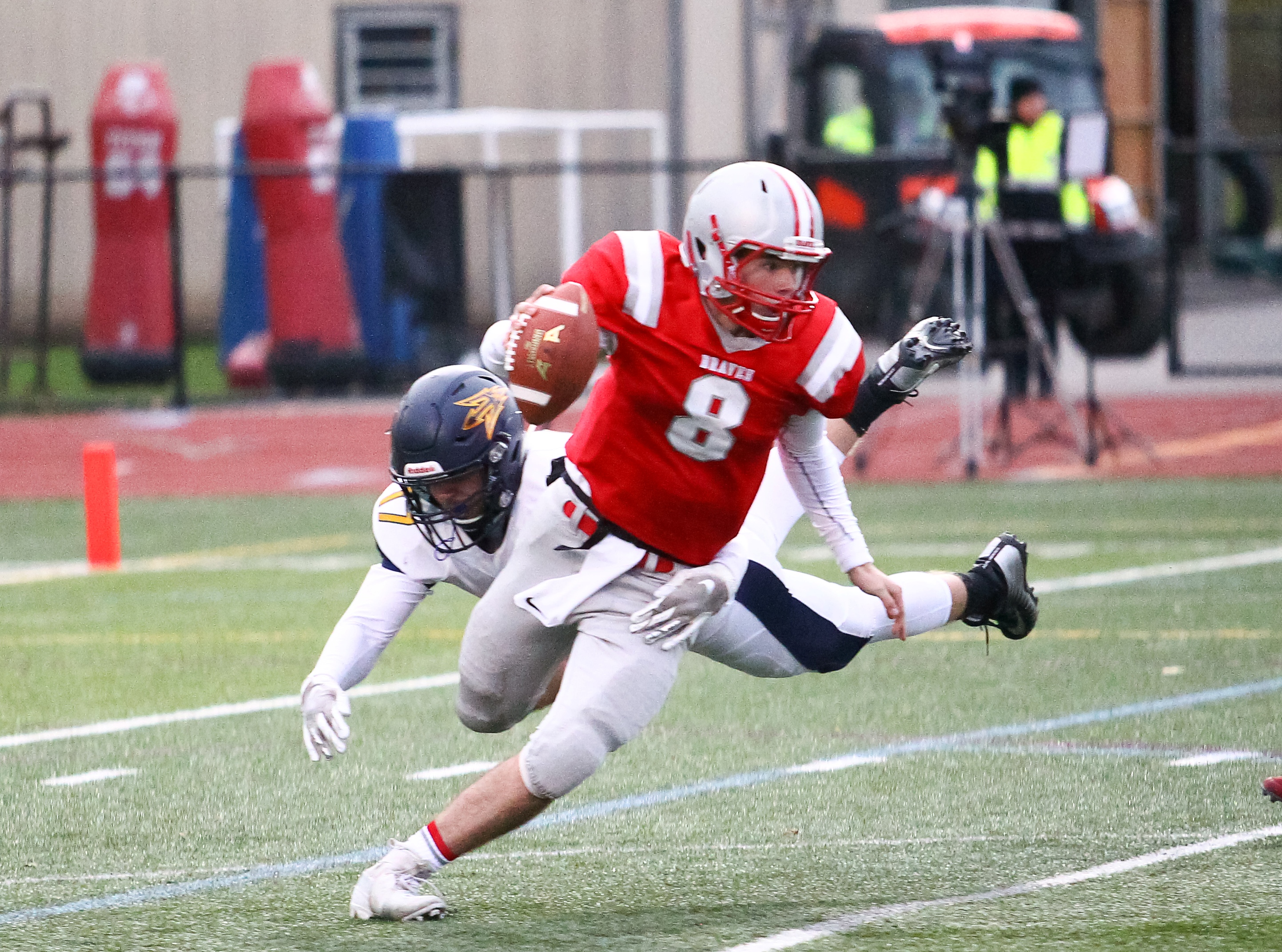 BY PAUL LIOTTI
The Canandaigua Braves trotted out an explosive offense all season.
Starting with their quarterback and skill positions, they rolled through the first eight games of the season unscathed before losing in the Class A semifinals to Victor. As a result, the Braves placed seven players — all on offense — on Division II's first team, led by quarterback Jack Johnston who was named the division's Player of the Year.  Six of those players were two-way players.
"This group of players was a pleasure to coach," Canandaigua coach Jeff Welch said. "It's not often in a coaching career you come across a group of kids like this: they had talent, played together, performed and had outstanding execution. Coming into the season we knew we had a good team, but we had questions up front, but they came together and we were successful."
In all, 33 players were named to the first team, 13 of which were two-way players.
Johnston was joined on the team by Seth Vigneri (RB/LB), Mitch Pfeiffer (WR/DB), John DiSalvo (WR/DB), Matt Vierhile (WR/LB).  Tyler Goode (WR/LB) and Dalton Boylan (OL/DL)
Victor had seven players named to the first, including Sam Castiglia who was named as both the kicker and the punter. The Blue Devils' thunder and lighting running back duo of Joey Pezzimenti (RB/DB) and Rushawn Baker (RB/DB) joined fellow Victor gridders Justin Bai-Rossi (OL/DL), AJ Tillotson (DE), Camden Hay (LB/RB) and Sutton Boland (LB/RB) on the first team.
Webster Schroeder first-teamers were dominated on the defensive side of the ball, as Giacomo Lo Re (DT), JP McCarten (DT/DE), Travis Dear (LB) and Luke Lupisella (S) joined Ryan Bellavia (QB) to represent the Warriors.
Webster Thomas and Gates Chili each placed four players. For Gates, it was Nathaniel Ribis (OL), Isaiah Parker (LB), Legend Brown (LB) and Traylan McCray (DB); while Collin Hill (WR), Anthony Oca (OL), Ethan Harold (LB), Joe Meyers (DB) made it for the Titans.
Dynamic quarterback A'Lon Jenkins placed for Greece Olympia, as did Spartans Scottie Parr (WR), and Makyle Murdock (OLB).
Churchville-Chili's interior linemen Will Zimmerman (OL/DL) and Nasiere Tisdale (DE) were also named.
Sophomores Baker and Parr were the only underclassmen to make the list.
Div
1
Canandaigua
5-0
2
Victor
4-1
3
Webster Schroeder
3-2
4
Webster Thomas
2-2
5
Gates-Chili
1-3
6
Olympia
1-3
7
Churchville-Chili
0-5
| | |
| --- | --- |
| Player of the Year | School |
| Jack Johnston | Canandaigua |
| Coach of the Year | School |
| Jeff Welch | Canandaigua |
| | | | |
| --- | --- | --- | --- |
| First Team | School | GR | Pos |
| Jack Johnston | Canandaigua | 12 | QB |
| Ryan Bellavia | Webster Schroeder | 12 | QB |
| A'Lon Jenkins | Olympia/Odyssey | 12 | QB |
| Joey Pezzimenti | Victor | 11 | RB/DB |
| Rushawn Baker | Victor | 10 | RB/DB |
| Seth Vigneri | Canandaigua | 11 | RB/LB |
| Collin Hill | Webster Thomas | 12 | WR |
| Scottie Parr | Olympia/Odyssey | 10 | WR |
| Mitch Pfeiffer | Canandaigua | 12 | WR/DB |
| John DiSalvo | Canandaigua | 12 | WR/DB |
| Matt Vierhile | Canandaigua | 11 | WR/LB |
| Tyler Goode | Canandaigua | 12 | WR/LB |
| Anthony Oca | Webster Thomas | 12 | OL |
| Nathaniel Ribis | Gates-Chili | 11 | OL |
| Dalton Boylan | Canandaigua | 11 | OL/DL |
| Justin Bai-Rossi | Victor | 12 | OL/DL |
| Will Zimmerman | Churchville-Chili | 12 | OL/DL |
| AJ Tillotson | Victor | 12 | DE |
| Nasiere Tisdale | Churchville-Chili | 12 | DE |
| Giacomo Lo Re | Webster Schroeder | 12 | DT |
| JP McCarten | Webster Schroeder | 12 | DT/DE |
| Travis Dear | Webster Schroeder | 11 | LB |
| Ethan Harold | Webster Thomas | 12 | LB |
| Isaiah Parker | Gates-Chili | 12 | LB |
| Legend Brown | Gates-Chili | 12 | LB |
| Camden Hay | Victor | 11 | LB/RB |
| Sutton Boland | Victor | 12 | LB/RB |
| Makyle Murdock | Olympia/Odyssey | 11 | OLB |
| Joe Meyers | Webster Thomas | 12 | DB |
| Traylan McCray | Gates-Chili | 12 | DB |
| Luke Lupisella | Webster Schroeder | 12 | S |
| Sam Castiglia | Victor | 11 | K |
| Sam Castiglia | Victor | 11 | P |
| | | | |
| --- | --- | --- | --- |
| Second Team | School | GR | Pos |
| Tyler Langley | Webster Thomas | 11 | RB |
| Marcus McFadden | Gates-Chili | 12 | RB |
| Travon Harper | Olympia/Odyssey | 12 | RB |
| Brendon Shay | Canandaigua | 12 | RB/DB |
| Jake Dreisbach | Canandaigua | 12 | RB/LB |
| Ethan Fame | Webster Schroeder | 11 | WR |
| Casey Herod | Canandaigua | 11 | WR/DB |
| JC Clifford | Canandaigua | 11 | TE/DL |
| Todd Everts | Canandaigua | 12 | TE/DL |
| Nate DeRue | Canandaigua | 12 | OL/DL |
| Liam Outhouse | Canandaigua | 12 | OL/DL |
| Sam Castiglia | Victor | 11 | OL/DL |
| CJ Williams | Victor | 12 | OL/DL |
| Jon Crowley | Victor | 12 | DE/OL |
| Jake Cole-Allen | Victor | 12 | DE/TE |
| Michael Cody | Gates-Chili | 12 | DL |
| Nathaniel Ribis | Gates-Chili | 11 | DL |
| Michael Bowman | Victor | 11 | DL/OL |
| Austin Riesenberger | Webster Schroeder | 11 | DT/DE |
| Anthony Grimshaw | Webster Schroeder | 12 | LB |
| Thomas Harding | Webster Schroeder | 12 | LB |
| Bradon Detro | Webster Thomas | 12 | LB |
| Corey Bright | Olympia/Odyssey | 11 | LB |
| Mike Matteson | Olympia/Odyssey | 11 | LB |
| Rickey Allen | Churchville-Chili | 12 | LB |
| Dylan Herman | Churchville-Chili | 12 | LB |
| Cal Lambert | Victor | 10 | LB/OL |
| Tyron Harrell | Webster Schroeder | 11 | CB |
| Teagan McKane | Webster Thomas | 12 | DB |
| Tristan Altobelli | Webster Thomas | 11 | DB |
| Blake Palozzi | Gates-Chili | 11 | DB |