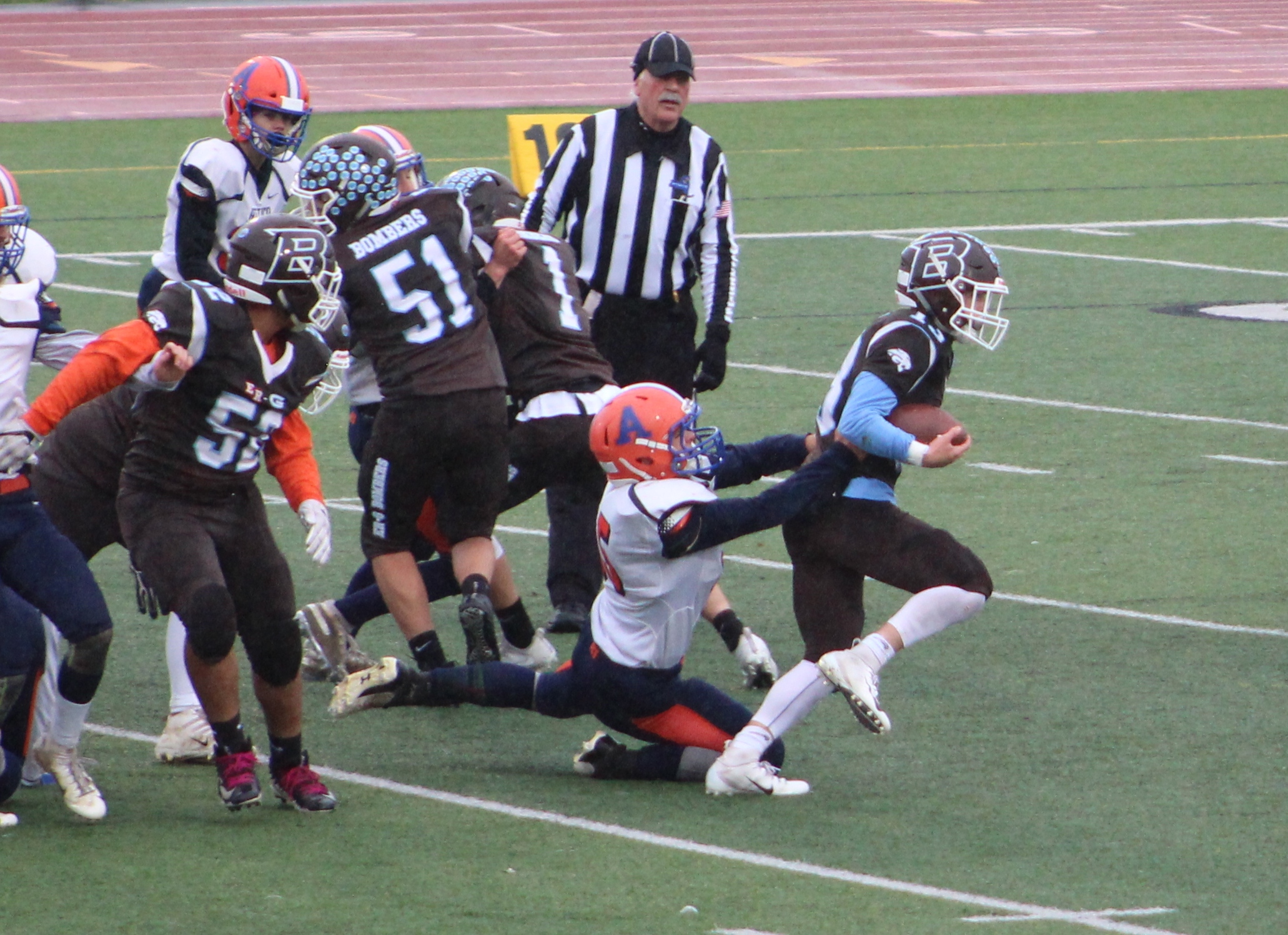 BY PAUL LIOTTI
It figures that when it came down to voting for Finger Lakes East All-League, the top three teams in the league would garner the most recognition.
East Rochester/Gananda, Wayne and Penn Yan — which each finished with identical 6-1 regular season records — beat the other once in a true round-robin format. Without an outright winner decided on the field, the teams took home a share of the league title, and with it most of the recognition for post-season honors.
Each team took home a Player of the Year honor and each team took home the Coach of the Year honors:
Offensive Player of the Year: Jayden Castrechini (Senior, RB, ER/Gananda)
Defensive Player of the Year: Jonah Pullen (Junior, LB, Wayne)
Lineman of the Year: Jack Peterson (Senior, OT, Penn Yan)
Tri-Coach of the Year: Dave Marean (Wayne), Brian Touranjoe (ER/Gananda), Tim McBride (Penn Yan)
Six players on the first team were named to multiple positions, including senior Logan Blankenberg who led the way being named to the first team in three phases of the game: wide receiver, defensive back and punter.
The other five multiple winners included:
Castrechini (RB/DB)
Corwyn Cleveland (Senior, DT/FB, ER/G)
Conner Fingar (Senior, RB/LB, Penn Yan)
Anthony Muratore (Senior, WR/K, Wayne)
Brennan Prather (Junior, WR/DB, Penn Yan)
In all, 34 slots were filled on the first team and another 27 on the second team.
For a complete list of award winners, see below:
Finger Lakes East Final Standings
Div
T1
East Rochester/Gananda
6-1
T1
Penn Yan
6-1
T1
Wayne
6-1
T4
Geneva
3-4
T4
Newark
3-4
T4
Waterloo
3-4
7
Pal-Mac
1-6
8
Midlakes
0-7
| | |
| --- | --- |
| Offensive Player of the Year | School |
| Jayden Castrechini | ER/Gananda |
| Defensive Player of the Year | School |
| Jonah Pullen | Wayne |
| Lineman of the Year | School |
| Jack Peterson | Penn  Yan |
| Tri-Coach of the Year | School |
| Dave Marean | Wayne |
| Brian Touranjoe | ER/Gananda |
| Tim McBride | Penn  Yan |
| | | | |
| --- | --- | --- | --- |
| First Team | School | GR | Pos |
| Will Rogers | Penn Yan | 12 | QB |
| Grayson Zenelovic | Wayne | 12 | QB |
| Jayden Castrechini | ER/Gananda | 12 | RB |
| Conner Finger | Penn Yan | 12 | RB |
| Billy Thompson | Wayne | 12 | RB |
| Corywin Cleveland | ER/Gananda | 12 | FB |
| Matt Barron | Waterloo | 12 | WR |
| Logan Blankenberg | Wayne | 12 | WR |
| Anthony Muratore | Wayne | 12 | WR |
| Brennan Prather | Penn Yan | 11 | WR |
| Brian Suhr | ER/Gananda | 11 | TE |
| Billy Van Dusen | Newark | 12 | C |
| Brandon Gray | ER/Gananda | 11 | OG |
| Max Larocco | Wayne | 12 | OG |
| Josiah Pilet | Geneva | 11 | OG |
| Kody Desain | Newark | 12 | OT |
| Jack Peterson | Penn Yan | 12 | OT |
| Will Powell | ER/Gananda | 12 | OT |
| Corwyn  Cleveland | ER/Gananda | 12 | DT |
| Jake Dewall | Waterloo | 12 | DT |
| Cameron  Montroy | Pal Mac | 12 | DT |
| Alex  Hartman | ER/Gananda | 11 | DE |
| Devonte Johnson | Geneva | 12 | DE |
| Adian   Elliot | Newark | 12 | LB |
| Conner Fingar | Penn Yan | 12 | LB |
| Jonah Pullen | Wayne | 11 | LB |
| Derek Slywka | Waterloo | 12 | LB |
| TJ Swaggler | ER/Gananda | 11 | LB |
| Logan Blankenberg | Wayne | 12 | DB |
| Jayden Castrechini | ER/Gananda | 12 | DB |
| Jaiquon  Lewis | Waterloo | 12 | DB |
| Brennan Prather | Penn Yan | 11 | DB |
| Anthony Muratore | Wayne | 12 | K |
| Logan Blankenberg | Wayne | 12 | P |
| | | | |
| --- | --- | --- | --- |
| Second Team | School | GR | Pos |
| Derek Slywka | Waterloo | 12 | QB |
| Linwood Carswell | Midlakes | 11 | RB |
| Jaiquon Lewis | Waterloo | 12 | RB |
| TJ Swaggler | ER/Gananda | 11 | RB |
| Grady Arnold | Pal Mac | 11 | WR |
| Javon Louks | Geneva | 11 | WR |
| Liam Doyle | Pal Mac | 12 | TE |
| Caleb Crandall | Wayne | 11 | C |
| Morgan Eddinger | Pal Mac | 12 | OG |
| Michael Klehn | Waterloo | 12 | OG |
| Nate Mayou | Pal Mac | 11 | OT |
| Noah  Sieczarski | Wayne | 10 | OT |
| Nate Trowbridge | Geneva | 12 | OT |
| Kyle Berna | Penn Yan | 11 | DT |
| Will Powell | ER/Gananda | 12 | DT |
| Andrew Rossi | Penn Yan | 12 | DT |
| Nate Mayou | Pal Mac | 11 | DE |
| Jack Peterson | Penn Yan | 12 | DE |
| Zach Baker | Pal Mac | 11 | LB |
| Patrick Embury | Wayne | 11 | LB |
| Mekhi   Mahan | Penn Yan | 10 | LB |
| Will Palmer | Geneva | 12 | LB |
| John Reagan | Wayne | 11 | LB |
| Mario Vega | ER/Gananda | 12 | DB |
| Bryan Duran | Penn Yan | 12 | DB |
| Matt Card | Newark | 12 | K |
| Matt Card | Newark | 12 | P |
Honorable Mention
ER/Gananda: Brandon Gray (DE), Jerry Brongo (WR), Colin Bryant (DB), Cypress Coleman (OL), Alex Hartman (OL), Sean Flanagan (LB), Mike Powell (LB), Ben Parrone (DL
Geneva: Quincy Johnson (WR), Wyatt Patchett (QB), Carlton Moore (DE), Nick Askin (WR), Mike Bowler (DB), Malik Gramling (LB)
Newark: Nic Bernardi (QB), James Brownell (LB)
Penn Yan: Kyle Berna (RB), Josh Mashewske (C), Andrew Garren (DE), Riley Brittngham (LB)
Waterloo: Zach Tomkins (LB), Toby Loucks (WR), Kyle Slywka (DB), Julian Ruiz (DB)
Wayne: Michael Carlotta (OL), Logan Loveless (DB), Noah Sieczkarsk (DL), Brian Sills (DB)