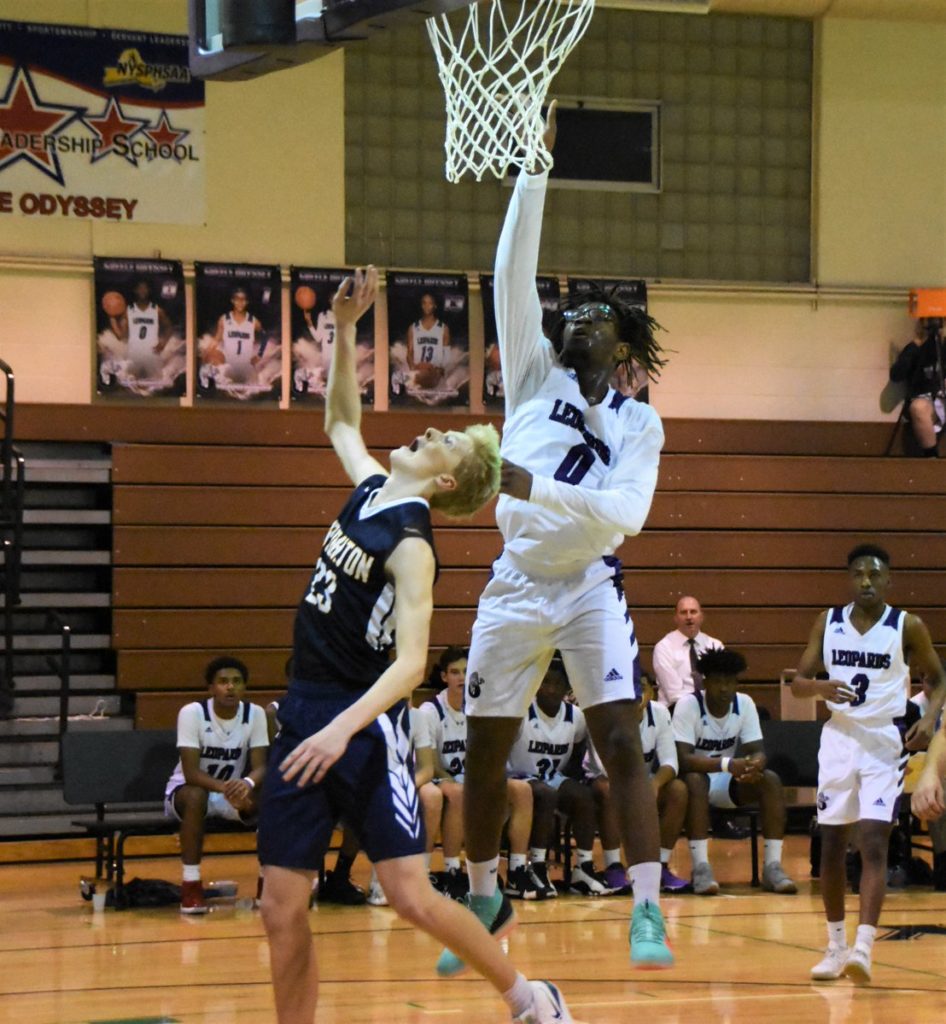 By CAITLIN McCLARE
LIVONIA (1-3) 51
SCHOOL OF THE ARTS (3-1) 81
With two players topping 20, SOTA maintained a lead over Livonia. Logan Hayes led the charge, while notching his first career double-double. The junior finished with 26 points, including seven three-pointers, and 15 rebounds. His counterpart, Reggie Smith, sunk five behind the arc and finished with 23. Livonia's leading scorer was Steffan Gwyn. All 11 of Gwyn's points occurred in the second quarter. Other scorers: SOTA – Ke'Vion Mitchell (12), Ethain Clarke-Desouza (12), Keshaun Chatman (6), Saheed Miller (3), Maurice Wiggins (2), Jonathm Denegal (1). Livonia – Alex Minnehan (9), Shawn Minnehan (8), Nathan Genthner (7), Jalen Marshall (6), Noah Fasso (6), AJ Davin (4).
FRANKLIN (1-4) 62
WORLD OF INQUIRY (1-4) 70
Tremier Dollar connected twice behind the arc and converted seven of eight free throws in the fourth quarter as WOI outscored Franklin 25-15 in the stanza.  Dollar who scored 40 points in a loss last week finished with a game-high 26 Wednesday night. Jahlil Bell added 12 for the Griffins. Bobby Searight and Joshua Shaw scored nine apiece. Jaquan Close (7), Michael Thomas (4) and Dorian Smith (3) rounded out the scoring for WOI. Franklin freshman, Brandon Moore, who scored 27 points in the Quakers victory over Early College on Monday, accounted for 23 points in a losing effort. Moore hit a pair of 3-pointers and scored eight in the third quarter as Franklin took a 47-45 edge into the final eight minutes of play. Tyrone House scored 14. Marcher Spencer had 11 and Anthony Smith nine. Devante Goins chipped in three points and Kentonio Kelly had two.
CANISIUS (2-0) 65
McQUAID (3-1) 60
Canisius closed the game on a 13-2 run over the final 5:42 to clinch the victory. Kobe Long scored 10 of his game-high 18 points in the first half as McQuaid took a 30-29 edge into the locker room. Long connected on 10 of 11 free throws for the night. Jermaine Taggart added 15 points for the Jesuit Knights. Jon Catone scored nine, and Connor Zamiara had eight points. Harry Bruu (4), Keith Warren (4) and Michael Maloney (2) rounded out the scoring for McQuaid. Dewayne Vass paced Canisius with 16 points. Jason Martin hit four 3-pointers and finished with 13 points on the night. Eric Kegler had 12.
BISHOP KEARNEY (2-1) 73
EDISON TECH (1-4) 68
After falling 38-32 at the half, Kidtrell Blocker hit three three-pointers in the third to help Kearney regain a lead over Edison in the third. With Kearney up 46-40 and four minutes left in the quarter, Edison knotted the game at 51. The lead exchanged hands multiple times in the fourth quarter until Blocker once again gives Kearney a lead with less than a minute left to play. Between crucial stops and successful free throw attempts by Blocker and Miles Monchecourt, time ran out and Kearney took the game. Blocker finished with 23 points; Monchecourt finished with 11. Leading for Edison was Alton Knight with 18 points. READ MORE.
Miles Rose bucket for @KearneyBoys cuts it to 1. @PickinSplinters @jml5798 pic.twitter.com/UXj3VoZEv6

— Billy Heyen (@Wheyen3) December 13, 2018
HILTON (2-0) 64
WEBSTER THOMAS (2-2) 57
Hilton's Tah'Jae Hill answered his career night with yet another high-scoring performance. Hill scored 35 points, but the Titans kept him quiet until the fourth quarter. Hilton took a 34-17 lead into halftime, led by Hill's ten points, Colin Burkis's eight points, and Mitch Carr's six. Thomas came out of the locker room with fire, cutting Hilton's lead to three points and holding them to only five points in the third quarter. Three three-pointers in the quarter by Tyler Williams, Garrett Reeves, and Andrew Mason lit Thomas's fire. With an opportunity to take the game from Hilton, Thomas found it harder to maintain the Cadets' offensive threat. Hill went on to score 20 of his 35 points came to seal the game for the Cadets. The junior was 14-for-16 at the free throw line, 13-for-15 in the final quarter alone. Mason led the scoring for Thomas with 24 points. Other scorers – Hilton: Burkis (8), Carr (8), Noah Malta (5), Jack Gombatto (5), Ryan Kurtz (3). Webster Thomas: Dannie Palmer (9), Williams (8), Reeves (7), Stephen Katz (5), Brendan Connelly (4).
WEBSTER SCHROEDER (2-2) 43
IRONDEQUOIT (2-0) 71
Luke Melidona highlighted a pivotal run to end the first half. Patrick Thomas celebrated his birthday by leading four in double figures, and the Irondequoit boys' basketball team shrugged off some early struggles for its second decisive victory. READ MORE.
Josh Stenglein from Freddie June, Jr. Part of an 8-0 @WIEagles run to end the half. Irondequoit leads @WebWarriorBball 38-25. Patrick Thomas has 11 for the Eagles. Collin Donnelly and Colin Merkey have 7 apiece for Schroeder. pic.twitter.com/zXVL25kUVz

— Paul Gotham (@PickinSplinters) December 13, 2018
RUSH-HENRIETTA (2-2) 70
CHURCHVILLE-CHILI (1-2) 63
Churchville-Chili played from behind through majority of the minutes against Rush-Henrietta. Churchville-Chili led by one at the end of the first quarter (15-14), but trailed 45-34 at the end of the third. Rush-Henrietta outscored the home team 19-11 in the second and 12-8 in the third. Led by John Keele's nine points and Marcellus James's seven, Churchville-Chili won the fourth quarter with 29 points to Rush-Henrietta's 25. Despite that, the Saints were unable to overcome the Royal Comets' dominant offense across the board. Tyshawn Searight led the Royal Comets with 16 points. Nyles Goodwin followed with 15, and Charles Bawden finished with 14. Churchville-Chili's Keele topped the Saints with 16 points. Other scorers: Rush-Henrietta – Javonte Williams (9), Tim Jackson (7), Shamire Broyld (4), Ziemere Howard (3), Eddie Beverly (2). Churchville-Chili – Marcus Postell (11), Griffin Stella (10), James (8), Terrence Wilson (8), Cameron Poromon (5), John Magley (3), Garland Akins (2).

GREECE ARCADIA (0-5) 40
EASTRIDGE (2-2) 60
Eastridge bounced back from a narrow loss to Greece Odyssey (70-64) with a 20-point victory over Arcadia. The Lancers finished with three double-digit scorers: Jahmel Demery (11), Terrence Reid (10), and Adrian Rodgers (10). However, the game's leading scorer belonged to Arcadia. Anthony Stephenson finished with 12 points, followed by Joseph Desiato with 11. Other scorers: Eastridge – Jordan Capers (6), Koby Jones (5), Jalan Young (5), Jaden Keech (5), Tony Arnold (4), Talib Kinlock (3). Arcadia – Evan Caufield (5), Adam Hurlbutt (4), Sean Crowell (3), Travers MacNeal (2), Casey Amato (2), Jerell Robinson (2).
GREECE ATHENA (3-1) 64
BATAVIA (0-2) 51
Despite outscoring Athena 22-12 in the fourth quarter, Batavia could not overcome the deficit. Melvin Council Jr. led all scoring with his fourth consecutive double-digit game. Council scored 17 with five three-pointers. His counterpart Kelvin Reaves, Jr. scored 14. Senior Andrew Francis led Batavia with 15 points. Other scorers: Athena – Johnny Salone (8), Austin Brown (8), Brandon Smith (5), DeAndre Newsome (4), Tyler Curtis (4), Terrell Wilson (4). Batavia – Jake Humes (11), Camden White (6), Trevor Zewan (5), Bryce Reigle (3), Joe Martinucci (3), Zach Gilebarto (3), Tyivon Ayala (3), Max Rapone (2).
BRIGHTON (1-2) 47
GREECE ODYSSEY (3-0) 65
Odyssey's Travon Harper (13) and Jaden Hartsfield (10) tallied double-digits for the third consecutive game. Odyssey was able to overcome Jack Falter's five three-pointers with ten players getting on the board and adding 14 at the line. Falter scored 21 for Brighton, leading the game. Other scorers: Odyssey – Korey Canton (8), Aric Williams (6), Dylan Kolmetz (6), Romell Griffin (6), Presten Mathis (5), Ray Colbert (4), Khyree Smith (4), Josh Haff (3). Brighton – Nate Sponsel (4), Sam Zarkowsky (4), Tyler Evans (3), Agathia Visveswaran (3), Najeeb Awad (3), Lukas Stanat (3), Chase Seibold (2), Jack Carl (2), Stevie McCloud (2).
ROCHESTER ACADEMY CHARTER (1-3) 40
GENESEO (4-1) 69
Noah Reilly's game-high 25 points helps lead Geneseo to victory. Reilly scored 14 of his points in the first quarter and four in the second to help give the Blue Devils a 15-point lead at the half. Daniel Kelly added 17 points and Owen Lyons had nine points and hit two three-pointers in the game. Rochester Academy Charter's Albert Tomlin had a team-high 16 points and scored seven points in the first quarter. Daniel Garcia added 10 points and hit three three-pointers on the night. Other scorers: Geneseo- Jake Hamilton (7), Luke Harris (5), Blaze McKinney (4), Jordan Lambert (2). RAC- Joseph Vazquez (6), Shia Patton (3), Shawn Cole (3), Yussuf Abukar (2).
UNIVERSITY PREP (2-4) 75
AQUINAS (1-4) 74
MOUNT MORRIS (1-2) 60
CALEDONIA-MUMFORD (5-0) 62
Vinny Molisani hit the game winner from half-court to beat the buzzer. Molisani finished with 15 points, seven assists and four rebounds. Senior Eric Wilson hit four 3-pointers and finished with a career-high 28 points to lead Cal-Mum. Joe Laursen had 14 points and nine rebounds. Lauren assisted on Molisani's game winner. Cameron Regal posted a double-double for Mount Morris with 23 points and 12 rebounds along with three assists. Regal gave Mt. Morris the lead at 6-59 with 3.6 seconds to go. Dylan Cicero and Collin Young added 14 and 12 points, respectively. Cicero pulled down eight rebounds and dished three assists as well. Other scorers: Mount Morris – Jansel Martinez (4), Justin Marin (3), Luis Saez (2), Steven Soto (2).
MOLISANI MIRACLE!!!! Vinny Molisani nailed a half court shot at the buzzer to give the Raiders the 62-60 win over Mt. Morris!!!@WetWilly03 led with 28 pts. @MolisaniVinny finished with 15 pts 7 assts. @JCLaursen10 added 14 pts 9 rebs #CalMumHoops #RaiderRegime pic.twitter.com/rZPLU489Si

— Cal-Mum Basketball (@CalMumHoops) December 13, 2018
YORK (2-2) 52
AVON (5-0) 59
Although York inched close, Avon never surrendered its lead in 32 minutes of play. Avon held a 29-21 lead at halftime, led by Connor Taylor (8) and Nick Rowland (8). In part to five points from Josh Davis, James Kennedy, and Matthew McFarland, York outscored Avon 16-13 in the third. However, Avon closed out the game with a 17-point fourth quarter, while holding York to 13. Avon's N. Rowland led the game's scoring with 18 points, followed by Taylor's 16. Taylor also finished with 15 boards and 12 assists for his third triple-double of the season. The senior guard has five triple-doubles in his career.  McFarland finished with 15 for York. Other scorers: Avon – Padriag Coyne (9), Tyler Dailey (8), Zach Colvin (6), Andrew Rowland (2). York – Davis (13), Riley Stella (10), Kennedy (8), Timmy LaGeorge (3), Lucas Maggio (3).
ALFRED-ALMOND (2-2) 27
ADDISON (4-0) 69
Addison players stuffed the stat sheets throughout their dominant performance. Daniel Ames drained 26 points and pulled down four rebounds. While scoring 14, Nick Sutryk showed his impact on the floor with seven steals. Trevor Knapp and Gage Ames each pulled down a game-leading eight rebounds. Leading for Alfred-Almond was Davon Bloom with 12 points.
ARKPORT-CANASERAGA (2-4) 30
BRADFORD (2-3) 50
PRATTSBURGH (4-0) 62
CAMPBELL-SAVONA (2-3) 48
Mason Putnam scored 12 first quarter points to give Prattsburgh a 20-11 lead at the end of the first quarter. Due to foul trouble, Putnam sat for the second and third quarter. However, behind the play of junior Ammon Anderson and sophomore Kris Johnson and James Crowder, Prattsburgh maintained a 47-32 lead by the end of the third. Putnam stepped back on the floor in the fourth and scored 11 points, finishing with 23 points in limited action. Anderson followed with 14 points. Campbell-Savona's Owen Jewell scored a game-high 26 points. Other scorers: Prattsburgh – Johnson (12), Crowder (5), Caleb Clements (4), Miles Morris (2), Chris Hively (2). Campbell-Savona – Kaleb Zimar (7), Jarred Kibler (6), Tanner Fleet (6), Ethan Park (2), Noah Mettler (1).
GENESEE VALLEY (2-1) 64
BOLIVAR-RICHBURG (2-2) 42
FRIENDSHIP 23
OSWAYO 52
PAVILION (4-3) 52
LETCHWORTH (0-3) 39
CANISTEO-GREENWOOD (2-3) 54
JASPER-TROUPSBURG (3-2) 43
BELFAST (0-1)
HOUGHTON (1-1)