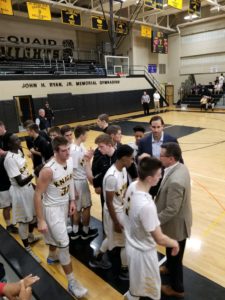 By JOHN LIKANJE
ROCHESTER, N.Y. — The McQuaid Jesuit Knights held the Saint Joseph's Collegiate Institute Marauders (VI) to five points in the second quarter and cruised to a 90-55 victory in non-league action Thursday night at the John H. Ryan, Jr. Memorial Gym.
Kobe Long scored five in a 10-0 run to start the decisive quarter and five more in an 11-0 run to end the stanza.
"The key was just playing harder on defense," Long said of the Knights effort in the second quarter when they outscored the Marauders 21-5. "We're a lot better team than them and we just played really good defense."
Long converted two out of three free throws after being fouled on a shot attempt from beyond the arc and hit a bomb from near the logo to put the Knights up 29-19 with 6:30 to go in the quarter.
The junior guard hit another 3-pointer and finished a layup to help McQuaid to a 40-24 advantage at halftime.
"We talked about how that (defense) has got to be a non-negotiable in order to be a team at a high level," McQuaid coach Jack Leasure said of his squad's effort in the second quarter. "We responded to that, which was good to see, but we got to build to that to the point where we can do it every quarter and not have those lapses."
Sophomore guard Keith Warren made back-to-back shots from long range and hit a free throw to cap off a personal 7-0 run as the Knights built a 75-42 lead in the third quarter. He scored a career-high 17 points off the bench, including 16 in the second half, on three shots from beyond the arc and eight free throws.
"I just let the game come to me," Warren explained. "Take the open shot, don't force anything, and just be patient. The time will come."
Junior guard Jermaine Taggart led all scorers with 22 points, 18 of those coming in the first half. He netted seven consecutive points on three layups, including a three-point play in the opening quarter. He also had a couple of breakaway dunks from steals.
"I was finding the weak spots in zone and man," Taggart commented on his performance. "I was stepping over their weak foot, opening them up, and causing problems and kicking them out."
Long finished the game with 20 points on four layups, three shots from long range, and three free throws.
Connor Zamiara (13), Rueben Daniel (8), Jon Catone (4), Harry Bruu (2), Charlie Salina (2), and Seamus Hogan (2) rounded out the scoring for the Knights.
Nolan Phillips and Daesean Ashley both scored a team-high 12 points to lead St. Joe's (VI). Phillips knocked down four three-pointers. Ashley made two jump shots, a couple of layups, and converted on four free throw attempts.
Will Ostrowski (10), Patrick McCann (6), Santino Martone (5), Justin Glover (2), and Jimmy Scott (1) rounded out the scoring for the Marauders.
McQuaid (3-0) will host Canisius (VI) next Wednesday. A 6:30 PM tipoff is scheduled.