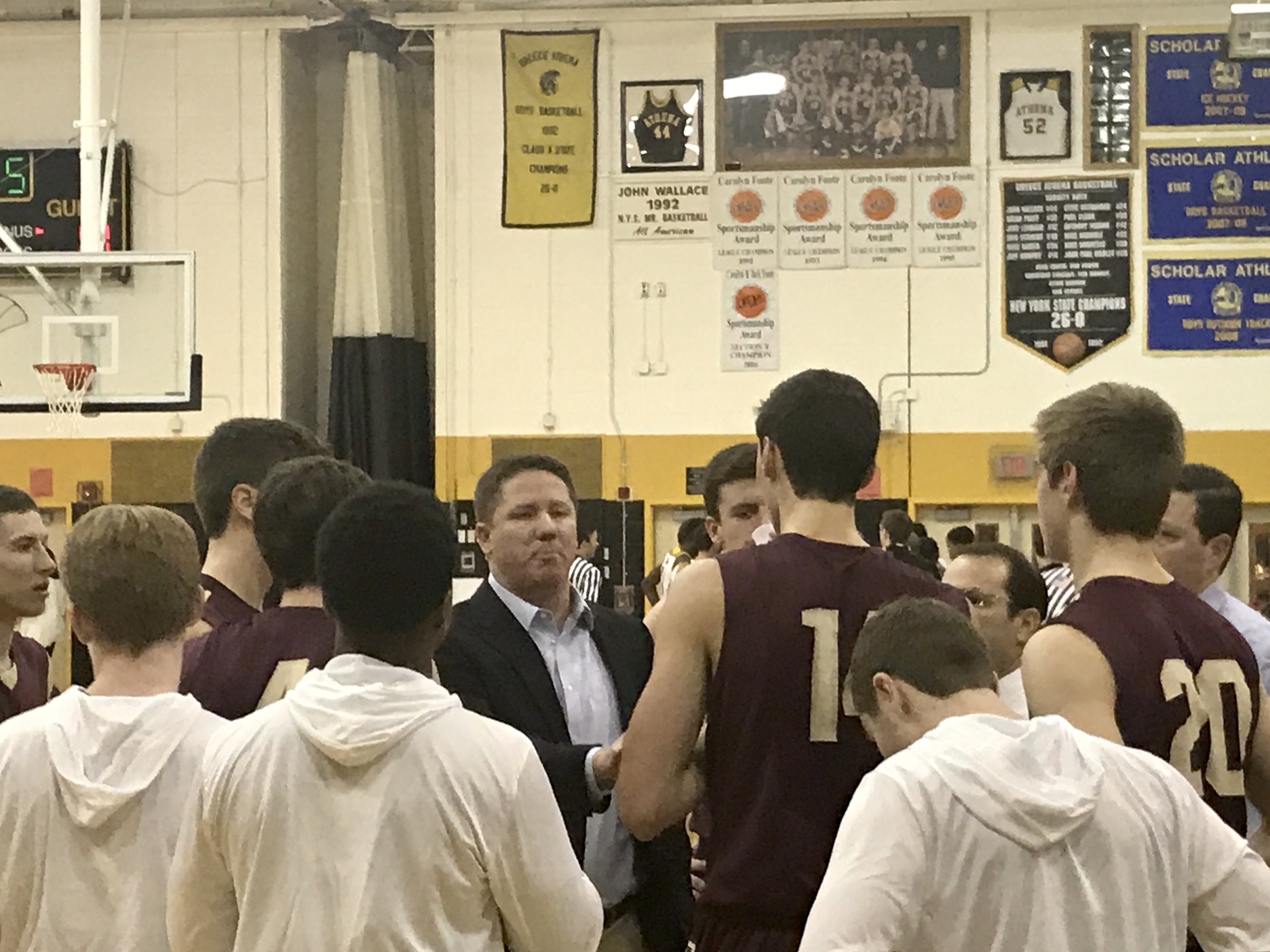 EARLY COLLEGE (0-1) 46
EAST (2-0) 92
Zachariah Scott and Damani Barley set career highs. Scott finished with a double-double (26 points, 12 rebounds) and eight blocks. Barley, a freshman, tallied 23 points with six assists. The duo combined for 15 points in the first quarter when the Eagles jumped to a 26-13 lead. Scott added 10 points in the second as East took a 49-26 lead into halftime and cruised from there. Barley connected five times behind the arc. One game after posting a career-high 14 points, freshman forward Kai McCullough added 10 more on Wednesday. Kaori Barley also scored 10. Other scorers: East – Freddie Brock (5), Seven McGee (3), Chaz Washington (9), Howard Eagle (6) and Jamarion Colbert (2). Early College – Marquis Crawford (10), Sam Jackson (10), Ahmir Buckhannon (5), Kemar McCloud (2), Joe Williams (5) and Jaequan Nesmith (8).
Welcome to our house!!! Our Eagles Soar…… @GoEastEagles @EastEpo pic.twitter.com/KQGKmqMe7e

— Shaun Nelms, Ed.D. (@DrNelms) December 6, 2018
NE DOUGLASS (3-0) 84
SCHOOL OF THE ARTS (1-1) 42
NE Douglass's second and fourth quarters secured the win, as the squad outscored SOTA 21-8 in the second and 30-11 in the fourth. Adonis Flagler and Trevion Miller finished with double-doubles for NE Douglass. Flagler led scoring and rebounding with 26 points and 15 rebounds while Miller drained 11 points and pulled down 12 rebounds. Lamar Lovelace scored 18 points with six rebounds and four assists. Jiahmere Mitchell had 12 points, five assists and five rebounds. Other scorers: NE Douglass – Casey Diometre (6), Anthony Fuentes (3), Gerald Peavy (3), Nicolas Jeanty (2), Jonaton Rowley (1). SOTA – Ke'Vion Mitchell (11), Logan Hayes (8), Ethain Clarke-Desouza (7), Jonathm Denegal 6), Reggie Smith (5), Keshaun Chatman (5).
PITTSFORD MENDON (1-0) 65
GREECE ATHENA (1-1) 61
Led by Michael Harrington's 18 points, Mendon opened its season with divisional win. Joining Harrington at the bucket were fellow captains Connor Krapf with 16 points and Dan Cook with 15 points. Cook's impact was significant on both sides of the ball, as he pulled down 15 rebounds. However, the game-leading scorer dressed for the opposing team. Greece Athena's Melvin Council, Jr. put up 21 points, followed by Kelvin Reaves, Jr. with 18 points. Other scorers: Mendon – Jacob Shadders (12), Nate Strauf (4). Athena – DeAndre Newsome (12), Jake Cerone (3), Austin Brown (3). READ MORE.
Jacob Shadders gets to rim. 16.1 to go @mendonbball 63 @GAHSBoysHoops 61 Trojan ball. pic.twitter.com/L6DxRXxURi

— Paul Gotham (@PickinSplinters) December 6, 2018
GREECE ODYSSEY (1-0) 91
ALEXANDER (1-1) 54
Odyssey kept pace over Alexander for the full 32 minutes to solidify the win. After a 32-point second quarter, Odyssey took a 54-18 into the half. Five of Odyssey's players added up double digits in the 91-point game, led by junior Jaden Hartsfield led the game's scoring with 26 points. Travon Harper (14), Aric Williams (13), Ray Colbert (11), and Presten Mathis (10) followed in the offensive excellence. Alexander's leading scorer Ryan Davis tallied 19 points, while teammate Chris McClinic scored 17. Other scorers – Odyssey – Korey Canton (9), Romell Griffin (5), Jonah Holloway (3). Alexander – Carson Wright (7), Tyrone Woods (6), Josh DeVries (3), Kameron Lyons (2).
GREECE ARCADIA (0-3) 44
CHURCHVILLE-CHILI (1-0) 69
Churchville-Chili opened up its season with a heafty victory over Arcadia. Five Saints racked up double digits, including a double-double from the team's top scorer. Marcus Postell dropped 18 points and pulled down 13 rebounds. Following him, Griffen Stella scored 11, while Kamerin Poromon, Terrence Wilson, and John Keele each scored 10. Joe Desiato led Arcadia with 11. Other scorers: Churchville – Marcellus James (6), John Bagley (3), Henri Koch (1). Arcadia – Evan Caufield (5), Anthony Stephenson (6), Elijah Barnard (1), Adam Hurlbutt (5), Evan Insley (5), Travers MacNeal (6), Kyle Blum (2) and Casey Amato (3).
HONEOYE FALLS-LIMA (1-0) 50
GENEVA (1-2) 48
Trevor Chamberlain hit a jumper at the buzzer to lift HF-L over Geneva in its season opener. The Cougars led 15-13 after the first quarter, as Chamberlain hit his first buzzer beater of the game. This one, behind the arc. Sophomore Josh Vogt came off the bench and hit two three-pointers in the second quarter, but Geneva outscored HF-L 18-6 in the quarter and led by ten at halftime. Down 31-21, HF-L responded with a 17-7 run behind Chamberlain's nine-point quarter. The lead exchanged hands throughout the fourth quarter–until time ran out. Chamberlain finished with 18 points, 13 of which came in the second half. Other scorers: HF-L – Josh Vogt (10), Patrick Lustyk (6), Turner Wilson (5), Hayden Smith (5), Derek Childs (4), Jack Emerson (2). Geneva – Reid Patchett (10), Christian Tapscott (8), Nick Askin (8), Jagger Kerr (7), Kaya Parara (7), Davointe Johnson (4), Parker Bosard (4).
PITTSFORD SUTHERLAND (2-1) 66
BRIGHTON (0-1) 51
After outscoring Brighton 19-9 in the second quarter, Sutherland took a 36-21 lead into the half. Behind Kevin Ryan's 24 points, including five field goals. Sutherland held on for the final 16 minutes to defeat Brighton. Leading the charge for Brighton was junior Matt Falter with 15 points. Other scorers: Sutherland – John Luther (11), Connor Fitzsimmons (10), Matt Panara (6), Ben DiGiovanni (6), John Messina (5), Pat Sanna (2), Lincoln Perinello (2). Brighton – Agathia Visveswaran (9), Nate Sponsel (9), Lukas Stanat (7), Tyler Evans (1).

ROCHESTER ACADEMY CHARTER (0-2) 70
C.G. FINNEY (4-1) 94
ROMULUS (2-1) 60
DUNDEE (0-2) 49
Romulus opened the game with a 12-0 run, but Dundee inched closer throughout the first half to trail by ten at the halftime buzzer. Crucial stops in the second half held Dundee off the board and solidified Romulus's second win of the second. Four Romulus players added up double digits. Luke Willower led the pack with 13 points; Daryl Morrell and Camden Derby each scored 12. John Spencer scored 11 for his second consecutive double-digit game. The game-leading scorer, however, belonged to Dundee. Preston Cratsley tallied 18 by draining six two-pointers and capitalizing on six out of eight chances on the free throw line. Other scorers: Brandon Edmister (13), Peyton Boudinot (9).
NAPLES (3-0) 48
HONEOYE (0-3) 37
LIVONIA (1-1) 39
MARCUS WHITMAN (2-1) 57
Seth Benedict secured the game for Marcus Whitman with a game-leading 16 points. At the half, Marcus Whitman led 29-24 and Benedict had zero points. All 16 of his points came in the second half, accounting for more than half of the team's points. He also tallied six steals and eight rebounds. Marcus Whitman's Liam Prendergast finished with a double-double (11 points, 13 rebounds) and Ryan Herod sunk two three-pointers on his way to 15 total points. Livonia's top scorers were Nathan Genthner with 13 and Jalen Marshall with 12.
HARVEY-ALLENDALE-COLUMBIA (2-3) 35
RED JACKET (3-0) 42
Coming into the second half, Red Jacket held a 23-13 lead over HAC. In part to Ryan Hilton's eight points, HAC outscored Red Jacket 15-6 in the third quarter to make it a one-point game. However, Red Jacket pulled away in the final quarter with crucial buckets by Adam Borst, Matt Record, and Chase Rizzo. Rizzo finished as Red Jacket's top scorer with 14 overall and Record tallied 13 throughout the game. Other scorers: Red Jacket – Borst (6), Record (13), Rizzo (14), Travis Hill (3) and Mason Pollot (2). HAC – Campbell (6), Tindall (5), Mendola (1), Brown (6), Hilton (15) and Cai (2).
LYONS (3-0) 87
GANANDA (2-1) 70
After pulling away in the second half, Lyons left Gananda's gym victorious. In the fast-paced game, Lyons senior Justice Smith finished with a double-double, despite missing minutes due to foul trouble. Smith scored 22 points, pulled down ten rebounds, and blocked four shots. With two other double-digit scorers and quick defense, Lyons overcame two 20-point scorers for Gananda: Jayden Castrechini and Tim McClare. Other scorers: Lyons – David Weaver (17), Aaron Romero (14), Justin Smith (8). Gananda – Jerry Brongo (12), Andrew Gabbard (11), Zach Dier (7).
CLYDE-SAVANNAH (2-1) 73
WILLIAMSON (0-3) 62
NORTH ROSE-WOLCOTT (0-3) 34
RED CREEK (1-3) 73
BOLIVAR-RICHBURG (1-2) 54
SCIO (1-0) 60
LYNDONVILLE (2-0) 78
ALBION (1-1) 59
KENDALL (0-2) 64
BATAVIA-NOTRE DAME (1-0) 73
Nathan Waters drained 29 points for Kendall, the most in Section V Wednesday night, in the loss to Batavia-Notre Dame. Waters had two teammates follow in double-digits, Michael Gardner (11) and Mason Kuhn (10). Batavia-Notre Dame's Gabe MacDonald also topped 20 points, finishing with 23, while three of his teammates hit double-digits. The difference-makers for Batavia-Notre Dame were Spencer Misiti (18), Keith Szczepanski (11), and Mason Randall (10). MacDonald's presence was felt all over the court as he finished with nine assists, nine rebounds, one block, and four steals as well. Other scorers: Batavia-Notre Dame – Lucas Calarco (5), Zach Cocking (4), Andrew Moore (2). Kendall – John Rath (9), Hunter Menze (4), Dale Steffen (2).
WAYLAND-COHOCTON (0-3) 52
HORNELL (2-0) 61