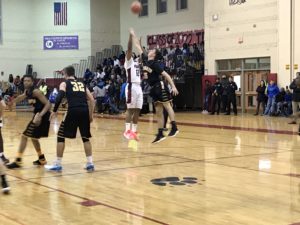 MCQUAID (2-0) 78
WILSON MAGNET (0-3) 76
Trailing 61-55 entering the final eight minutes of play, Jermaine Taggart connected twice from behind the arc. His catch-and-shoot trey on the break made it a two-point game at 63-61. READ MORE. 
LEADERSHIP ACADEMY (2-0) 83
WAYNE (1-1) 72
Leadership's Kennyh Hardeman scored 10 of his team-high 22 points in the second quarter. Rondell Watson finished with 18 points scoring 12 in the first quarter. Shamir McCullough added 17 points scoring nine in the fourth quarter. Wayne's Jaiden Burlee scored a game-high 24 points scoring nine in the second and third quarters and also recorded five rebounds. Logan Blankenberg had a double-double with 22 points, 13 rebounds and seven assists. Other scorers: Leadership- Marquise Sabalier (15), Maurice McKinney (11). Wayne- Nick Carmichael (15), Billy Thomson (5), Louis Reding (3), Logan Holgado (3).
RUSH-HENRIETTA (0-1) 63
GATES-CHILI (1-0) 69
Gates-Chili's Adam Williams finished with a game-high 21 points and hauled in seven rebounds. Keith Slack added 16 points with five assists, and Devin Walton had 10 points and five rebounds. Rush-Henrietta's Shamire Broyld finished with 20 points. Tyshaun Searight had 12 points. Nyles Goodwin added 11 points and Eddie Beverly had 10 points. READ MORE.
BISHOP KEARNEY (0-1) 57
FAIRPORT (2-0) 73
Fairport finished the third quarter on a 12-0 run and put the game out of reach for Bishop Kearney. Fairport's Vanzell Johnson and Stefan Milinkovic each had five in the third quarter. Johnson scored a game-high 21 points cashing in seven in the second quarter and was nearly perfect from the line making seven of eight. Milinkovic added 17 points and finished seven of seven shooting with three three-pointers. Bishop Kearney's Kidtrell Blocker ended with a team-high 19 points and went four of five from the free throw line. Miles Monchecourt also added 14 points. Other scorers: Bishop Kearney- Jamal Williams (7), Miles Rose (5), Michael Gentile (4), Deiontray Dixon (4), Antwan Williams (4). Fairport- Andre Starks (8), Ryan Lucey (8), Ryan Kennedy (6), Brett Heininger (6), Max Molisani (4), Kevin Gibson (3).
GLOBAL CONCEPTS (Section VI) 88
NORTHSTAR (2-0) 105
Northstar's Miles Brown recorded 15 of his 30 points in the third quarter to bring his career total to 2,272 points. Brown also had 11 rebounds and had eight assists. Twin brother Michael Brown had 24 points and nine assists. Sophomore guard Sean Smith scored a career-high 24 points.
BLESSED MARY (Section VI) 59
DESTINY (0-3) 55
ROCHESTER ACADEMY (1-1) 83
LIMA CHRISTIAN (0-1) 15
Four players from Rochester Academy finished in double digit points as Rochester Academy cruised for its first win of the season. Daniel Garcia had 22 points. Albert Tomlin also had 22 points. Qumauri Thompson and Joseph Vazquez each added 12 points.
WATERLOO (1-1) 80
BATH-HAVERLING (0-4) 50
EAST ROCHESTER (2-1) 53
SODUS (0-1) 49
Sodus's Paul James scored a team-high 17 points and Lonnie Logins added 15 points. Other scorers: Sodus- Marcelus Burton (7), John Molisani (4), Marquese Burton (2).
AVON (3-0) 81
PAVILION (3-2) 52
One game after posting a triple-double, Avon's Connor Taylor recorded a double-double with a game-high 25 points and 13 rebounds with nine steals and nine assists. Zach Colvin nearly recorded one of his own scoring 10 points and grabbing 9 rebounds. Andrew Rowland had 17 points with five rebounds and Nick Rowland recorded 14 points with five rebounds. Pavilion's Ryley Elliott recorded a team-high 22 points and Colby Tillotson had 12 points. Taylor had 17 points, 18 rebounds and 11 assists in Avon's 80-57 win over Rochester Prep last weekend.
WARSAW (1-3) 32
MT. MORRIS (1-0) 55
Cameron Regal's team-high 12 points gives Mt. Morris its first win of the season. Justin Martin added 11 points for the Blue Devils while Jansel Martinez and Dylan Cicero each had 10 points. Other scorers: Mt. Morris- Collin Young (9), Jose Cruz (2), Steven Soto (1).
CAL-MUM (3-0) 65
PERRY (0-2) 52
LEROY (1-0) 55
KESHEQUA (1-1) 23
LETCHWORTH (0-1) 35
GENESEO (1-1) 48
CANISTEO-GREENWOOD (0-2) 39
AVOCA (5-0) 79
Senior LaDre Stanford became Avoca's all-time leading scorer surpassing Section V Hall of Famer Chris Sullivan's 1,423 points. Avoca jumped out to a 20-7 lead after one quarter of play, using a full court press. Avoca pulled away in the second quarter with a barrage of three-pointers and outscoring the Redskins 26-9 for a commanding 46-16 lead at halftime. Stanford finished the first half with nine points, six rebounds and five assists. Brady Brandow and Tristan Stark led the Tigers with 14 and 10 in the first half. The second half saw more of the same as Avoca dominated on both ends of the floor. They led 68-26 at the end of the third quarter. Stanford finished with 17 points, eight assists and seven rebounds. Brandow knocked down five three-pointers and finished with 17 points. Stark scored 16 points and grabbed eight rebounds. Stowe scored 13 points and passed out six assists. 

ALFRED-ALMOND (2-0) 50
HAMMONDSPORT (1-3) 49 Final/OT
The game remained close throughout but in the end, the Alfred-Almond Eagles won at the last second. Leading scorer for Hammondsport was Parker Watson. He finished with 18 points and Johnathon Wells scored 11 points. Top scorer for Alfred-Almond was Dylan Guthrie with 18 points with four assists and one rebound. Isaac Little had a double-double with 17 points with 10 rebounds, one assist and one steal. Other scorers: Alfred-Almond- Devon Bloom (8), Arnold Saint-Phard (6), Kyle Margeson (1).
JASPER-TROUPSBURG (2-1) 39
PRATTSBURGH (1-0) 54
ANDOVER (1-2) 76
WHITESVILLE (0-5) 38
Andover's Chris Calladine led the way for the Panthers scoring 16 points with four assists, three rebounds and three three steals. Preston Ordway also added 16 points with one assist, four rebounds and one steal. Colby Walker finished with 10 points, three assists, two rebounds and four steals. Marc Givens was a point away from finishing with a double-double. He finished with nine points, one assist, 10 rebounds, two blocks and one steal. Whitesville's Jesse Pensyl finished with 10 points, two assists and four steals and Robert Whitesell also added 10 points with a steal. Chris Gullett added nine points with three assists and a steal. Other scorers: Andover- Spencer Cook (8), Grady Terhune (6), Chris Walker (6), Noah Greene (3), Gabe Halsey (2). Whitesville-Colby Gaines (4), Brendal Jackson (3), Thomas Dubois (2).
HOUGHTON (1-1) 25
FILLMORE (2-0) 76
WELLSVILLE (2-1) 50
OLEAN (Section VI) 60
BARKER (Section VI) 36
ELBA (1-0) 62
OAKFIELD-ALABAMA (0-2) 40
PEMBROKE (1-0) 47
FRANKLIN (0-1)
EDISON (0-1)
ROCHESTER PREP (0-1)
C.G. FINNEY (3-1)