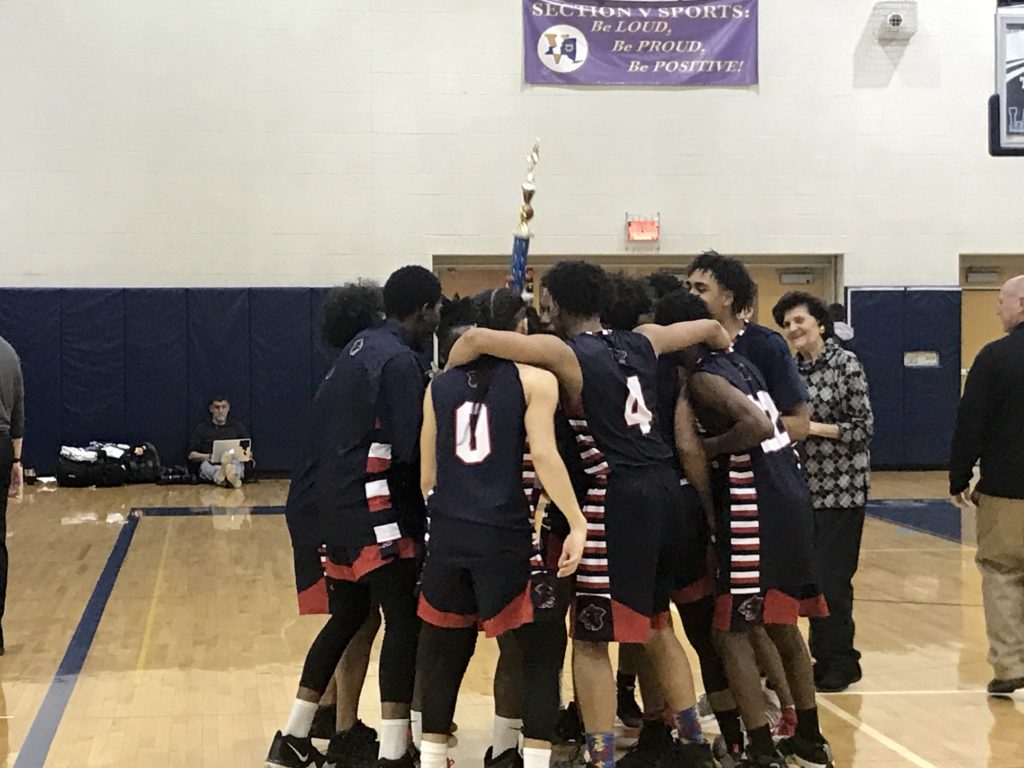 By JOHN LIKANJE
On Saturday night in Eastridge High's Al Masino Gymnasium, one side of the stands was silent while the other was celebrating. The people that were celebrating in the bleachers and on the court were for the NE Douglass Panthers after their 71-63 win over the Eastridge Lancers. Not only was it the Panthers' second win in as many days, but they showed resilience while doing it. Coming off a double overtime defeat of Webster Thomas, Friday night  in which the Panthers rallied from five down in the final :15 of the first OT, Kyle Crandall's squad fought off some early struggles Saturday to beat the tournament host.  Adonis Flagler and Jiahmere Mitchell combined for 29 points in Saturday's win and 77 total in two games over the weekend. The Panthers, who finished 15-8 a year ago and fell in the Class A2 finals to Wayne, 57-54, have won seven of eight dating back to last season. In scoring 71, NE Douglass scored 70 or more points in back-to-back games for the first time in their past ten games dating back to last season. Last season, they scored 79 points in a win over Franklin (79-51) on January 26th and followed up with 83 in a win against World Of Inquiry (83-56) on January 30th. This upcoming week, they only have one game against School Of The Arts (at School No. 33) on Wednesday at 6:00 PM.
WE DIDN'T FORGET ABOUT ….
Newark Reds – When the final buzzer sounded Saturday night in "The Home Of The Red Sea" at Canandaigua Academy, the Newark Reds had defeated Victor to claim the 2018 Finger Lakes Tip Off Tournament. In doing so, the Class B school defeated a Class A and Class AA school in back-to-back games. On Thursday night, they triumphed over host Canandaigua, 58-50, behind 22 points from Jayden Peters. The Reds followed that up on Saturday night by taking down the Blue Devils, 57-55. It was the first time the Reds won back-to-back games allowing 55 points or less since last December. They only gave 43, 46, and 52 during a three-game winning streak against Geneva (46-43), Palmyra-Macedon (69-46), and Midlakes (65-52). This upcoming week, the Reds have two road games at Batavia on Tuesday at 7:15 PM and Mynderse on Friday at 7:30 PM.
Brockport Blue Devils – Under first-year head coach, Tom Velletri, the Blue Devils opened the season with a pair of wins to claim the MTAG Tournament at Spencerport High School this weekend. On Friday, they snapped their 12-game losing streak dating back to last season with a 72-40 win over Greece Arcadia. On Saturday, they upset Class AA Webster Schroeder, 77-75, in overtime. This upcoming week, the Blue Devils play at Greece Athena on Friday at 6:45 PM.
Avoca Tigers – Avoca ran its record to 4-0 with a pair of wins last week – 84-51 over Honeoye and 68-63 over Odessa-Montour.. Three of their four wins have been by double-digits as they have outscored their opponents by a combined 86 points (21.5 points per game). Nathan Nunn and LaDre Stanford lead the Tigers scoring 23 points per game apiece. This upcoming week, the Tigers host Canisteo-Greenwood on Tuesday at 7:15pm and play at Alfred-Almond on Friday at 7:15 PM.
Lyons Lions – The Dean Schott II tenure started with a sprint as the reigning Section V Class C2 champs picked up where they left off last year with a pair of wins, including one over Class A Wilson Magnet. Justice Smith scored 33 in the win over Wilson. The Lions have now won 23 of their last 27 games dating back to last season. This upcoming week, the Lions play at Gananda on Wednesday at 7:00pm and host Red Creek on Friday at 7:30 PM.
HIGHLIGHT(s) OF THE WEEK
NE Douglass cold-blooded senior sniper: Casey Diometre has ice in his veins.
NE Douglas and Webster Thomas going to 2OT tied at 69 on this game-tying 3 by Casey Diometre @PickinSplinters @sectvbb pic.twitter.com/k1tui55dTe

— John Mitchell Likanje Junior (@jml5798) December 1, 2018
#ATHENA vs #UPREP / #BUZZERBEATER 11/30/2018
"When the game is on the line, the #Stars have to #SHINE
S/O to my young homie KELVIN REAVES @reaves_kelvin02 on making a #Bigplay during a #clutch moment!#Staytuned #WeoutHere @PickinSplinters @sectvbb pic.twitter.com/MnfiDBC8lT

— NEW RECRUIT MEDIA (@NewRecruitMedia) December 1, 2018