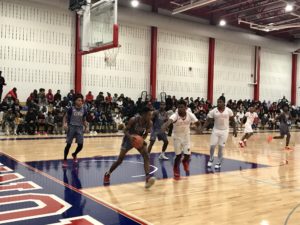 EAST (1-0) 78
MONROE (1-2) 65
Trailing by two, East scored 11 straight. Chaz Washington started the run with a lay up. Freshman Kai McCullough then scored six of the next eight points. READ MORE.
WORLD OF INQUIRY (0-2) 48
PENN YAN (3-0) 49
The Mustangs won their third straight to remain undefeated behind Colton Smith (14 points) and Connor Fingar (12 points). Kyle Berna added six points while Peter Nicholson balanced the scoring with seven points in the 49-48 victory. WOI's Tremier Dollar erupted for 35 points to pace the Griffins in the loss. Dorian Smith added five points, while Bobby Searight and Micharl Thomas put in four apiece to wrap up the scoring for the Griffins.
HARLEY-ALLENDALE-COLUMBIA (2-2) 70
ROMULUS (1-1) 49
Ryan Hilton topped his season high of last week, scoring 29 points and exploding on the boards for 17 rebounds in his second straight double-double. He also finished with five assists and four blocks to lead the HAC Wolves to back-to-back wins in their first league game of the season. Gifford Campbell scored a career-high 17 points while Owen Tindall and Noah Mendola each scored nine points, Tindall's second nine point outing in as many games.
WILLIAMSON (0-2) 38
PALMYRA-MACEDON (1-1) 53
HAMMONDSPORT (1-2) 42
NAPLES (2-0) 54
The Hammondsport Lakers took the lead in the first and fourth quarter but struggled to pull ahead. The high scorer for the Lakers was Parker Watson with 14 points and 8 rebounds. The lead scorers for Naples were Nick Green (16 points) and Cole Rathbun (13 points). Hammondsport plays Alfred Almond on Tuesday.
CUBA-RUSHFORD (2-2) 54
FRANKLINVILLE (0-2) 45
Josh Haskell led the Panthers in a losing effort, netting 22 points. Logan Frank contributed 17 points, while Jacob Torpey, Ty Clear and Zach Wolfer all finished with 2 points for Franklinville.
HINSDALE (0-1) 33
ARKPORT-CANASERAGA (2-1) 37