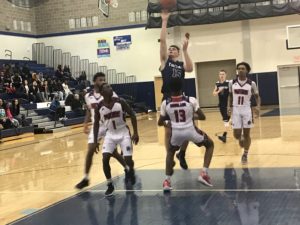 By JOHN LIKANJE
ROCHESTER, N.Y.– Junior forward Adonis Flagler compiled a double-double of 33 points and 14 rebounds as the NE Douglass Panthers (1-0) took down the Webster Thomas Titans (0-1) 79-74 in double overtime in the first round of the Al Masino Memorial Tournament at Eastridge High School, Friday night.
Flagler scored 11 of his 33 points on four consecutive baskets in the second quarter. With the game tied at 23 with 4:20 remaining, Flagler made a layup and connected on three straight bombs from beyond the arc as part of a sequence in which there were seven lead changes in three minutes. He finished the game with five three-pointers. Flagler also scored five points in the first, seven in the third, four in the fourth, and six during both overtimes.
Although he had a huge performance, Flagler was just happy about getting the win.
"It was a great team win," Flagler said after the game. "It was a great way to start off the season. We were really hungry but we got it together."
The Panthers' defense contributed to the victory as well. After giving up 21 points in the third quarter, they held the Titans to four combined made field goals in the fourth quarter and overtimes.
Panthers head coach Kyle Crandall praised his team's defense for stepping up in the latter part of the game.
"We outplayed them in spots in the first half. Then they came out of the gates in the second half and they stole all the momentum right from us,"  Crandall said. "It really forced us to change some things defensively."
Webster Thomas had a chance to tie the game on this possession but it's no good as Lamar Lovelace hits 2 FTs to ice the game. NE Douglas wins in 2OT 79-74 @PickinSplinters @sectvbb pic.twitter.com/RVCoZlLmEy

— John Mitchell Likanje Junior (@jml5798) December 1, 2018
Despite not being able to play in overtime due to cramps, Jiahmere Mitchell scored 15 points including on a couple of breakaway layups from steals. Casey Diometre (11), Lamar Lovelace (10), Trevion Miller (6), Nicolas Jeanty (3), and Maurice Glenn (1) rounded out the scoring for the Panthers.
Trevion Miller follows his own shot to give NE Douglass a 23-21 lead. pic.twitter.com/ojkQMkbwaX

— Paul Gotham (@PickinSplinters) November 30, 2018
Crandall praised his other players for stepping up.
"It was a hard fought game from both teams," Crandall commented. "For other kids to step up. One play that comes to my mind is a kid who had been on the bench for most of the game, Casey, hits that three-pointer right at the end of the first overtime. He doesn't hit that, we lose."
NE Douglas and Webster Thomas going to 2OT tied at 69 on this game-tying 3 by Casey Diometre @PickinSplinters @sectvbb pic.twitter.com/k1tui55dTe

— John Mitchell Likanje Junior (@jml5798) December 1, 2018
For Webster Thomas, junior forward Andrew Mason scored 28 points, including nine free throws and five three-pointers. Senior forward Garrett Reeves scored 21 points with four three-pointers and three free throws made.
Dannie Palmer (16), Tyler Williams (4), Stephen Katz (3), and Brendan Collolly (2) rounded out the scoring for the Titans.
The Panthers will play host Eastridge in the tournament championship Saturday at 5:15 pm. The Eastridge Lancers defeated Vertus in the second game of the first round 64-51.
*Article updated to include corrected starting time for Saturday's championship game.