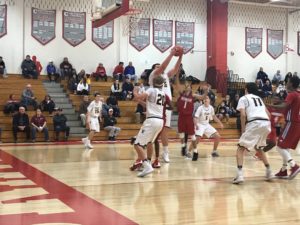 By JOHN LIKANJE
CANANDAIGUA, N.Y.– Junior guard Matt Caggiano and sophomore forward Connor Williams combined for 32 points as the Victor Blue Devils (1-0) held on late to defeat the Monroe Red Jackets (0-1) 60-59 in the first round of the Finger Lakes Tip Off Tournament at Canandaigua Academy.
Caggiano had two sequences of scoring five consecutive points or more for the Blue Devils. Trailing 14-13 near the end of the first quarter, Caggiano scored the next eight points for the Blue Devils on back-to-back three pointers and two free throws. In the middle of the fourth quarter with the Blue Devils trailing 52-51, he scored the next five points on a layup and a three-pointer.
Caggiano finished the game with 20 points. He made four shots from beyond the arc, finished three layups, and converted two free throws.
"My guys were just getting paint touches and if I had a shot they would just kick it out and shots just fell today," Caggiano said after the game.
Blue Devils head coach Tyler Roberts pointed out Caggiano's time spent on Varsity as the key to his development.
"He's a smart player and he's got a lot of experience," Coach Roberts said. "He's a guy that's going to get us in a good spot in these situations."
Williams scored 12 points on six layups made. His biggest points of the game came late in the fourth quarter when he scored on back-to-back opportunities in the lane to push the Blue Devils' lead to 60-55 with 2:32 remaining as part of a 7-0 run which started with a three-pointer made by Caggiano.
"I just wanted to get to my spot," Williams explained. "Go after it if my teammates miss and I was in the right spot at the right time."
Final sequence of the game as @victorboysbball defeats @JMHSRedjackets 60-59 @PickinSplinters @sectvbb pic.twitter.com/zYZjBd4c5J

— John Mitchell Likanje Junior (@jml5798) November 30, 2018
For the Red Jackets, Davante Mateo led the team in scoring with 21 points including four layups, two free throws, and a three-pointer. Despite playing limited minutes because of foul trouble, Tyquil Glasgow scored 11 points on five layups and a free throw.
Tyquil Glasgow in the lane gives gives @JMHSRedjackets a 12-9 lead over @victorboysbball with 1:25 to in the first quarter. pic.twitter.com/4EMHTMNWJx

— Paul Gotham (@PickinSplinters) November 29, 2018
Trailing by two to start the fourth, the Red Jackets scored their next 15 points on five made three-pointers. On consecutive possessions, junior forward Jahmir Bloom connected from long range- one from the left corner and the next one from the right wing. He finished the game with nine points. Junior guard Axel Mejias then drilled two more bombs on the next two possessions as part of a back-and-forth sequence in which there were six lead changes and two ties.
However, the Red Jackets could not gain any separation from Victor as their biggest lead of the fourth quarter was only two points.
"I'm proud of our guys," Coach Roberts said. "They worked really hard all offseason so to come right out and win our 1st game was a nice reward for them."
Will Stone (eight), Will Tehan (eight), Jeremy Summerson (five), Jaxen Roth (two), Phil Nwugwo (tw0), and Alex Newton(one) rounded out the scoring for the Blue Devils.
Chase Dickens leaner in the lane gives @victorboysbball a 51-49 edge with 4:30 remaining pic.twitter.com/S0fNcnTIga

— Paul Gotham (@PickinSplinters) November 30, 2018
Fidel Brock (six), Jamar Williams (four), and Kerone Kearse (two) rounded out the scoring for the Red Jackets
The Blue Devils will play Newark in the tournament championship on Saturday at 7pm. The Newark Reds defeated host Canandaigua, 58-50.