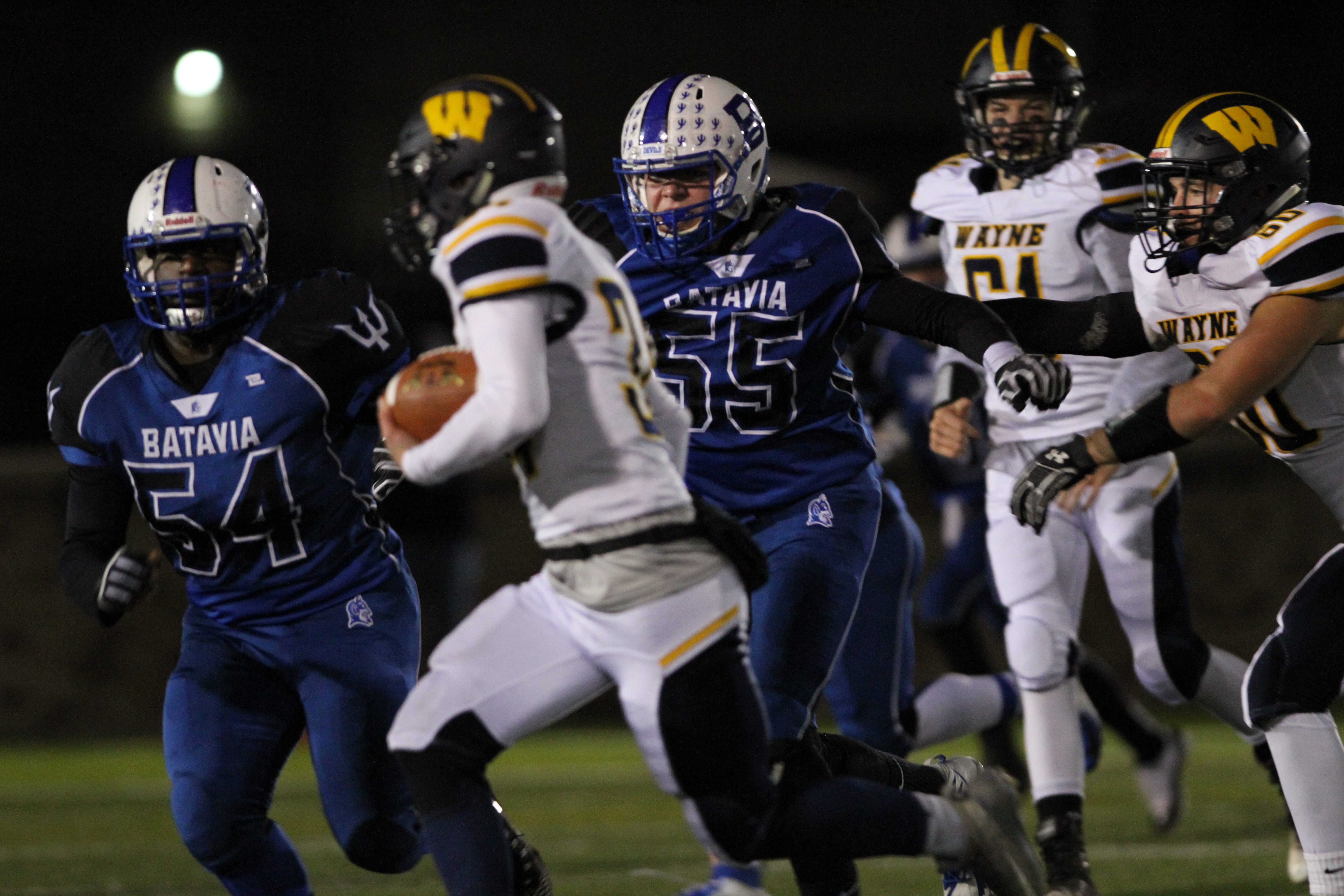 BY PAUL LIOTTI
The Batavia Blue Devils have blown through their season, with a goals-driven squad that has rarely been tested.
Section V threw its best Class B teams at them. Section VI threw its best team at them.
Eleven opponents have tried, none have come close.
But this weekend the undefeated Blue Devils will be facing their stiffest challenge of the season as they butt heads with the state's No. 1 team, Skaneateles in the Class B state semifinal game.
The Lakers (11-0/No. 1 NYSSWA) and the Blue Devils (11-0/No. 2 NYSSWA) will take the field at Union-Endicott High School Saturday afternoon at 3 PM to settle it. The winner will advance to the Class B finals against the winner of the game between Section II's Glenns Falls (9-2/No. 6 NYSSWA) and Section IX's Marlboro (10-1/No. 4 NYSSWA). The finals will kick off at noon on Saturday, November 24 at the Carrier Dome.
"The kids happy that they are here, but they also are not satisfied with just getting to this point," Batavia coach Brennan Briggs said. "We have some more goals to reach, lofty goals that the team set. We have accomplished all our goals so far this season, but there is still one more left to get."
VIEW MORE MIKE GENTILE PHOTOS HERE. 
But to get past this round, the Blue Devils will have their work cut out for them. Not only are the Lakers currently the state's top-ranked team – having occupied a top three spot all season in the New York State Sportswriters Association poll – they are the also the defending Class C champion. They have won 17-straight games, including a dramatic 27-26 win over previously top-ranked Chenango Forks last week in the quarterfinals. In that game, QB Pat Hackler scored from one yard out on the game's last play.
"They are very talented, especially at their skilled positions. (Hackler) is a heckuva athlete – he can throw it and he can run it," Briggs said. "In fact, he's committed to play lacrosse at Yale University, so you know he will be smart with the ball.
"Their receivers are tall and very good, and to make matters more difficult, their running back (Areh Boni) is very, very good. It's not like you can just stop one part of their game; they are very good in all phases of the game."
Batavia got the Far Western Regional monkey off its shoulders last week when it turned Cheektowaga inside out 56-28. It was its first win in the quarterfinal game in four tries, and it did so on the legs of running back Ray Leach who set five state tournament records, rushing for 417 yards, scoring eight touchdowns and accounting for 50 total points.
The Lakers are stocked with big-name, play makers on the offensive side of the ball, including Hackler, who was last year's Class C State Player of the Year. This year he has on track to be a return to the All State list, having completed 156-of-255 passes for 2,717 yards and 31 touchdowns against just six interceptions.
But Hackler isn't the only name Briggs and Co. need to be aware of. Boni terrorizes both sides of the line of scrimmage, having rushed for 1,223 yards (9.9 yards per carry) and accounted for 22 total touchdowns. Boni, who was named to the Class C third-team last year, leads the Lakers on defense from his linebacker position with 139 tackles.
The Blue Devils' secondary will have to account for not one but two, 1,ooo-yard receivers. Senior Nate Wellington (54 receptions for 1,053 yards and 11 touchdowns) and Junior Nick Wamp (56-999-10) give the Lakers a dual threat on the beyond the line of scrimmage. Wellington and Wamp each were named to the third and second, respectively, Class C All-State team a year ago.
Batavia will counter the Laker threat with what it has done in every game this year: Play strong, play hard, play fast and play physical.
Leach has gotten most of the accolades this season – and rightly so – but what cannot be overlooked is the rest of the Blue Devil squad. Laden with seniors, many of whom have been playing together since pee wee football, and that is something that cannot be measured. They work together as a unit, whether it's opening up holes for Leach, defending the long ball or gang tackling the ball carrier.
In their 11 games this year, Batavia has been primarily a run-oriented team. And it has been extremely successful. But when there are just four teams left in the state, there's enough game film available to be able to break down a team that is considered to be one-dimensional.
"We're going to give the run game a go, but if they stop that we are going to have to do other things like throw the ball," Briggs said. "We've been very vanilla in games this year because we didn't have to get out of certain things. But we run a lot more plays and multiple different formations in practice which we can run during a game if we need to,. We just haven't had to up to this point in the season."
Even though the Blue Devils only attempted two passes against Cheektowaga, it's not like they don't have a passing attack. Senior quarterback Ethan Biscaro completes passes at a high completion rate – 64-of-87 (74 percent) — and has amassed more than 1,000 yards through the air, mostly to his favorite target in speedy receiver Taiyo Iburi-Bethel who has snared 26 balls for 479 yards and six touchdowns.
Biscaro also doubles as a defensive back, and picked off his school-record and Section V-leading 11th interception last week against Cheektowaga. Both he and fellow defensive back Zack Anderson – who had an outstanding game against Cheekotwaga – will draw the unenviable task of locking down Wellington and Wamp.
But it will more than likely boil down to how well the talented Batavia front line will do to open holes up for Leach, who earned first team Class B All-State honors last year. The senior has rushed for 2,131 yards and scored 38 total touchdowns – including nearly 800 yards and 14 touchdowns in just the last two weeks. For his career, he has gained 5,762 yards from scrimmage – 4,893 on the ground and 869 through the air.
This will be the 12th game of the season for Batavia, which is more than any other team has played in its history. The Blue Devils do have one state title to their credit — coming in 1991 — but that was a voted-on title after winning the Far West Regional. The Blue Devils have not won the title on the field.
Last year's Class C title was Skaneateles first championship.