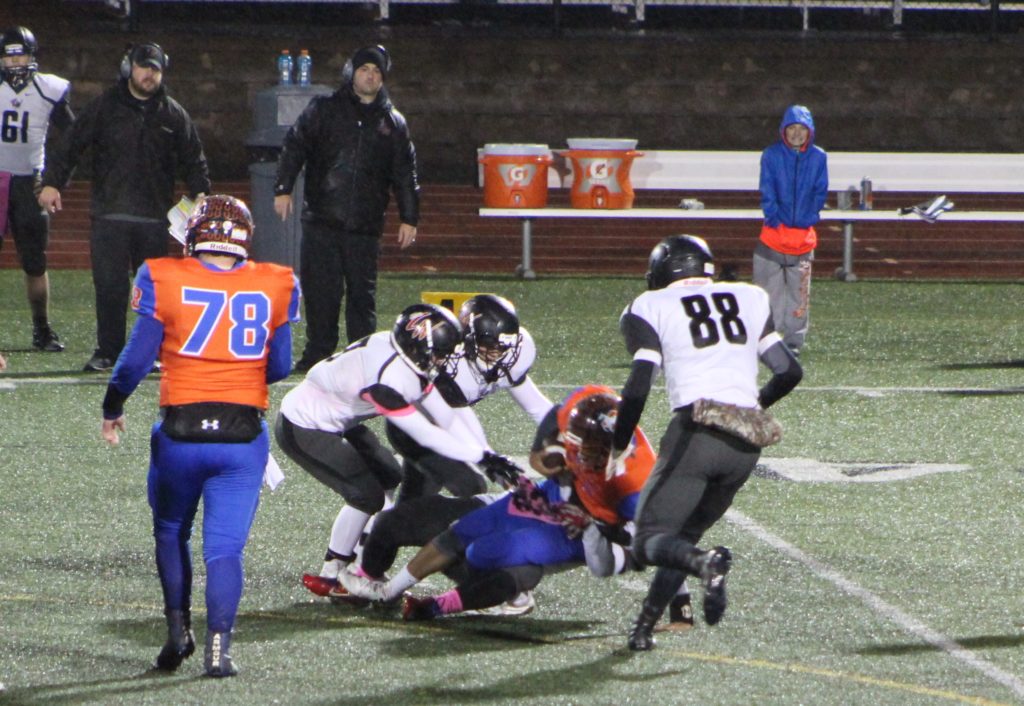 By JOHN LIKANJE
Although Letchworth/Warsaw (9-1/No. 10 NYSSWA Class C) won their first ever sectional title – and first for the school since 2011 when Letchworth won the Class DD title – this past weekend in a 13-7 defensive battle against fifth-seeded Attica (No. 9 NYSSWA Class C), their coaches are making sure to keep the players focused.
"The kids are very excited," head coach Justin Mann said. "As coaches, we just got to keep them focused because they're 16, 17, 18-year-old kids."
LetSaw will look to maintain their focus in Friday's Class C Far West Regional in Clarence to take on Cleveland Hill (9-1/No. 4 NYSSWA) of Section VI.
Kickoff is set for 5:00pm as part of a doubleheader with the Class A Far West Regional between Irondequoit and West Seneca East immediately following at 8:00pm.
Cleveland Hill is Section VI's three-time Class C champion. Last Thursday, the Eagles defeated Southwestern (No. 3 NYSSWA), 32-28, in the Section VI Class C finals. They only attempted two passes for the entire game, but had 498 rushing yards.
Senior running backs Javon Thomas and Aaron Wahler combined for 484 of those yards. Wahler had 24 carries for 330 yards while Thomas carried the ball 22 times for 154 yards. The Eagles are looking to go back to the state semifinals where they lost to eventual state champion Skaneateles a year ago.
Cleveland Hill is 9-1 on the season so far, including 6-0 in league play. They are on a nine-game winning streak after losing their first game of the season to Maryvale 26-6.
"They are a very well-coached football team," Mann said. "Their quarterback and running backs are super fast. It's like thunder and lightning with them."
Despite the taunting task ahead of them, coach Mann emphasized how his teams needs to trust what got them this far and that they are not changing their gameplan.
"In our sectional final game, we mixed it up with several backs that can run the ball in Adrian Figoura and Dalton English," Mann said. "We got to let our playmakers make plays and our defense has to slow them down. Our quarterback, Tom Standera, has grown up from a waterboy to our senior starter and he is a big part of our senior class. We got a great senior leadership that leads on and off the field."
Which is exactly what Tom Standera and his double-wing offense will need along with making quick decisions against powerhouse Cleveland Hill on Friday night.
However, LetSaw is considered one of the biggest powerhouses in Section V this season due to their stingy defense. In their nine wins this year, they only allowed one opponent to score double-digit points against them (Hornell in Week 6 in a 35-14 win). Otherwise, LetSaw's defense held four teams to seven points (LeRoy, Avon, Mynderse, and Attica), one team to six points (Wayland-Cohocton), and three teams scoreless (Wellsville, Caledonia-Mumford/Byron-Bergen, and Penn Yan).
If not for a 40-0 loss to Batavia in Week three, they would have finished first in Section V in points allowed. Despite that, LetSaw still finished second in points allowed per game with 8.8 behind Alexander of Class D who was first with 6.7.
The key to LetSaw's defense is holding their opponents well under their average in yards gained. In the sectional semifinals against Penn Yan, LetSaw held the Mustangs 121 yards. Coming into that game, Penn Yan was averaging 435 yards of offense per game.
In the sectional final against Attica, LetSaw held the Blue Devils' run-and-gun offense to 167 rushing yards, which was 83 less than their average. They are going to need this defense against a Cleveland Hill team that is very similar to Attica in which they love to run the ball. The Eagles have only attempted 20 passes all season (12-for-20), including one pass each in three games.
LetSaw is capable of putting up big numbers on offense as well. Led by their running attack trio of English, Figoura, and Standera, they scored double-digit points in all nine of their wins, including 28 points or more six times.