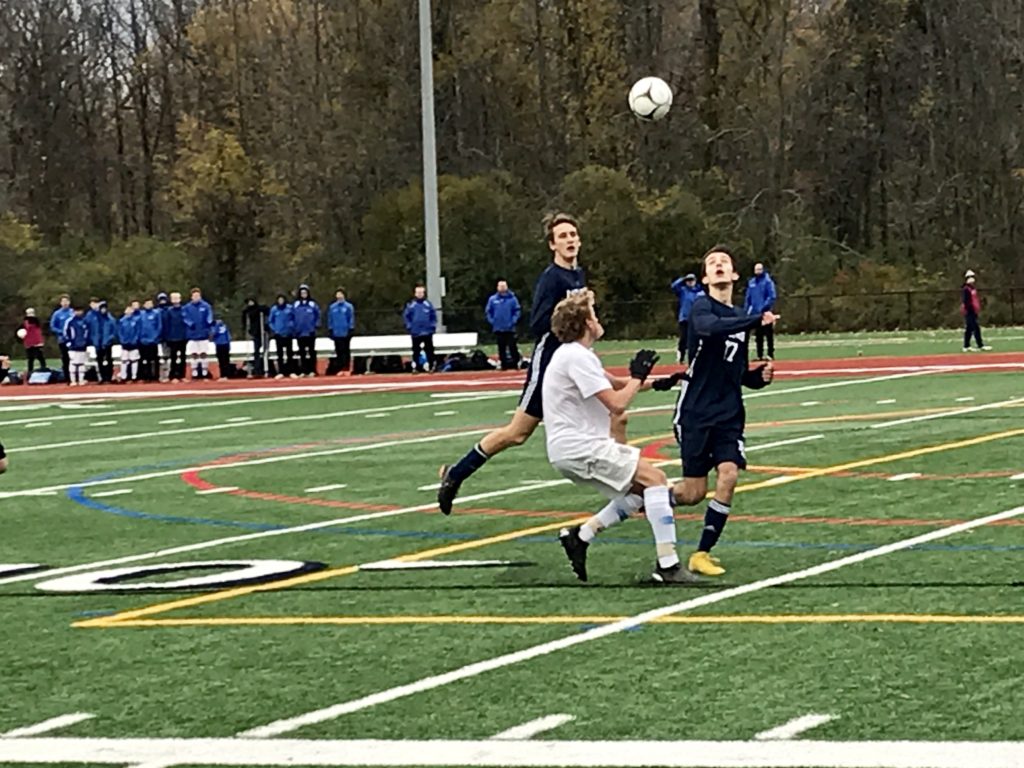 By WOLVERIDGE LANGAN
BUFFALO, N.Y. — The back wall held true for East Aurora when they needed it most.
After Alex Baase capitalized on an early corner kick, East Aurora's defense stood tall to limit Bath-Haverling and help the Blue Devils advance to the New York State Class B final four with a 2-0 victory at Sweet Home High School, Saturday afternoon.
The Section VI Class B champions flipped the script on Bath-Haverling, who only gave up four goals on their entire season before getting shut out in today's Far West Regional.
"We hung on, and hung on, and hung on," said East Aurora Coach Kevin Beale. "Our guys in back just made a wall, they stood tough."
B-H controlled play for the first ten minutes with a kick and run offense before failing to clear a corner kick that Baase slotted into the back of the net with 25:45 left in the first half.
The Rams resumed pressure after conceding, driving play up the wings through forward Thomas Binkowski. Even with multiple corner kicks, they were unable to convert.
"We got plenty of chances," said Bath-Haverling Coach Matthew Hill. "We didn't put ours in."
Binkowski missed wide off a short punt he took advantage of midway through the first half. A scramble on the Ram's third consecutive corner laid dangerously within the 18-yard box before Binkowski's shot attempt was blocked by an East Aurora defender.
"We needed a bounce or two and we didn't get it," said Hill.
East Aurora got the first chance of the second half, with midfielder Josh Bean rifling a 25 yard shot that goalkeeper Griffin Yastremski punched over the crossbar.
Bath-Haverling got back on the attack after a cross from Binkowski landed in front of Jordan Deats, whose shot came back off of a Blue Devil defender. Midfielder Alec Sestak got another shot minutes later, also blocked by a defender.
The East Aurora back four required assistance from goalkeeper Billy Mahoney, who intercepted a cross intended for Deats, and rejected a short side shot from forward Keefer Calkins.
Beale mentioned Mahoney stepped up in a huge way this season, his first as the team's starting keeper.
"He's just been Big Billy the ball blocker," said Beale. "He's tough back there for us, that's Billy."
John Putney eventually put the game out of the Rams' reach, taking advantage of a ball over the top and slipped it by Yastremski to give East Aurora a two goal lead. Putney scored four in the Blue Devil's sectional championship, as well as two in the regional qualifier.
East Aurora moves on to the New York State semifinal at Middletown High School. Bath-Haverling picks up their first loss, finishing with a 20-1-0 record.